From the Archives: Lansford kicks the Rams into playoffs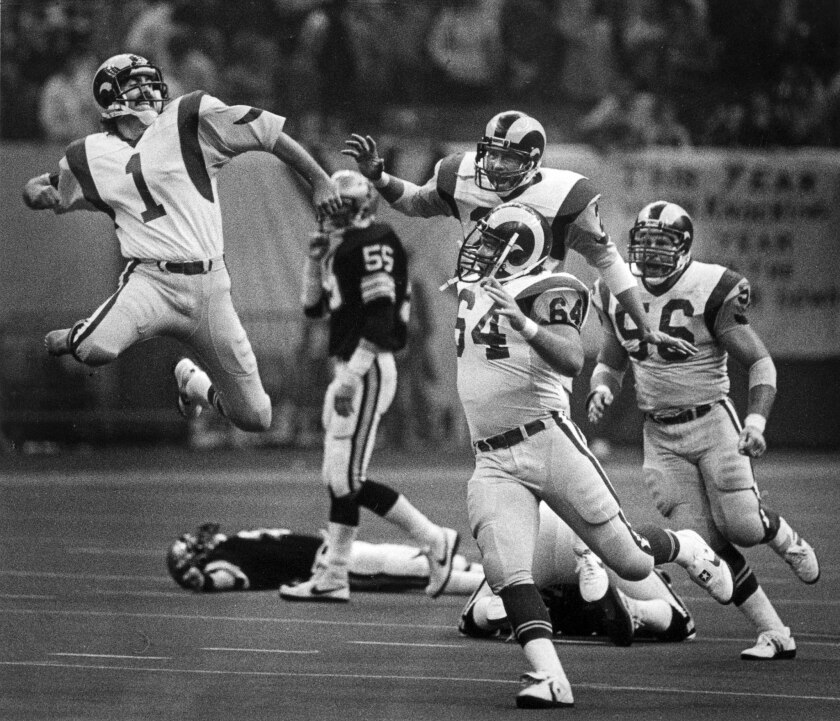 With one minute and 51 seconds left, the Rams were behind 24-23. From the Rams' own 20-yard line, quarterback Vince Ferragamo led a final drive.
The Rams' offense had struggled all day in New Orleans — going scoreless. But the Rams defense responded with three touchdowns and a safety.
Ferragamo completed several passes and moved downfield, under the eyes of more than 70,000 people in the stands at the Superdome. With six seconds left, the Rams lined up for a field goal attempt at the Saints' 25-yard line.
Los Angeles Times staff writer Rick Reilly reported the next morning:
0:06 — Nolan Cromwell, the holder, looks hard into the eyes of Mike Lansford.
"It looked like he had total concentration," Cromwell remembered. "Like he'd blocked out the crowd completely."
"You ready?" Cromwell hollered.
Lansford nodded. He had picked out his spot in the crowd behind the goal posts, just as he always does before a kick.
"It was some really sexy girl," he said. "She was looking real good."
Nothing left to do but kick it.
"It's funny, but all year long I had this felling it would come down to me," Lansford said. "That was the biggest kick of my life."
The snapper is Doug Smith and it is a worry, since Smith hadn't snapped in weeks. He was forced back when regular snapper Doug Barnett went out with a knee injury in the third quarter.
Smith's snap is inside and high, but Cromwell gets it down reasonably well.
"The ball was moving around a lot [on the hold]," Lansford remembered, "so I just tried to scoop it. Fortunately there wasn't a right-to-left wind."
The kick is long enough but is, indeed, hooking from right to left. It is hooking, but not enough. It sneaks inside the left upright and tucks into the net and 70,148 suddenly sounds like 70. The Rams are in the playoffs.
Deadpans Lansford: "Right through the middle."
The Rams ended the season with a 9-7 record. In the NFC Wild Card playoff game, they defeated the Dallas Cowboys, 24-17. But in the next NFC Divisional playoff game, the Rams lost to the Washington Redskins, 51-7.
This post was originally published on Dec. 19, 2011.
---