From the Archives: The 1961 Bel-Air fire
The two-day Bel Air/Brentwood brush fire destroyed nearly 500 homes, but no lives were lost. The fire damaged or destroyed several homes belonging to Hollywood celebrities.
In 2006, Los Angeles Times writer Cecilia Rasmussen wrote:
Among the most notorious California wildfires, the Bel-Air/Brentwood fire began in a trash heap.....a blaze that left hundreds of the rich and famous homeless in what LIFE magazine called 'A Tragedy Trimmed in Mink' and prompted brush clearance laws and an eventual city ban on wood shingle roofs.
On a warm November morning in 1961, a Sherman Oaks construction crew, working just north of Bel-Air, noticed smoke and flames coming from a nearby pile of rubbish. Within minutes, Santa Ana winds swept burning embers from roof to roof, spreading fire across the affluent enclaves of the Santa Monica Mountains. ...
Actor Burt Lancaster, comedian Joe E. Brown, composer Lukas Foss, Nobel laureate chemist Willard Libby and Zsa Zsa Gabor lost homes.
The above photo by George Fry appeared on the front page of the Nov. 7, 1961, Los Angeles Times. This image and several others were recently scanned from the original negatives. An older version of this post was published Nov. 7, 2010.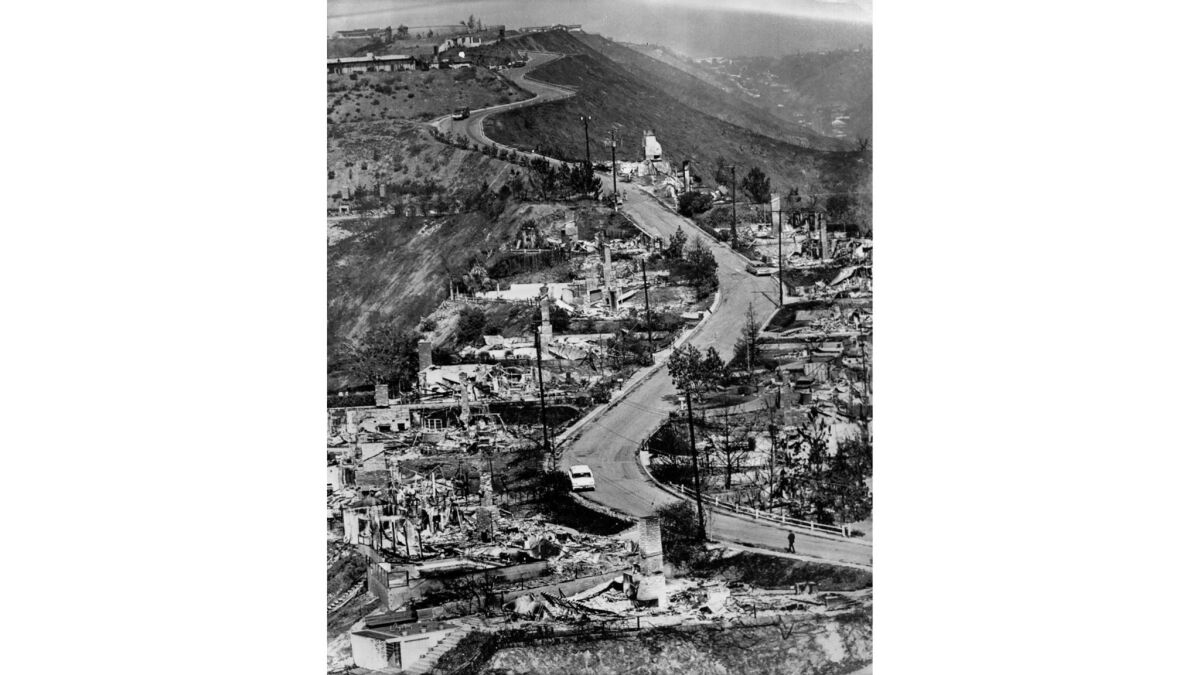 The stories shaping California
Get up to speed with our Essential California newsletter, sent six days a week.
You may occasionally receive promotional content from the Los Angeles Times.