From the Archives: the Plaza Methodist Church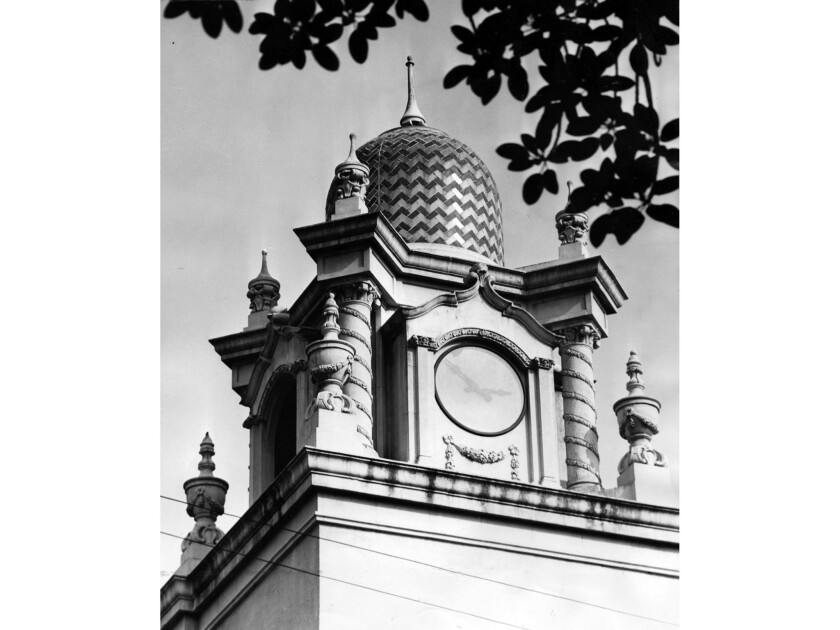 The Plaza Methodist Church was completed in 1926. The state of California purchased the church in 1956 during creation of the Los Angeles Plaza Historical District. To continue operations, the church leased back the structure. In 2011, the lease was successfully renegotiated with the city of Los Angeles.
Located next to the church is the Mexican Cultural Institute of Los Angeles.
KNOW YOUR CITY, no. 26 – This tiled tower is on Sunset Blvd. And right beside it is one of the city's greatest tourist attractions. This is kind of a tough one. So give yourself an "A" if you can guess what it is. Answer is on Page 30, Part II.
ANSWER – Sure it's on Sunset Blvd. – EAST Sunset Blvd., right across from the Old Plaza. It is La Plaza Iglesia Metodista (the Plaza Methodist Church). Next door: Olivera Street. …
East Sunset Boulevard is now Cesar E. Chavez Avenue.
The Know Your City photography series was published in 1955-56 Los Angeles Times.
This post was originally published on Dec. 17, 2015.
---