Today's Headlines: Alarm over wildfires and what to do about them
Here are the stories you shouldn't miss today:
TOP STORIES
Alarm over wildfires and what to do about them
President Biden will meet today with Cabinet officials and leaders from Western states, including California Gov. Gavin Newsom, as they face what could be another devastating year of wildfires with drought conditions worsening and searing temperatures spreading.
In what is perhaps an ominous harbinger of the coming fire season, crews are battling multiple wildfires across California while much of the region remains mired in treacherous heat and bone-dry conditions. (See our map here.)
The largest of the fires, the lightning-sparked Lava fire in Siskiyou County, forced the evacuation of at least 8,000 residents Monday afternoon as gusty red flag conditions fueled the searing flames. By Tuesday morning, the fire had expanded nearly tenfold, to 13,300 acres, and was 20% contained, Shasta-Trinity National Forest officials said.
The situation has alarmed experts and public officials, who warn that this year's fire season could outpace last year's, which was the worst on record. Blazes have already ignited around California, where dry vegetation has left large swaths of the state primed to explode into flames, even as the federal government struggles to hire firefighters.
Officials are warning residents to use extreme caution amid bone-dry conditions that are primed to erupt into fuel for wildfires.
Sign up for Essential California for the L.A. Times biggest news, features and recommendations in your inbox six days a week.
You may occasionally receive promotional content from the Los Angeles Times.
More politics
— Facing a legislative obstacle course in Congress, Biden campaigned in Wisconsin to build public support for the fragile framework of a nearly $1-trillion, five-year bipartisan infrastructure proposal — "a blue-collar blueprint for rebuilding America," he called it.
— The Supreme Court strengthened the government's power to hold in jail immigrants who face deportation, ruling that those who illegally reenter the country have no right to a bond hearing.
— The high court sided with a pipeline company in a dispute with New Jersey over land the company needs for a natural gas pipeline.
For more news and analysis, sign up for our Essential Politics newsletter, sent to your inbox three days a week.
More questions in Surfside building collapse
When the Champlain Towers South in Surfside, Fla., collapsed less than a week ago, the building fell without warning in the middle of the night, 13 floors pancaking into a mountain of debris. As search and rescue teams scoured the rubble in hopes of finding someone alive, authorities Tuesday said 12 people were confirmed dead and 149 remained unaccounted for in what could be the deadliest accidental building collapse in U.S. history.
The cause of Champlain's sudden and spectacular fall Thursday remains undetermined. Some engineering experts say the tower's collapse may have been due to a rare confluence of structural deficiencies and lack of maintenance in a coastal area where buildings are particularly vulnerable to corrosion from saltwater and salt air.
For many who live in the community, the disaster has fueled anxiety about the challenges of maintaining local residential buildings. A string of mid-rise and high-rise condos — some decades old, others brand-new — looms over the Atlantic shoreline sitting upon limestone, a porous rock that allows rising seawater to seep up from below.
In the coming decades, scientists say, buildings across coastal regions in the U.S. will be subjected to deepening challenges as sea levels rise and structures become increasingly exposed to saltwater.
Rise of the cell tower trees
A gentle breeze rustles the eucalyptus tree, its dark green foliage quivering under a cloudy Santa Ana sky. At the base of its sturdy trunk, the leaves of a fallen branch bear the scars of hungry insects. A stand of eucalyptuses sways across the road. But this tree, surrounded by a spiky metal fence, isn't like the others.
This tree isn't actually a tree at all — it's a cellular transmission tower, one among hundreds or more that now blanket Southern California.
Cell tower trees have become a memorable part of the L.A. landscape over the last few decades, sprouting beside freeways and in the city's other in-between spaces. The demand for calls that never drop and videos that continuously stream is fueling the growth of these structures, whose fake foliage is meant to obscure the rectangular antennas clustered near their tops. But, the tree towers present an existential conundrum.
'The Times' podcast
Our new weekday podcast, hosted by columnist Gustavo Arellano, takes listeners beyond the headlines. Subscribe on Apple Podcasts and follow on Spotify.
FROM THE ARCHIVES
An enclosed laboratory called a "hot room" was one of several at the Santa Susana facility of Atomics International, a North American Rockwell Corp. division. After company mergers, the Santa Susana facility was operated by Rockwell International's Rocketdyne division.
In a Dec. 21, 1989, Los Angeles Times story, staff writer Myron Levin reported on the closure of the "hot lab":
"In its heyday, Santa Susana was a flourishing center for nuclear work. From the 1950s through the 1970s, the Atomic Energy Commission and its successor, the U.S. Department of Energy, contracted with Rockwell to build and run 16 small nuclear reactors, to fabricate nuclear fuel, and to salvage plutonium and uranium from spent fuel rods for use in atomic weapons and as fuel for nuclear-powered ships."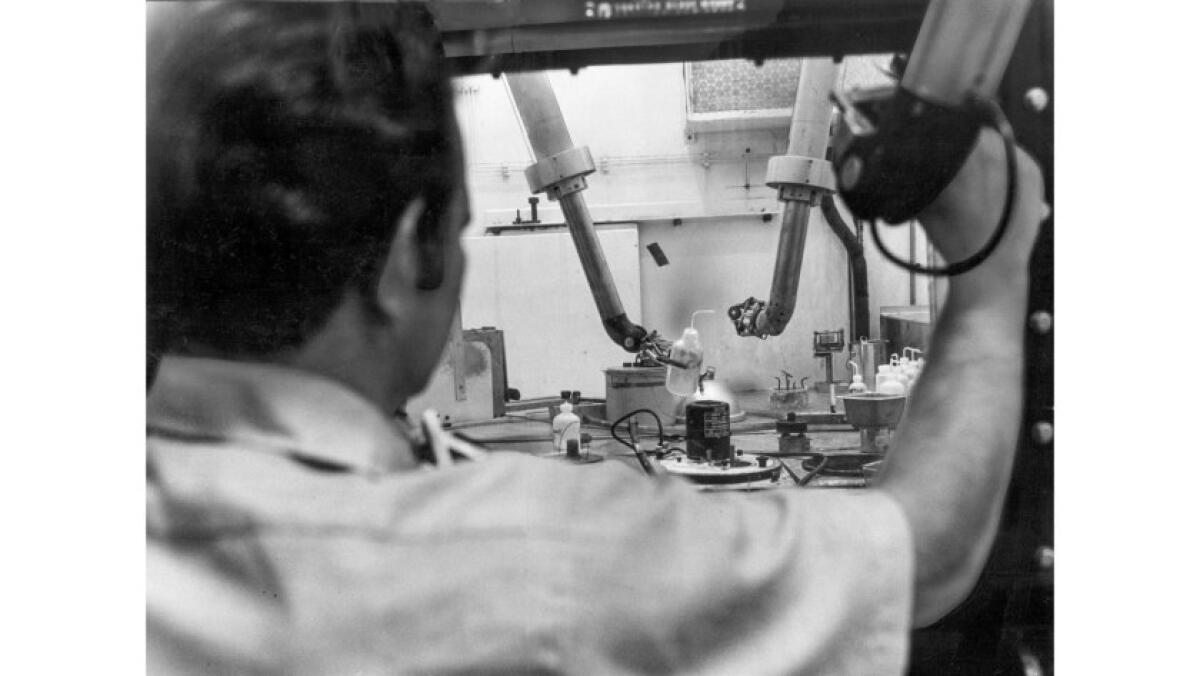 CALIFORNIA
— In an abrupt shift, the Los Angeles City Council voted to draft new rules barring homeless people from camping near schools, parks, libraries and other "sensitive" facilities.
— An L.A. County social services manager has been charged in the Capitol riot after colleagues say they saw her in a video from Jan. 6.
— A pilot program to divert 911 calls from people experiencing suicidal thoughts to mental health providers rather than Los Angeles police is being expanded.
— The governments of California and Mexico signed an agreement stating their commitment to work together to open a new border crossing at Otay Mesa by late 2024.
— Here's some good news (and then some not-so-good news) for those seeking a summer respite by the sea: Beaches across California are much cleaner than in years past.
Support our journalism
Subscribe to the Los Angeles Times.
THE CORONAVIRUS
— Do you still need to wear a mask? Though COVID-19 vaccines appear to protect against the Delta variant, there's real concern about the vulnerability of people who aren't yet vaccinated.
— We consulted experts before going to Koreatown with actress and comedian Sherry Cola of "Good Trouble." We learned about how to make decisions and mitigate the risk of coronavirus and other germs while going to a spa, a Korean barbecue restaurant and karaoke with friends.
NATION-WORLD
— The unprecedented Northwest U.S. heat wave that slammed Seattle and Portland, Ore., moved inland — prompting a electrical utility in Spokane, Wash., to warn that people will face more rolling blackouts.
— Brazil's president is sending troops back to the Amazon to bolster policing against logging and other illegal land clearance, acting amid international criticism of a surge in deforestation and just two months after withdrawing a similar military mission.
— Former South African President Jacob Zuma has been found guilty of contempt of court and sentenced to 15 months in prison for defying a court order to appear before an inquiry probing wide-ranging allegations of corruption during his time in office from 2009 to 2018.
— Talk about a big bite. For the first time, astronomers have witnessed a black hole swallowing a neutron star, the densest object in the universe — all in a split-second gulp.
HOLLYWOOD AND THE ARTS
— The "Demi Lovato Show" is coming to the Roku Channel on July 30. The talk show will address mental health, police reform, sex positivity and other topics.
— Scarlett Johansson finally gets her Marvel closeup, but film critic Justin Chang says "Black Widow" is too little, too late.
— Danny Trejo documents his highly unusual journey from prison to screen in the new memoir "Trejo: My Life of Crime, Redemption, and Hollywood."
— Actor Kyle Massey, who starred in the hit Disney Channel sitcom "That's So Raven" and spinoff "Cory in the House," has been charged with one count of immoral communication with a minor.
BUSINESS
— U.S. stocks went further into record heights in a listless day of trading on Tuesday, as Wall Street waits for the heavyweight economic data coming at the end of the week.
— Two months after Eli Broad's death, his Malibu home has sold for $51.65 million. It's the second-priciest sale to close in Southern California so far this year.
SPORTS
— The family of Angels pitcher Tyler Skaggs has sued the team and two former employees after his overdose death almost two years ago, alleging that an Angels employee supplied drugs to multiple players.
— Pasadena police said officials were looking into an assault allegation from a woman against Dodgers pitcher Trevor Bauer. An agent for Bauer denied any wrongdoing by his client.
Free online games
Get our free daily crossword puzzle, sudoku, word search and arcade games in our new game center at latimes.com/games.
OPINION
— After the sentencing of Derek Chauvin, the culture of law enforcement needs to go on trial, writes columnist LZ Granderson.
— As the new Delta variant spreads, put your masks back on, and don't whine about it. You don't have to love it. You just have to do it, columnist Robin Abcarian writes.
WHAT OUR EDITORS ARE READING
— This weight-loss device locks your jaw nearly shut. Experts say that's dangerous and barbaric. (Washington Post)
— Canadian singer-songwriter Fefe Dobson's ascent was riddled with racist attempts to brand her as someone she wasn't. Almost 20 years later, she's still doing it her way. (Refinery29)
ONLY IN L.A.
After a lengthy court battle, the Northern California owner of the "Flintstone House" has quietly settled her lawsuit against the town of Hillsborough. The house, designed in 1976 by Bay Area architect William Nicholson, sat vacant for over a year before Florence Fang purchased it for $2.8 million in 2017. She then installed a caveman-themed menagerie of 15-foot dinosaur statues and cartoon sculptures. Fang will receive $125,000 from the town to cover legal costs from her lawsuit, according to records, and must also apply for building permits for the exterior of her home.
Today's newsletter was curated by Daric L. Cottingham. Comments or ideas? Email us at headlines@latimes.com.
Sign up for Essential California for news, features and recommendations from the L.A. Times and beyond in your inbox six days a week.
You may occasionally receive promotional content from the Los Angeles Times.