Latinx Files: Remembering Walter Ulloa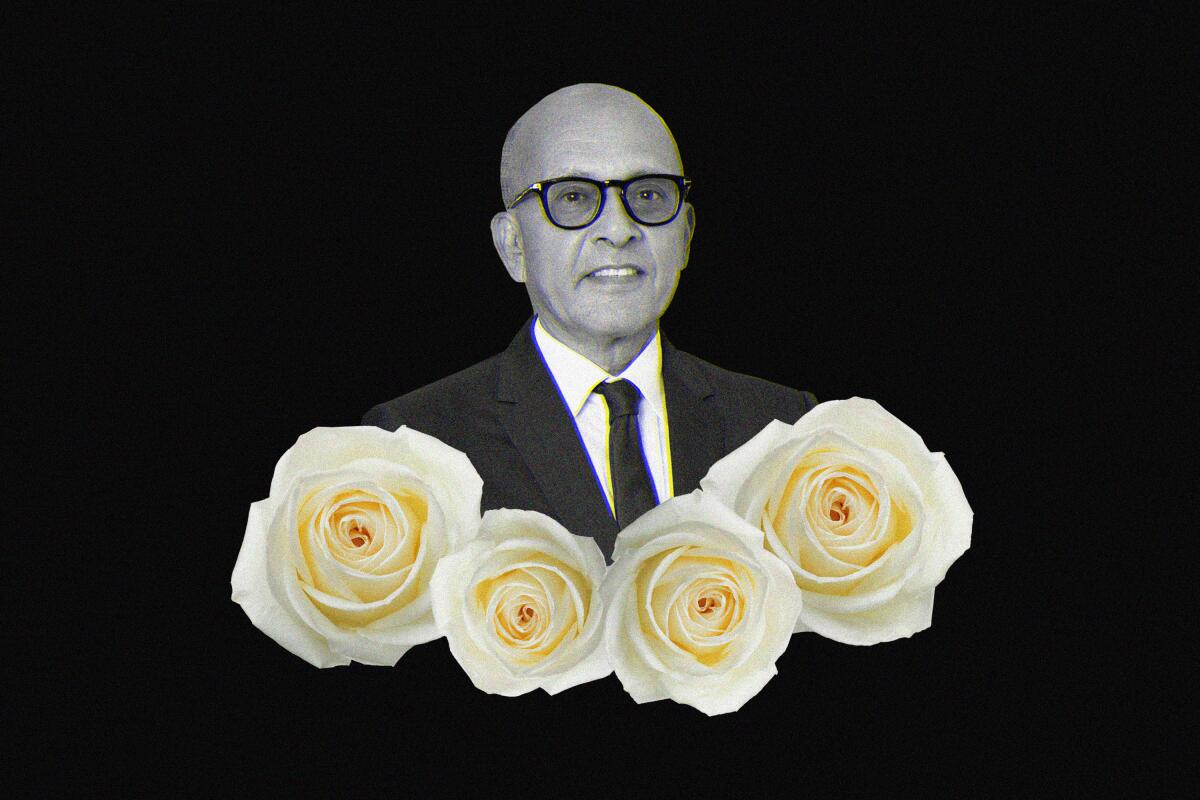 Walter F. Ulloa, a Mexican American pioneer of U.S. Spanish-language media, died unexpectedly of a heart attack on New Year's Eve. He was 74 years old.
A native of Brawley, Calif., and graduate of the University of Southern California and Loyola Law School, Ulloa got his start in media in 1976 working for KMEX-TV, Univision's Los Angeles flagship station that has played an outsize role in the history of Spanish-language media in the United States.
He began by writing daily commentary for Danny Villanueva Jr., the station's legendary news director and eventual co-founder of Univision. After working in various departments of the station, Ulloa became news director himself.
"His favorite job was the news. That's what kept him up at night," Alexandra Seros said of her late husband.
"He just hated the way the news was about the wind all the time, and he wanted to really make it about what was going on in Los Angeles, with Latinos."
According to Seros, Ulloa was dedicated entirely to his heritage, believing that the Latinx community was undervalued and underserved. Such was his conviction that he put his money where his mouth was. In 1996, he co-founded Entravision Communications.
"He wanted his people to see themselves on screens, to see themselves reflected in the media," Seros said. "That was very important to him, that they not feel like they're in the shadows and that they take pride in their own identity."
The Latinx experience chronicled
Get the Latinx Files newsletter for stories that capture the multitudes within our communities.
You may occasionally receive promotional content from the Los Angeles Times.
The company began with ownership of a local television station in the Coachella Valley. In the decades since its founding, Entravision has expanded to more than 100 television and radio stations across the country, many of them broadcasting in Spanish and located in communities across the American Southwest. Entravision is the largest independent operator of Univision affiliates, impressive given that Univision itself has never been owned by Latinxs. In 2000, Entravision went public and the company has since expanded its portfolio into digital marketing.
"Walter Ulloa was a visionary businessman who took a Spanish-language TV station and built it into a global enterprise," tweeted Rep. Chuy Garcia (D-Ill.) a few days after Uolla's passing. "His commitment to empowering the Latino community was his guiding star and his passion."
That passion expanded into the world of art.
"He was supporting [Chicano] artists before there was such a thing as Chicano art," said Marcelo Gaete, vice president of public and government affairs at Entravision.
I'll admit that I didn't know much about Ulloa until after his passing, although interestingly enough I grew up watching an Entravision-owned station— KNVO was constantly on in my family's house in the Rio Grande Valley. This newsletter, though, is firmly rooted in the belief that our stories are absolutely worth telling. It's not a new idea; trailblazers like Walter Ulloa have built careers on that principle. And in doing so, they have shown us a viable path forward.
Que en paz descanse.
Consider subscribing to the Los Angeles Times
Your support helps us deliver the news that matters most. Become a subscriber.
Things we read this week that we think you should read
— Some horrible news out of the Central Valley, where six members of a Latinx family were killed execution-style. The dead included a 16-year-old mother and her 10-month-old son. Local authorities initially blamed the massacre on Mexican drug cartels, before county sheriff's officials backtracked. Here is the latest from our team of reporters on the scene. You can also read it in Spanish here.
— You would think that the Los Angeles Angels would be at the forefront of reaching the Latinx market given that Arte Moreno is the only Latinx owner in Major League Baseball. Well, if you thought that, you'd be wrong. The Athletic talked to several former team employees about the situation with their Spanish-language broadcasts and the steady decline the Angels seemingly have in reaching Latinos in Southern California.
— If there is one story you should read this week, it's this piece on how one man is leading the effort to keep Indigenous dance circles alive and well in Los Angeles. Lazaro Arvizu, known as "El General," has dedicated his life to Danza Azteca for over four decades and is now teaching the next generation one of the most sacred traditions from Mexico.
— You didn't expect to get through this newsletter without something on Shakira and her dis track slamming her ex-partner Gerard Piqué, did you? While we all love the chisme, one of the more compelling aspects of the song is the young Argentine DJ/producer whom Shakira partnered with for the track. Our own Suzy Exposito gives us a little more background on producer Bizarrap.
— If you're a regular reader of this newsletter, than you're probably aware that I am tragically a fan of the Dallas Cowboys, so of course I'm going to plug this incredible longread by ESPN senior writer (and former Latinx Files contributing writer) Roberto Jose Andrade Franco, which does a fantastic job at explaining how a franchise that relies on its glorified past has truly earned the moniker of "America's Team."
The Latinx experience chronicled
Get the Latinx Files newsletter for stories that capture the multitudes within our communities.
You may occasionally receive promotional content from the Los Angeles Times.