Who is Bizarrap and why is Shakira trashing her ex with him?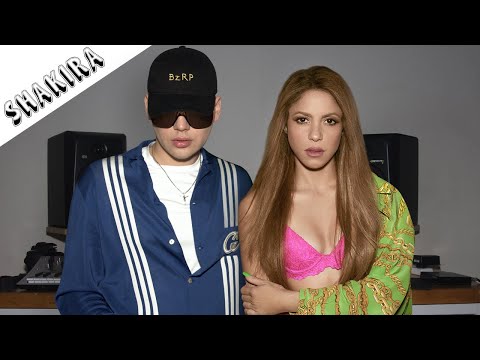 Colombian pop star Shakira is back on playlists and in the tabloids, thanks to her biting new break-up jam in collaboration with Argentine DJ-producer Bizarrap.
On the savage new dis track, numerically titled "Bzrp Music Sessions #53," Shakira slams her ex-partner, retired Spanish soccer star Gerard Piqué.
The song generated 50 million YouTube views in its first 24 hours of release, with fans circulating a particularly damning lyric across the internet: "Women don't cry anymore / Women cash in."
Indeed, "Bzrp Music Sessions #53" has already paid off: with over 14 million streams on Spotify, it debuted at No. 1 on the platform's Global Songs chart, breaking the record for the biggest single day for a Latin song in the chart's history.
If you're not quite up to speed on the goings-on of Latin America's top young producer or its reigning music queen, who's been embroiled in a number of scandals, here's a helpful guide.
Singer Shakira, who just split from soccer star Gerard Pique, said Spanish tax collectors 'started to salivate' over her money when they began dating.
First of all: Who is Bizarrap?
Born Gonzalo Julián Conde in Buenos Aires, Argentina, the 24-year-old producer known as Bizarrap came to prominence as part of the country's exploding Latin trap scene. He cut his teeth mixing freestyles for Argentine rappers in the late 2010s, including for Latin Grammy-nominated MCs like Duki, Nicki Nicole and Paulo Londra.
Bizarrap has since expanded his reach beyond the Southern Cone through his phenomenally popular YouTube series, "Bzrp Music Sessions." These one-offs, which are performed live in his studio in Barcelona, Spain, feature one singer or MC and the producer, as he fashions bold, EDM-inflected trap beats.
In 2022, his "Bzrp Music Sessions, Vol. 52," which featured Spanish rapper Quevedo, tallied 88.3 million streams on Spotify — and shot to No. 1 on the platform's Global Songs chart. (His session with Puerto Rican rapper Villano Antillano was named one of The Times' Top 100 Songs of 2022.)
Why did a superstar like Shakira record a song with him?
These sessions have become highly coveted status symbols, and not just for rappers on the rise. Urbano heavy-hitters Nicky Jam and Anuel AA have recorded their own sessions; Skrillex, one of Bizarrap's earliest influences, dropped by to jam with the talented newcomer.
Shakira, 45, had been following Bizarrap for some time on social media, and even wished him a happy birthday in August on Twitter. Given her star power in the U.S. — we're still reeling from her legendary Super Bowl performance — it's safe to say this latest collab could mark Bizarrap's first major radio hit in the States.
What happened between Shakira and Piqué?
After an 11-year partnership, including the birth of their children Milan and Sasha, the couple announced their split in June. "We regret to confirm that we are separating. For the well-being of our children, who are our highest priority, we request respect for (our) privacy. Thank you for your understanding," the couple wrote in a news release.
What looked like a pro forma celebrity breakup, however, was anything but. Piqué was revealed to have been dating 23-year-old Clara Chía Martí, who was reportedly employed at Piqué's television production company. Although it's unclear when the two started seeing each other, they were photographed kissing at a music festival in August.
What does Shakira say about Piqué on the new song?
There are several quippy lines throughout the song, including a brilliant callback to "Loba," the Spanish version of her 2009 electropop hit "She Wolf," on which she sings, "A wolf like me isn't for guys like you."
But she more pointedly refers to Pique in the following line, with a pun based on his last name: "Yo solo hago música, perdón que te salpique." (Which translates to, "I only make music, sorry that it splashed you.")
Piqué's new girlfriend also gets caught in the crossfire: "Tiene nombre de persona buena / Claramente no es como suena," Shakira sings, playing on the name Clara with the word claramente: "She has the name of a good person / Clearly it's not as it sounds."
"No hard feelings, baby / I wish you the best with my supposed replacement," she adds. "I'm worth two 22s / You traded a Ferrari for a Twingo / You traded a Rolex for a Casio."
Shakira also makes some unsparing revelations in the following verse: "You left me a neighbor to [my] mother-in-law / Press at my door and in debt with the Treasury / You thought you hurt me, but you made me stronger."
The 2023 Coachella Valley Music and Arts Festival, which returns April 14-16 and April 21-23, is the first edition headlined entirely by nonwhite artists.
What does Shakira mean with the line about debt?
Shakira has been embroiled in a legal battle with the Spanish government, which claims that the singer owes 14.5 million euros in taxes from 2012 to 2014. She is due to stand trial in Spain.
"I've paid everything they claimed I owed, even before they filed a lawsuit," she told Elle Magazine in September. "While Gerard and I were dating, I was on a world tour. I spent more than 240 days outside of Spain, so there was no way I qualified as a resident. The Spanish tax authorities saw that I was dating a Spanish citizen and started to salivate."
But wait — there's more controversy.
Nascent Venezuelan singer Briella has come forward to suggest that Shakira's hook on the new song — her wolf-like wooooo — closely resembles that from her own song "Solo Tú," released in June. "I am in shock, I don't know what to do," she said on Instagram. "I love Shakira, I've been a fan of hers all my life. I would at least like some credit [as] a composer."
Call me cynical, but is all this goss in service of promoting a new Shakira album?
"I have a full album's worth of music that I'm so excited about," Shakira said last fall. She released two singles in 2022: Her Latin Grammy-nominated pop smash with Rauw Alejandro, "Te Felicito" (I Congratulate You), followed by her more charitable heartbreak ballad with Ozuna, "Monotonía" (Monotony). She has yet to confirm a release date for a new album, which would be her first since 2017's "El Dorado."
Get our L.A. Goes Out newsletter, with the week's best events, to help you explore and experience our city.
You may occasionally receive promotional content from the Los Angeles Times.