Hurricane Dorian pulls away from coast after making landfall in North Carolina, inundating Outer Banks
Beaufort Police Officer Curtis Resor, left, and Sgt. Micheal Stepehens check a sailboat for occupants in Beaufort, N.C. after Hurricane Dorian passed the North Carolina coast.
(ASSOCIATED PRESS)
Bill Bailey, assistant chief of the Emerald Isle Police Department, walks past a damaged trailer in the Holiday Trav-l Park in Emerald Isle, N.C., that was hit by a tornado generated by Hurricane Dorian.
(Julia Wall / [Raleigh, N.C.] News & Observer)
Waves pound the Bogue Inlet Fishing Pier in Emerald Isle, N.C., as Hurricane Dorian moves north off the coast.
(Julia Wall / [Raleigh, N.C.] News & Observer)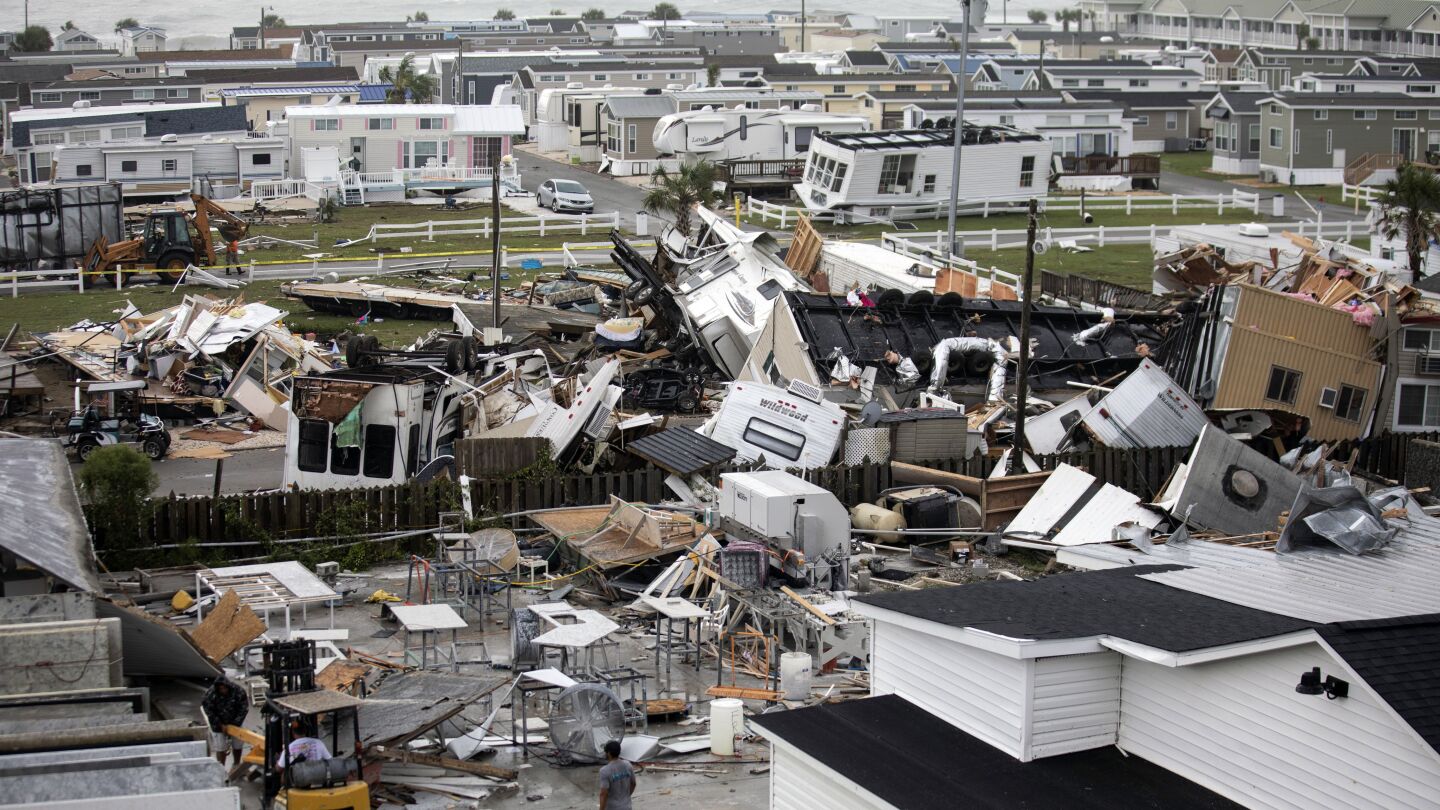 Mobile homes are upended and debris is strewn about at the Holiday Trav-l Park in Emerald Isle, N.C, after a tornado generated by Hurricane Dorian struck the area.
(Julia Wall / [Raleigh, N.C.] News & Observer)
A city crew works to clear the road blocked by a demolished mobile home after a tornado hit Emerald Isle N.C., as Hurricane Dorian moved up the East Coast.
(Tom Copeland / Associated Press)
A sailboat that came loose from its moorings wound up next to a bridge as Hurricane Dorian passed Isle of Palms, S.C.
(Mic Smith / Associated Press)
A gas station shows wind damage near Pawley's Island, S.C.
(Sean Rayford / Getty Images)
Residents find a neighborhood road blocked by a downed tree during Hurricane Dorian at the Isle of Palms, S.C.
(Mic Smith / Associated Press)
Johnny Crawford navigates his kayak down a flooded street in Charleston, S.C.
(Meg Kinnard / Associated Press)
Bill Chambers looks at the damage to the Summerville High School football stadium's goalpost and signage after Hurricane Dorian passed in Summerville, S.C.
(Mic Smith / Associated Press)
Bill Olesner walks down South Battery Street while cleaning debris from storm drains in Charleston, S.C.
(Sean Rayford / Getty Images)
CHARLESTON, S.C. —
Hurricane Dorian began to pull away from the Southeastern coastline of the United States on Friday after bringing severe flooding to North Carolina's Outer Banks, making landfall as a Category 1 storm and sending residents across a string of remote, low-lying barrier islands scrambling to their attics to avoid rising water from powerful storm surges and heavy rain.
The hurricane's eye reached Cape Hatteras, N.C., shortly after 8:30 a.m. EDT with maximum sustained winds of 90 mph after days of skirting Florida, Georgia and the Carolinas and earlier pounding the Bahamas as a Category 5, causing catastrophic devastation and killing at least 30 people.
The search for victims and survivors in the Bahamas continued, five days after Dorian devastated the Caribbean island nation with 185-mph winds that obliterated countless homes.
Hundreds of Bahamians gathered Friday at the Marsh Harbour port on Great Abaco — one of the areas most devastated by the storm — in the hope of boarding a ferry to Nassau, the capital.
There were no government-organized evacuations yet, the Associated Press reported, but the Royal Bahamas Defense Force helped people board a 139-foot ferry that had come to pick up its employees and had room for an additional 160 people.
A British navy ship moored offshore has begun to deliver essential items, including ration packs, water and blankets, and an array of organizations and companies, including the United Nations, Royal Caribbean cruise line and American Airlines, have mobilized to send in food, water, generators, roof tarps, diapers, flashlights and other supplies.
As the eye of the storm churned about 330 miles south-southwest of Nantucket, Mass., officials in North Carolina expressed relief Friday afternoon that the damage was not worse — as well as concern that hundreds of residents might be trapped on Ocracoke, a narrow sliver of an island between Pamlico Sound and the Atlantic Ocean, after water inundated homes.
"Finally, Hurricane Dorian has left North Carolina — and we're getting a look at the damage that it brought," Gov. Roy Cooper said at a Friday afternoon news conference.
About 800 people remained on the island during the storm, Cooper said, and many homes and buildings were under water.
The U.S. Coast Guard airlifted a 79-year-old man in need of immediate medical attention from the island, and Hyde County officials announced plans to airlift any residents who needed to evacuate from Ocracoke Island to a shelter in Washington County, where they would have access to food, power and medical supplies.
"If you wish to leave start preparing now," Hyde County instructed residents on Twitter. "We will release times to go to the airport when we have it."
Early Friday, the National Weather Service in Morehead City declared a flash-flood emergency for Hyde and Dare counties, warning residents that rapidly rising floodwaters from the Pamlico Sound were expected to inundate the first floors of homes and urging them to retreat to a higher level.
Waters rose from significant storm surge and flash flooding, swamping homes and submerging cars. But many residents appeared to have survived, shaken, but with few injuries.
Ann Warner, who lives on Ocracoke, scrambled up the staircase to her second floor as a sea of whitecaps crashed through her front yard and into her home, which is elevated 6 feet off the ground.
Through a window, she watched the waves pummel trees and toss boogie boards, life jackets, grills, even stairs through her yard.
"It made a mess, a wet mess," said Warner, who has lived on the island for about 30 years and owns a local restaurant, Howard's Pub. "The good news is the water has subsided; the bad news is we've had catastrophic damage. I've never seen the storm surge come up this high."
While some people in low-lying homes had to retreat into their attics, Warner said, she believed most residents were safe.
Helicopters and swift-water rescue crews were dispatched to the island once weather conditions improved.
More than a quarter of a million people had been ordered to evacuate the Outer Banks before Dorian blew through. But many residents, hardened by years of riding out hurricanes and other storms, hunkered down, believing this one would pass quickly.
"Once the ferries cut off, you can't change your mind," Warner said.
While South Carolina and the lower coast of North Carolina were spared the brunt of the storm as it churned offshore, there was widespread flooding and multiple tornadoes. Coastal highways and shopping thoroughfares flooded. Winds blew portions of the roof off the Bogue Shores hotel in Atlantic Beach. A Cedar Island gas station was submerged under several feet of water.
Across the Carolinas, more than 220,000 homes and businesses were without power.
South Carolina Gov. Henry McMaster on Friday lifted the mandatory evacuation orders for all coastal residents, urging them to be patient and expect lengthy travel times, blocked roadways and detours as they made their way back to the coast.
As cleanup crews fanned out across the coast to clear roads of downed trees and debris, power companies worked to repair power lines, and businesses in the historic city of Charleston and along the coast began to reopen.
The National Hurricane Center expects Dorian to strengthen as a hurricane during the next 24 hours before it becomes an extratropical storm. After moving away from the North Carolina coast, passing far southeast of New England on Friday night and Saturday morning, it is forecast to move across Nova Scotia, Canada, late Saturday. A hurricane warning is in effect for eastern Nova Scotia from Hubbards to Avonport.
Whether or not Dorian is a hurricane when it reaches Nova Scotia and Newfoundland, it is expected to bring strong winds, storm surge and heavy rains, said Jack Beven, a forecaster for the National Hurricane Center.

---
Must-read stories from the L.A. Times
Get the day's top news with our Today's Headlines newsletter, sent every weekday morning.
You may occasionally receive promotional content from the Los Angeles Times.