Twice as cute: Berlin zoo releases new photos of panda twins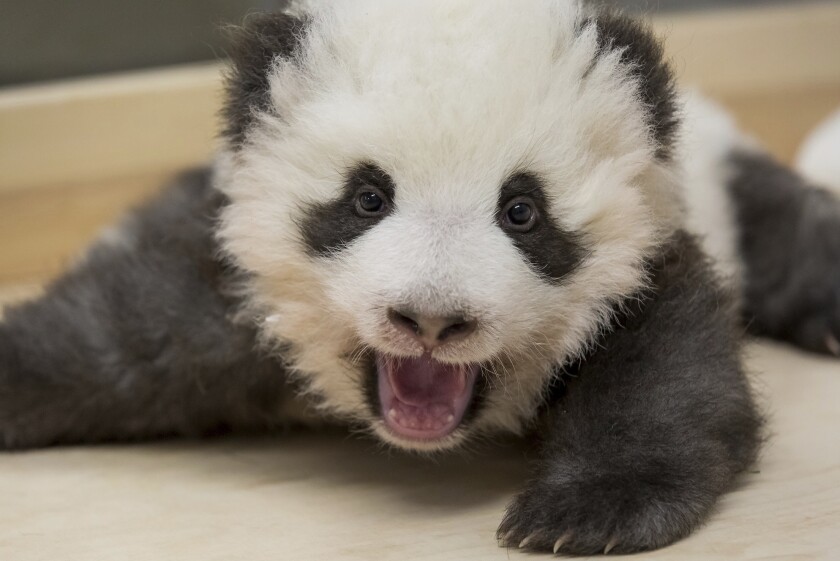 BERLIN —
Berlin's zoo has released new photos of twin panda cubs born this summer and says the two are developing well.
The zoo said Thursday the two cubs each now weighed about 11 pounds — quite an increase from their 6.56-ounce and 4.8-ounce weights when they were born Aug. 31.
Zookeepers initially hand fed the cubs — the first giant pandas born in Germany — with bottles of milk pumped from mother Meng Meng, but they now feed on their own.
She and father Jiao Qing came to Germany from China two years ago.
There are fewer than 2,000 of the endangered pandas estimated alive in the wild today.
The cubs have not yet been named or shown to the public.
"Hicks…Hicks…Hicks" – ein Schluckauf kann ganz schön anstrengend sein! Während der jüngere Nachwuchs der beiden #BabyPandasBerlin wieder einmal mit der Müdigkeit kämpft, hält ihn ein kleiner Schluckauf kurzzeitig in Schach. Höchste Zeit für das nächste Nickerchen🐼💤 #ZooBerlin pic.twitter.com/V7jznrdlPp

— Zoo Tierpark Berlin (@zooberlin) November 28, 2019
---
The Latinx experience chronicled
Get the Latinx Files newsletter for stories that capture the multitudes within our communities.
You may occasionally receive promotional content from the Los Angeles Times.