(Dania Maxwell / Los Angeles Times)
TIJUANA —
It's a Friday morning and, as at any other school, children are cutting paper, drawing, reading aloud and playing with friends. There's some shouting and pushing too, and their teacher patiently arranges the desks and gives instructions.
What's unusual is the setting: the inside of a passenger bus that has been converted into a classroom.
The school is part of the Yes We Can Mobile Schools project of the Yes We Can World Foundation, a nonprofit formed to support migrant children trapped on Mexico's northern border while they wait for U.S. authorities to accept or deny their asylum applications.
The effort was brought to life by Estefania Rebellón, a Los Angeles actor who knows the pain and uncertainty of being an asylum seeker. Eighteen years ago, at age 10, she fled her native Colombia after the Revolutionary Armed Forces of Colombia, better known as FARC, threatened to kill her family.
"One day, my parents were waiting for me outside of school and took me home. On the way, they told me we had to leave," she recalled.
The family abandoned their house in a prosperous neighborhood in the city of Cali, and her parents gave up their work as well-known lawyers. "Without understanding what was going on, I put some clothes in a suitcase, a doll, and nothing else. My life and my memories stayed there," Rebellón said.
Exiled overnight, within a matter of days her family was in Miami and soon sought asylum with U.S. authorities.
Memories of that uneasy time came back last December when Rebellón first visited El Barretal, a shelter set up by Mexican authorities in Tijuana to receive caravans of migrants from Central America. Seeing the children, uncertain and anxious, she felt her heart shrink and resolved to do something — in the same way that a relative offered her home as shelter for Rebellón, her siblings and parents when they sought asylum.
"From that time, I remember the feeling of security that came from knowing that someone was holding our hand," she said.
Now it was her turn to lend that helping hand. In less than a month after returning to Los Angeles, she had formed Yes We Can World Foundation.
Before her visit to Tijuana, Rebellón had participated as an activist in some political movements, primarily against President Trump's immigration and border policies, and on behalf of women's rights. But this cause was different, more personal. The children at El Barretal had emigrated from Honduras, El Salvador, Guatemala, and from the Mexican states of Guerrero, Guanajuato and Michoacán, where violence has forced thousands to seek safe harbor in the United States.
Column One
A showcase for compelling storytelling
from the Los Angeles Times.
Some children walked for months to get to Tijuana. Some have lost relatives to gangs and organized crime.
"They come depressed, with the anguish of not knowing what's going to happen, with the uncertainty of knowing if they're going to be able to cross into the United States or will have to return to their places of origin," said Sandra Rodríguez, a teacher.
Another teacher, Clarisa Carrasco, plays soft, meditative music to help the students decompress. This morning she placed herself at the back of the classroom and asked the children to breathe. "Inhale. Exhale," she said, slowly raising and lowering her arms. "Inhale. Exhale."
The effect was immediate. Classroom noise yielded to silence, broken only by the delicate music.
Carrasco said that the children "play, study, talk with their new friends, and have fun discovering the similarities and differences between one country and another."
"But only they know what they have lived and what they have suffered," she added.
The mobile classroom contains many stories. One belongs to Isabel, a 5-year-old from Guatemala, who hugged a teddy bear and chattered away about her experiences in a San Diego migrant detention center. Migrants call them hieleras — iceboxes — because they're often cold.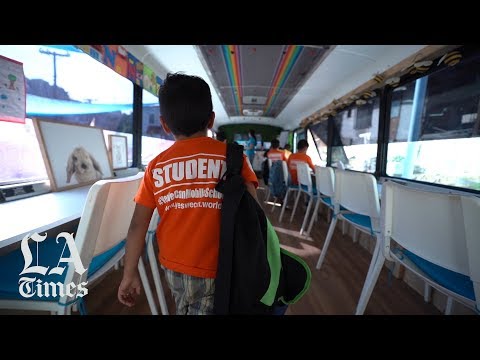 The bus is part of the Yes We Can Mobile Schools project of the Yes We Can World Foundation, a nonprofit formed to support migrant children trapped on Mexico's northern border while they wait for U.S. authorities to accept or deny their asylum applications.
"They took us to the icebox," Isabel said. "It's freezing, and all they give you is an aluminum blanket."
Isabel's mother, who said she had fled her homeland to escape an abusive husband, had pleaded for asylum. U.S. immigration officials were unconvinced. They denied her application.
"We're going back to Guatemala now," Isabel said. "I'm going to miss my school, my teachers and my friends."
The school began operating at full capacity in July and each day serves about 45 children ranging from 5 to 15 years old. But the need is so great that Rebellón and her colleagues immediately set up tents in an adjacent playground to provide additional classroom space for teenagers up to 18.
The bus is parked on the grounds of the Pro Amore Dei (For the Love of God) shelter in Tijuana, where dozens of immigrant families receive help. Starting in December, thanks to Badrap, a Bay Area organization, that donated a shuttle bus, they will start picking up children from different shelters and bring them to school.
LGBTQ migrants face extortion, death threats and assault after they're sent south of the border
The mobile school is a palliative for a crisis that worsens by the day. Trump's critics say that is due, in part, to his immigration policies, particularly the separation of families under the "Remain in Mexico" program.
Since its implementation in January, with the cooperation of the Mexican government, more than 30,000 asylum seekers have been sent back to the border cities of Tijuana, Mexicali, and Ciudad Juárez to await immigration court hearings.
For Rebellón, the challenges facing the immigrants echoed her own family's struggles, even after they won asylum. Her father, Carlos Rebellón, gave up his law briefs to work in a Wal-Mart.
"Yes, we had to start over and made a big sacrifice, but for the family, you do whatever it takes," said Carlos Rebellón, 64.
As for Estefanía, she grew up, learned a new language and customs, and dreamed of becoming an actress, traveling to Hollywood and being famous. Rebellón has had roles in series such as "Jane the Virgin," and in films including the short "On the Other Side."
"There was nothing that she could not do," said her mother, Sara Manzano.
She brought that resolve to creating her school. With the support of her boyfriend, Kyle Schmidt, she created Yes We Can World Foundation and set about acquiring a bus and transforming it into a mobile classroom. With a lot of work, they tore out the seats, lined the interior with wood and set up desks.
Using social media, Rebellón and Schmidt began asking for public support.
"People responded with incredible speed," Rebellón said. "I stood in a Home Depot and wrote on the social media that I needed plywood, and in a few hours, I got all that I needed."
"The key," said Schmidt, "is that everything is transparent."
The hardest part was finding a place to park the bus. "We went through all the immigrant shelters in Tijuana," said Mario Medina, an official who ran El Barretal before the Mexican government shut it down in January. He and the foundation eventually chose Pro Amore Dei, which houses about 120 families and "has a great tradition of helping," Medina said.
Once the site for the bus was selected, a series of problems had to be solved, such as improving conditions in the surrounding area, which had to serve as a playground.
"We convened a team of volunteers, and in less than a day, we cleaned and prepared the land next to the shelter," Medina said.
Vince Young of the L.A.-area pest control company Warrior Termite donated the resources to build a fence around the school's perimeter. Gero Sosa, owner of a Tijuana electrical maintenance business called PYME, gave a lighting system to improve security, and the group This Is About Humanity donated playground equipment.
Thanks to such donations, each student receives a new backpack with pencils, pens and notebooks. They also receive uniforms and shoes. World Central Kitchen provides school lunches through an agreement with Yes We Can World Foundation. The effort relies on volunteers and four paid staffers — three teachers and a coordinator.
Students, on average, stay at the school 45 days. The school mainly serves as a transition to other schools, and teachers try not to waste the limited time they have with their students. With the help of the volunteers, they distribute books in English and Spanish.
"I already know English," one boy, Marcos, told a companion. His family hopes to travel to Minnesota and he was already practicing his vocabulary: "Pollito ... chicken. Gallina ... hen. Lápiz ... pencil. Amarillo ... yellow."
Marcos is 7 and dreams of a new life in the United States, where all would be well.
"When you grow up, what do you want to be?" Carrasco asked.
Marcos didn't miss a beat. "I want to be rich."
"No," Carrasco said while giving him a hug. "I meant, what you would like to study?"
"Ah, I don't know," the boy said. Then with serious look on his face, he added, "But I want to study what will help me get money and beautiful house."
The passenger bus that today has become a school required the work of dozens of people and contributions from more than 500 donors, most reached through social media networks.
"People support and trust us because we immediately show them the great impact we are making on the lives of these migrant children and because we show them exactly how the money that they donated is spent," said Rebellón.
But, as the need is great, Yes We Can World Foundation already is working on expanding its project to Ciudad Juárez, next to the Texas border.
"We're ready to take the next step," Rebellón said as she shepherded a group of volunteers from Los Angeles who had come to build the playground and construct the fence.
"All help is welcome," she said while helping her volunteers set up a set of swings and slides. Nearby, groups of children were eagerly waiting to climb on.
Sign up for Essential California for the L.A. Times biggest news, features and recommendations in your inbox six days a week.
You may occasionally receive promotional content from the Los Angeles Times.