(Gary Coronado / Los Angeles Times)
MATAMOROS, Mexico —
As has happened so often in her life, Mayela Villegas once again faced the threat of violence.
It was a late afternoon in September and she was alone. Hundreds of other asylum seekers camped at the foot of the U.S.-Mexico border bridge were resting before volunteers arrived with dinner.
Suddenly, a fellow Central American migrant appeared at her tent, growling threats.
"I don't want any problems," said Villegas, a slight figure with long brown hair and red lipstick.
"What problems?" the woman said. "The only problem would be how to take a knife and gut you. You wouldn't be the first or the last. You're worthless — annoying. You'll never compare to me because I have a vagina and you don't."
Villegas is transgender. She had stayed at the bridge in hopes of obtaining asylum in the United States to escape such threats.
The Honduran woman threatening her was dating a member of a Mexican drug cartel. Villegas tried to appease the woman by acknowledging she had powerful friends, even as Villegas secretly recorded their encounter on a cellphone.
"Yes," the woman snarled before leaving for her nearby tent. "You know how this is going to end."
Studies show LGBTQ migrants are among the most vulnerable, more likely to be assaulted and killed: 88% were victims of sexual and gender-based violence in their countries of origin; two-thirds suffered similar attacks in Mexico, according to a 2017 study by the U.N. High Commissioner for Refugees.
Non-Mexican migrants seeking asylum must now await U.S. immigration court hearings south of the border under the Trump administration's Remain in Mexico program. A Homeland Security spokeswoman said asylum seekers may be removed from the program and allowed into the U.S. if they are "more likely than not to face persecution or torture in Mexico."
Some transgender migrants have indeed been released or placed in detention in the U.S. But many more LGBTQ asylum seekers have been placed on waiting lists or returned to Mexico for months. Dozens of LGBTQ asylum seekers in Ciudad Juarez, Matamoros and Tijuana said in interviews that U.S. immigration officials told them they were not exempt from Remain in Mexico.
Villegas, a 27-year-old hairdresser from El Salvador, first sought refuge in the U.S. five years ago. She entered the country via Tijuana, but was deported. Two years later she returned, only to be deported again by a judge who didn't believe she was Salvadoran or transgender, according to court documents she keeps with her.
Villegas said she and a transgender friend were kidnapped in the southern Mexican city of Tapachula by men who stripped and raped them repeatedly. Villegas, who dropped out of college to help support her family, managed to escape and return home, only to be assaulted and forced into prostitution by Salvadoran gang members. She reported the attacks to the police and to Amnesty International, testifying at a human rights conference. But after receiving a death threat from the gang in May, she headed north again, hoping to join her aunt, a legal resident in Houston.
Column One
A showcase for compelling storytelling from Los Angeles Times.
Villegas said her family accepted her as transgender. Her aunt, a fellow hairstylist, would help her find work and made room for Villegas in her suburban home. But the aunt, who is conservative, also would call her by her male name, pressure her to attend church and criticize her if she wore flashy dresses or anything too feminine.
In Matamoros, Villegas waited three weeks before she was allowed to cross the border bridge to Brownsville, Texas, and claim asylum. Customs and Border Protection agents could see from her identification that she was transgender. When she asked if there were exceptions to Remain in Mexico for trans migrants, "They said that would happen at my court hearing."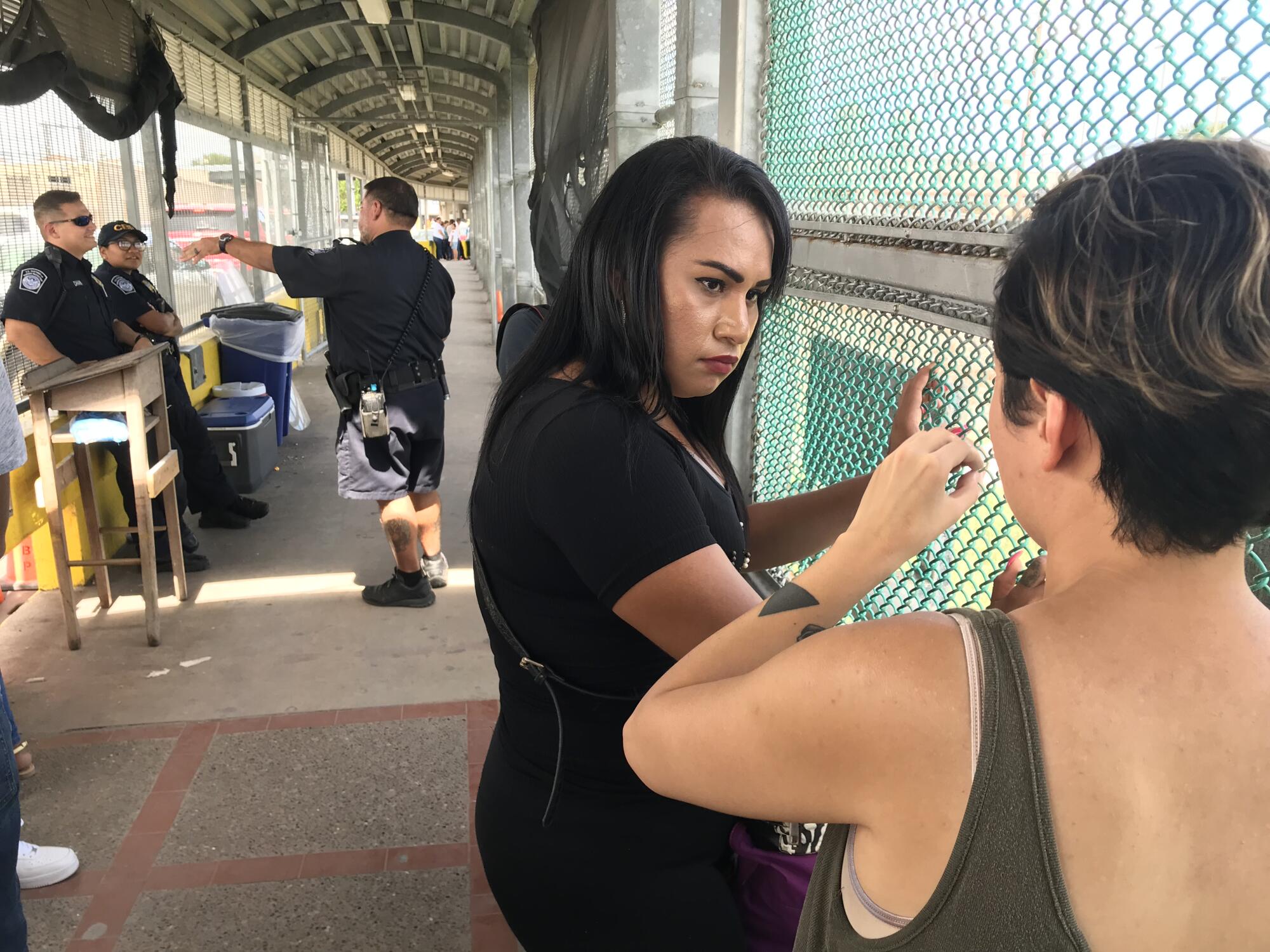 She was sent back to Mexico the same day. Her immigration hearing in Brownsville wasn't until Dec. 9.
"I could die before that," she said.
Migrants bathing in the nearby Rio Grande last month found the torso of a man whose limbs and head had been cut off. Villegas thought about her own death a lot.
"Where will I be buried?" she wondered aloud. "Will my mother know?"
On Sept. 1, she and a half dozen LGBTQ migrants, accompanied by U.S. legal advocates, entered the bridge and confronted customs officers, demanding they be removed from Remain in Mexico. They were sent back to Matamoros.
I'm a woman. I can't give up what I am.
— Mayela Villegas
As weeks passed, life at the camp worsened. Migrants threw trash onto a fetid black pile beside Villegas' tent. The woman who had threatened her kept circling. Villegas wondered if she would get attacked.
"I think about suicide sometimes," she said.
She did not consider wearing men's clothes or acting macho to blend in.
"I'm a woman," she said. "I can't give up what I am."
Villegas has a smooth face and breasts, having taken hormone blocking drugs since age 16. She dreamed about having gender confirmation surgery once she made it to the U.S. and found work. She said she wanted to be free to walk the streets without fear, "to finish my transition and to not be persecuted by anyone anymore."
Though her hearing was weeks away, an immigration lawyer offered to walk her over the bridge to attempt an asylum claim this month. Days later, she heard that presidential candidate Julián Castro, working with the Texas Civil Rights Project, was coming to Matamoros to escort fellow LGBTQ asylum seekers across the bridge.
Villegas wondered what would increase her chances for asylum. Crossing on her own? With her friends?
In her tent the night before she was due to cross, she packed two small suitcases and messaged other LGBTQ asylum seekers on WhatsApp.
"What would you do in my shoes?" she said.
It's not clear how many LGBTQ people are among the 54,000 asylum seekers returned to Mexico or the 26,000 more on waiting lists to apply for asylum. Forty-five congressional lawmakers wrote to Homeland Security officials in June, demanding they clarify the Remain in Mexico policy for LGBTQ migrants and detail how many had been returned.
"Forcing them to remain in Mexico or creating additional hardships in their asylum process only makes them more susceptible to the same violence that forced them from their home countries in the first place," the lawmakers wrote.
Homeland Security Deputy Undersecretary James McCament declined to release details, citing lawsuits challenging Remain in Mexico. "But I want to reiterate DHS's commitment to the responsible implementation of this program as it applies to all populations, including [LGBTQ] asylum seekers and other vulnerable populations," he wrote in a July letter to the lawmakers.
This month, Rep. Raul M. Grijalva (D-Ariz.) said he was drafting a follow-up letter to Homeland Security demanding it disclose the information.
"We're going to press it again," he said in an interview. "The vulnerability of LGBTQ asylum seekers is historic in this country, as well as Latin America. We want some response and acknowledgment that that's true, and what are you going to do about it."
Rep. Nanette Barragán (D-San Pedro), who serves on the House Homeland Security Committee, said, "We do need to get some answers and some clear definitions of who qualifies, and we need to push so that vulnerable populations do qualify to be exempt."
Sometimes I get tired. Seeing the deaths of my sisters; when I see the house, the condition the state leaves us in; that we don't matter to anyone.
— Respetttrans shelter founder Grecia Herrera Alvarado
LGBTQ migrants are facing pressures all along the U.S.-Mexico border.
In Juarez, more than 800 miles west of Matamoros, the only shelter for LGBTQ migrants has no steady funding, no windowpanes and crumbling walls. In some places, the roof has caved in, and is patched with trash bags that don't keep out water when it rains.
Transgender nurse Grecia Herrera Alvarado founded the shelter last year and named it Respetttrans "because we want respect, respect of our identity." Unlike religious migrant shelters in Juarez, it has received little funding from the Mexican government, she said.
One day in September, the shelter housed about 50 people, a dozen of them LGBTQ. Young boys on a tattered couch giggled as they pointed at a poster showing dozens of transgender migrants who had stayed at the shelter, including two who died after they crossed the border and fell ill at U.S. Immigration and Customs Enforcement detention centers.
More migrants were arriving every day. Soon, temperatures would start to dip as winter approached. Herrera needed to fix the roof and windows before then, but a GoFundMe website had raised only enough to cover monthly expenses.
"Sometimes I get tired," she said. "Seeing the deaths of my sisters; when I see the house, the condition the state leaves us in; that we don't matter to anyone."
A week before, two transgender women she knew had been found dead in a nearby viaduct, shot and chopped up. Five had been killed in Juarez in the last month, she said.
Transgender Honduran Courtney Collins has been waiting at the shelter to claim asylum in the U.S. for six months, afraid to go out. Collins, 20, said that her mother died when she was a toddler and that relatives who raised her kicked her out at age 14 after they caught her wearing women's clothes.
Like many LGBTQ migrants at the shelter, Collins had relatives in the U.S., including in Los Angeles. She reached them by phone, but said they refused to help her because they're conservative, Pentecostal.
"My aunt told me the only way she could take me is if I be a good man and have a woman and start to have children," Collins said.
She refused.
"I said 'That's not the life I want,'" Collins recalled. "And she said, 'Burn in hell.'"
We don't have much to defend ourselves. We're just looking for a place where we can be who we really are.
— Courtney Collins
Collins was excited at the prospect of entering the U.S., but worried she could fall ill or be assaulted while in detention.
"We don't have much to defend ourselves," she said of transgender migrants. "We're just looking for a place where we can be who we really are."
Migrants at the shelter from Cuba, El Salvador and Honduras said they had been raped in their home countries, targeted because they were LGBTQ.
LGBTQ asylum seekers in Matamoros say the same.
Andrea, 24, fled El Salvador in June with her longtime girlfriend and her girlfriend's 9-year-old daughter after being harassed by a neighbor. Andrea, who declined to give her full name, said that when they told Border Patrol agents they were a couple, the agents laughed and detained them separately.
"They said that's not worth anything," she said.
Her girlfriend was allowed to enter the U.S. with her daughter, and they went to stay with her sister in Iowa. Andrea was returned to Mexico.
As for Villegas, she decided to cross the bridge on her own. On Oct. 5 she hugged other LGBTQ migrants in front of the bridge, and they offered advice about how to act with customs officers.
"When you talk, use a firm voice. Don't cry," said one.
Villegas nodded. As she approached the bridge, she pulled a pink bag behind her labeled in Spanish, "Where there's a woman, there's illusion."
Jodi Goodwin, her lawyer, stopped to consult with her. "Mayela, you know all the consequences," she said in Spanish.
Villegas nodded.
"You have to be very strong with them," Goodwin said.
As they approached the center of the bridge, Goodwin paused again with Villegas to pray, finishing with, "God, hear us."
Then Goodwin introduced her client to the half dozen U.S. customs officers stationed at the center of the bridge. They summoned a supervisor. Moments later, they escorted Villegas into the U.S. port of entry.
Villegas was interviewed as her LGBTQ friends had been: via telephone, by an asylum officer. Unlike the one who interviewed her before, this officer was sympathetic; he said he had a gay relative.
Villegas told him about being threatened at the tent camp, that she had recorded the encounter, reported it to the police and obtained police reports.
The officer listened and then made a ruling: Villegas could stay in the U.S. while her asylum case is pending. She was allowed to contact her aunt, who bought her a bus ticket to Houston. By the next morning, she was on her way.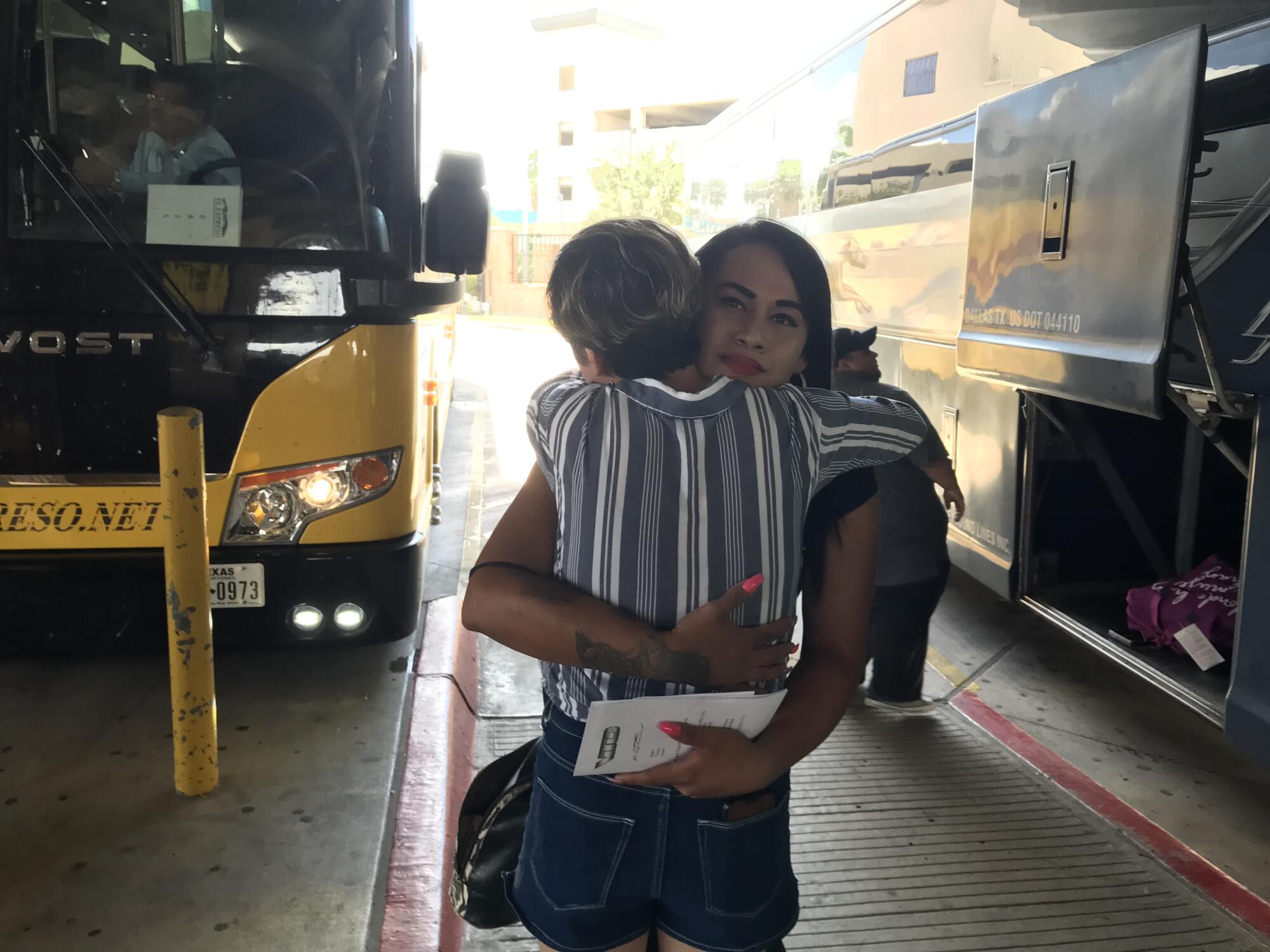 But the following day, eight of her LGBTQ friends tried to cross the same bridge with Castro. They too were interviewed by an asylum officer. But this officer said there were no exceptions to Remain in Mexico for LGBTQ migrants. They said he told them that if they felt unsafe in Matamoros, they should move somewhere "with more gays," like Mexico City.
All eight migrants were returned to Mexico.
Sign up for Essential California for the L.A. Times biggest news, features and recommendations in your inbox six days a week.
You may occasionally receive promotional content from the Los Angeles Times.