They've fumbled with them in public. They've been caught wearing them upside down on TV. Sometimes, when posing for photos, they try to match them with the color of their outfits. And there are others, like President Trump, who have chosen to wear no mask at all.
Presidents, prime ministers and other public officials are poised to lead by example. The choices they make and how they carry themselves can send a more powerful message than what they say. Since the coronavirus outbreak, face masks have become potent symbols in how leaders have responded to a public health crisis that often collides with politics and economic concerns.
These days, the simple act of wearing a mask — or not — has devolved into partisan debate not just in the U.S. but in other countries as well. Leaders who don't cover run the risk of signaling that they think fears of the virus are overblown. Some don't want to create alarm. Those who do wear them suggest a sense of solidarity and a nod toward science.
As world leaders continue to implement new social distancing guidelines in their respective countries — some of which mandate that masks be worn in public — they shape what a "new normal" looks like.
Below is a look at how some leaders who opted to wear face masks have been implementing measures — and others who decided against it.
President Trump
While touring a Ford factory in Michigan on Thursday, Trump, as has been his custom, did not wear a mask on camera.
"I had one on before. I wore one in this back area, but I didn't want to give the press the pleasure of seeing it," Trump told reporters.
Michigan Gov. Gretchen Whitmer, a Democrat, criticized Trump's decision, telling MSNBC's Rachel Maddow that "it wasn't surprising, but it was disappointing."
"As you saw in the footage, all of the Ford executives wore the masks. All of the employees were wearing masks, all of the press were," Whitmer said. "And it's really important that anyone with a platform has a responsibility to make sure that they model precisely what we're asking everyone else to do."
Vice President Mike Pence
Vice President Mike Pence talked to Florida Gov. Ron DeSantis as they waited for their lunch at Beth's Burger Bar on Wednesday in Orlando. Pence was to participate in a roundtable discussion with hospitality and tourism industry leaders to discuss their plans for reopening during the coronavirus outbreak.
In April, Pence faced backlash after he was photographed not wearing a mask while visiting the Mayo Clinic in Minnesota. During a televised town hall a few days later, the vice president said he should have covered his face.
China's President Xi Jinping
Surrounded by covered faces, Chinese leader Xi Jinping arrived mask-less for the opening session of the National People's Congress at the Great Hall of the People in Beijing on Friday. Xi did don a mask in March when he visited the city of Wuhan, where the virus outbreak originated.
Canada's Prime Minister Justin Trudeau
Canadian Prime Minister Justin Trudeau has gotten into the habit of wearing face coverings in Parliament and when going to the office. He's urged people to adhere to strict social distancing guidelines in addition to wearing face masks.
"In situations where I'm either walking through the halls of Parliament or going to my office and coming in proximity to people, I've chosen to start wearing a mask," Trudeau told reporters recently. Following his comments, Theresa Tam, Canada's chief public health officer, recommended all Canadians cover their faces in public when social distancing becomes difficult.
Britain's Prime Minister Boris Johnson
In this March photograph, British Prime Minister Boris Johnson and his partner Carrie Symonds arrived at the annual Commonwealth Day service at Westminster Abbey in London.
During the early days of the outbreak, Johnson was photographed not wearing a face mask in public on several occasions. Last month, he was was stricken with COVID-19 for weeks and spent several days in the intensive care unit.
His administration is now suggesting that people wear face coverings while using public transportation, venturing inside businesses and during other instances in which social distancing becomes difficult, but he has stopped short of requiring people to wear one outdoors or in schools or certain workplaces.
Japan's Prime Minister Shinzo Abe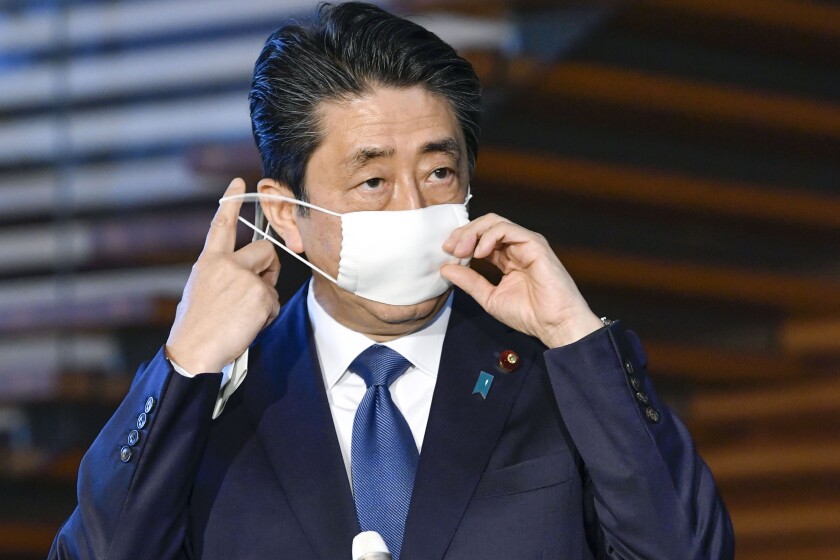 Japanese Prime Minister Shinzo Abe took off a mask when he spoke to reporters in April.
To curb the outbreak in Japan, which saw a rise in cases in April, Abe announced he'd be distributing two reusable clothed face masks per household. In Japan and other East Asian countries, such as South Korea, people have been wearing face masks when venturing out to public since January.
Germany's Chancellor Angela Merkel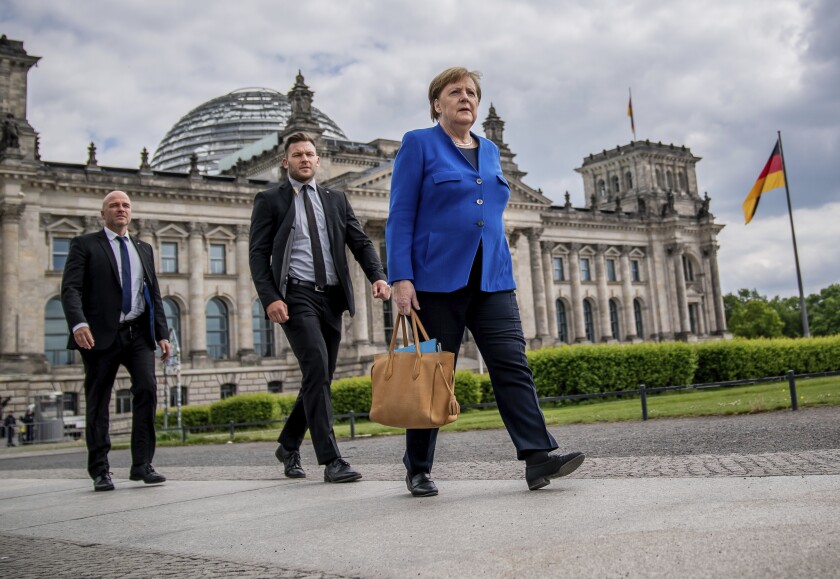 German Chancellor Angela Merkel, above, walked to the Chancellery accompanied by her bodyguards after an appearance at the Bundestag in Berlin this month. Merkel has been praised for her government's response to the coronavirus outbreak. While neighboring countries have been ravaged by the virus, Germany has kept its death numbers relatively low.
In order to continue that positive trajectory, since April people have been required in most regions to wear face coverings while shopping in stores or riding public transportation. In Berlin, however, face masks are not required in markets and other businesses.
France's President Emmanuel Macron
French President Emmanuel Macron wore a mask while speaking with schoolchildren at the Pierre Ronsard elementary school this month outside Paris. As France begins to emerge from its lockdown, face coverings are required in public spaces, such as high schools and public transit. Violators risk getting fined.
Macron has been leading by example; he has been photographed wearing face coverings during public events. But the decision to urge the public to wear masks while still enforcing its ban on burkas has been criticized by Muslims and others.
Brazil's President Jair Bolsonaro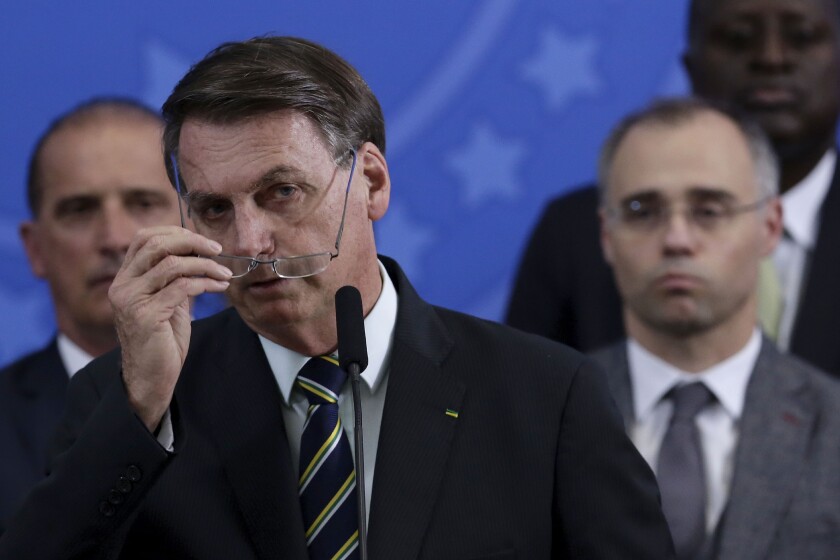 While other leaders in countries hit hard by the virus have been praised for implementing strict social distancing measures, Brazil's President Jair Bolsonaro has largely rejected or downplayed the dangers of the coronavirus.
From calling COVID-19 a "little flu" to attending anti-stay-at-home rallies in areas where local officials have ordered quarantining measures, Bolsanaro echoes other leaders, including Trump, who want to see a faster reopening of the economy.
Belarus' President Alexander Lukashenko
Despite over 30,000 confirmed coronavirus cases in Belarus, home to about 9.5 million people, President Alexander Lukashenko joins the ranks of other leaders who refused to order strict lockdown measures. Restaurants and stores remain open. And public events are continuing as scheduled. There are no social distancing or quarantining requirements for residents.
Russia's President Vladimir Putin
Russian President Vladimir Putin wore a protective suit when he visited a hospital for coronavirus patients in Kommunarka settlement, outside Moscow, in March. Social distancing measures in Russia have been easing this month after Putin announced that workers who had been deemed nonessential could begin to return to work.
Russia has been particularly hard hit by the virus, with more than 326,000 cases and more than 3,400 deaths. Putin has left it up to regional authorities to decide when to lift lockdown measures.
Mexico's President Andrés Manuel López Obrador
When the crisis began unfolding in March, Mexican President Andrés Manuel López Obrador struck a defiant tone. The virus, he said, wouldn't do much harm in his country. Those who spoke of the health risks were met with criticism by Obrador, who accused them of playing politics.
Instead of social distancing and using hand sanitizer to minimize exposure, López Obrador recommended praying and good luck charms, which he carried around himself, including Catholic scapulars and a U.S. two-dollar bill. His comments downplaying the risk have drawn comparisons to remarks by Trump and Bolsonaro.
And now, as the number of cases continue to surge in Mexico, López Obrador is forging ahead with a gradual reopening of the economy.
In hard-hit Mexico City, Mayor Claudia Sheinbaum said the plan is to reopen starting June 1.
Produced by Agnus Dei Farrant.
---