(Carolyn Cole / Los Angeles Times)
MATAMOROS, Mexico —
The Cuban nurse picked her way through the sprawling border camp on the banks of the Rio Grande, past tents housing a couple of thousand migrants.
Mileydis Tamayo Salgado navigated a maze of worn dirt tracks wearing a red T-shirt labeled "Medico." She ducked under clotheslines and tarps before entering treatment tents, thermometer in hand. There she took asylum seekers' temperatures and asked if they had symptoms of COVID-19.
Tamayo, 50, slipped a thermometer in a protective sleeve between the lips of a 6-year-old Mexican girl.
"Close your mouth — thank you, my love," the nurse said in Spanish, explaining, "If they have fevers, we take them to the clinic."
The clinic, run by U.S. volunteers with Florida-based nonprofit Global Response Management, has been staffed since it opened last fall almost entirely by asylum seekers. Most are Cubans like Tamayo with prior medical training, plus a pharmacist from Nicaragua, an assistant from El Salvador, a nurse from Colombia and Mexican translators. They're trying to prevent the virus from spreading as they and other migrants await U.S. immigration hearings repeatedly postponed because of the pandemic. Migrants who work at the clinic receive $15 to $30 a day in a weekly stipend.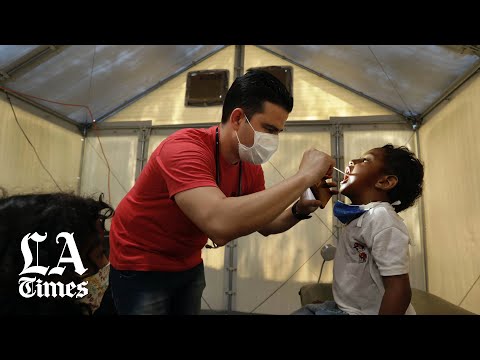 So far, no one at the camp has tested positive for COVID-19. Those entering the camp, inside a new chain-link perimeter fence Mexican officials installed this month, must submit to a temperature check. Three migrants who showed symptoms earlier this month were isolated in tents just outside the fence.
Some of the migrants working at the clinic had fled to the border after obtaining visas and flying directly to Mexico. Others got visas to Ecuador and Nicaragua, then traveled north to Mexico by bus.
Dr. Dairon Elisondo Rojas, a Cuban migrant, and his girlfriend traveled for more than a month by plane, boat and bus before they reached the U.S. border last August.
He initially worked at a Mexican border factory, or maquiladora, then came to work at the clinic after it opened. His girlfriend, a fellow physician, was working at a local boutique and salon. She has relatives they hope to join in Louisiana. Their next court date is June 23.
Back in Cuba, Elisondo, 29, was banned from practicing medicine and harassed by the police.
"Here, we treat people with dignity," he said between consultations at the clinic May 15.
Tamayo arrived at the camp two months ago after traveling to Mexico from her hometown of Guantanamo in Cuba. She said she wasn't afraid to work with migrants who might have the virus. In Cuba, she treated patients for AIDS, cholera and dengue fever.
"When this is your profession, you can't be afraid of anything," she said as she sat in one of the clinic's three temporary huts, beside the trailer that serves as the main exam room.
Tamayo fled Cuba with her 23-year-old daughter, hoping to join her brother in Miami. Her asylum hearing was supposed to be June 3 at a tent court on the opposite riverbank, in Brownsville, Texas. But the tent court remained closed due to the pandemic, and Tamayo expected her hearing would soon be postponed, as others have been.
"In one way it's good, because we avoid contact with people" in the tent court, she said. "But in another way it's bad, because there are people waiting longer than a year" for their immigration cases to be resolved.
Cuban nurse Alberto Lopez had his May 26 court hearing postponed until later this summer. Lopez, 56, like other Cuban medical staff at the clinic, had been sent to Venezuela by his government five years ago to provide care in exchange for the country giving oil to Cuba. He married a Venezuelan woman, and she became pregnant. As violence escalated last year, Lopez fled to the U.S. border. His wife and child remained behind. Lopez settled at the camp, where he felt it was his duty to work at the clinic.
"We are taught to help people regardless of nationality and politics," he said as he helped a father who had brought his two children to be tested for COVID-19 (both were negative).
Half as many migrants have sought treatment at the clinic as visited the facility before the pandemic, about 20 people daily. Migrants were self-isolating in their tents, afraid they might be exposed to the virus if they visited the clinic. But those who sought treatment for themselves and their children said they trusted clinic staff.
"They know we are migrants, the training we have and the sacrifices we made," Lopez said.
Dr. Lestter Guerra worked with his wife, a fellow Cuban physician, in Venezuela and Brazil before they were recalled to Cuba two years ago and disciplined for trying to remain abroad.
"They knew we were not agreeing with the government's ideology," he said between appointments in one of the clinic huts. "And it was impossible to work as a doctor in Cuba."
Guerra, 34, works at the clinic two days a week for about $30 a day. The rest of the time, he works at a supermarket deli with his wife, where he earns about $45 a week.
"It's been wonderful for me to work here in my profession with migrants just like us," he said.
He had read reports about front-line workers in the U.S. catching COVID-19 and worried he could be next, he said, "but I'm a doctor, and they need me."
Cuban physician Ernesto Mariño Almaguar greeted one of the about 300 pregnant migrants they'd been treating at the camp and in the surrounding city.
Maria Rivas de Garcia entered the hut that served as Mariño's exam room, lay down on the padded exam table and lifted her shirt as he hooked an ultrasound wand to his tablet.
Mariño, who trained in Cuba, squirted blue gel on Rivas de Garcia's belly and slowly slid the ultrasound wand across. A black-and-white image appeared on the tablet, and he explained what she was seeing.
"You can see the head, the heart, two normal feet," he said.
The fetus was healthy, he said. At 15 weeks, it was too early to tell whether it was a boy or a girl.
Rivas de Garcia, 35, smiled.
The pregnancy was unplanned. She and husband Carlos, a police officer, had fled El Salvador with their 3-year-old daughter, Angie, last summer after they received death threats from gangs who had killed his co-workers. They hoped to join her relatives in Santa Cruz. Their next court date was July 23.
"Thank God there's the clinic," she said, adding that the migrant doctors inspire trust. "They're living the same situation we are."
Rivas de Garcia, a social worker, told the doctor she knew to take prenatal vitamins. After examining her, he prescribed an antibiotic for a urinary tract infection, then handed her pills from the clinic's pharmacy.
The doctor, whose wife is an unemployed nurse, said he left Cuba for the U.S. border a year ago hoping to join relatives in Houston. Then he arrived and saw the Trump administration's lengthy system for processing asylum claims.
"I lost hope," he said.
Instead of applying for asylum in the U.S., he plans to stay in Mexico. He has been working at the clinic and private hospitals, which pay about the same. He prefers the clinic.
"It's a debt we owe to society as doctors," he said. "This is my mission, and I feel better because I'm doing something that really helps people."
Sign up for Essential California for news, features and recommendations from the L.A. Times and beyond in your inbox six days a week.
You may occasionally receive promotional content from the Los Angeles Times.