Trump fires top federal prosecutor who investigated the president's associates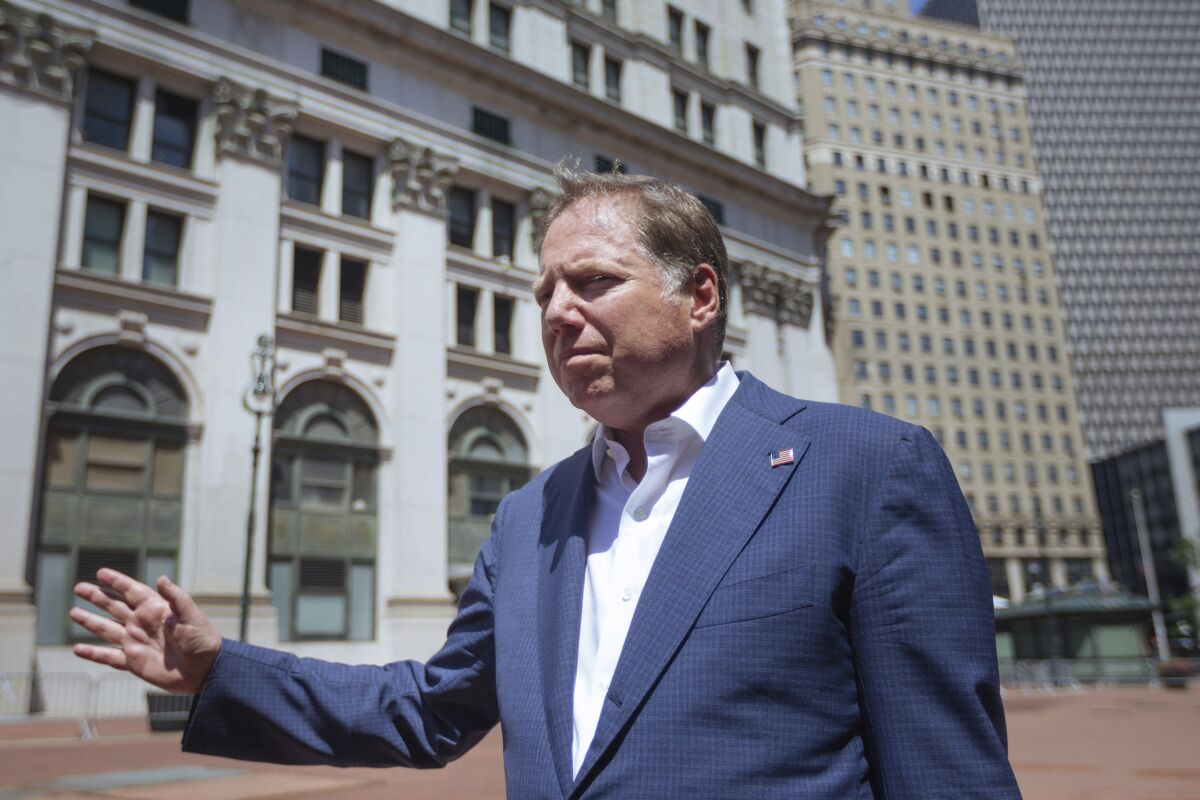 President Trump on Saturday fired a top federal prosecutor who has overseen sensitive investigations into the president's allies, taking aim at yet another government official who has exposed misdeeds or maladministration by Trump or his appointees and associates.
The firing of Geoffrey Berman, the U.S. attorney for the Southern District of New York, culminated an extraordinary day of brinkmanship and fed growing concerns about the future of checks on executive power and Atty. Gen. William Barr's independence from the White House.
Trump has pushed out five inspectors general since April, including several watchdogs who brought concerns to Congress last fall about Trump's pressure on Ukraine, and a career civil servant who reported on severe shortages of protective equipment at U.S. hospitals battling the coronavirus.
Barr, one of Trump's most steadfast allies, announced Berman's firing in a stinging letter to the prosecutor Saturday afternoon after Berman publicly refused to resign.
Barr and New York's top federal prosecutor had clashed on Friday in dueling statements, with Barr announcing the prosecutor's resignation and Berman pledging to remain in his job to ensure "important cases continue unimpeded."
Berman's office has been investigating Rudolph W. Giuliani, the former New York mayor and Trump's personal lawyer, whose actions on behalf of the president were central to the impeachment inquiry, a person familiar with the matter has said.
Speaking to reporters before heading to a rally in Oklahoma, Trump seemed to distance himself from Berman's firing. "That's all up to the attorney general; Atty. Gen. Barr is working on that," Trump said. "That's his department, not my department, but we have a very capable attorney general, so that's really up to him. I'm not involved."
Berman's initial refusal to step down raised the prospect of a legal fight over his position. But the crisis abated Saturday evening when Berman announced he was leaving office immediately, citing Barr's decision to name the office's top deputy, Audrey Strauss, as acting U.S. attorney. On Friday, Barr had said another U.S. attorney would be taking over the job, an unorthodox move that drew criticism from legal experts and former prosecutors.
"It has been the honor of a lifetime to serve as this district's U.S. attorney and a custodian of its proud legacy," Berman said.
The president has long been irked by the work of prosecutors under Berman's command. They have targeted Trump's onetime personal lawyer and fixer, Michael Cohen, as well as Giuliani.
Cohen was sentenced in last 2018 to three years in prison after admitting to various crimes that included buying the silence of adult-film star Stormy Daniels and former Playboy model Karen McDougal, who both said they'd had affairs with Trump.
Federal prosecutors are probing Giuliani's business dealings and whether he acted as an unregistered agent of a foreign power, the Associated Press reported.
Giuliani played a leading role in trying to dig up dirt in Ukraine on former Vice President Joe Biden, now the presumptive Democratic presidential nominee. Trump's efforts to pressure Ukraine's president to investigate Biden and his son led to the president's impeachment in December.
Two of Giuliani's associates who helped in the Ukraine operation have been charged by federal prosecutors in Manhattan with violating laws banning foreign campaign donations. Lev Parnas and Igor Fruman are set to stand trial in February.
Trump's former national security advisor John Bolton has alleged in an interview and a new book that he believes Trump sought to obstruct justice in attempting to intervene in a Southern District investigation into a Turkish bank.
Berman, a longtime Republican, was tapped for the prosecutor's post in January 2018 by then-Atty. Gen. Jeff Sessions. He was later appointed to fill the job permanently by federal judges when the Trump administration failed to nominate a successor.
It is not clear what sparked Barr's decision to remove Berman.
The attorney general issued a statement Friday evening that Berman "was stepping down" and announcing that Jay Clayton, chairman of the Securities and Exchange Commission, would be nominated for the post.
The only problem: Berman said he had no idea he was resigning.
Earlier that day he had met with Barr, and the pair discussed his next moves, according to a person familiar with the matter. Barr suggested that Berman could become the assistant attorney general for the Civil Division if he agreed to step aside, but the prosecutor declined the offer.
Not long after Barr announced the resignation, Berman fired back, issuing a public statement that he had learned "in a press release from the Attorney General tonight that I was 'stepping down' as United States Attorney. I have not resigned, and have no intention of resigning."
Citing his appointment to the job by federal judges, he said he would resign once the Senate confirmed his successor.
On Saturday morning, according to wire service reports, he showed up to work, telling reporters, "I'm just here to do my job."
Barr then sent Berman a letter that afternoon saying he had "asked the President to remove you as of today, and he has done so."
Democrats pounced on Berman's firing, saying it was just the latest example of the attorney general seeking to protect the president.
"I have said this from day one: Bill Barr was hired to personally protect the President," Sen. Mark R. Warner (D-Va.) said in a tweet. "His actions last night make clear he is unfit to lead the Justice Department. He should resign."
Rep. Jerrold Nadler (D-N.Y.), chairman of the House Judiciary Committee, said he welcomed Berman's testimony Wednesday at a hearing slated to examine whether Barr is allowing politics to interfere in prosecutions.
Democrats and former prosecutors say Barr has crossed the line several times. He waded into the sentencing of Roger Stone, ordering prosecutors to reduce their recommended sentence of the longtime Republican operative and self-admitted dirty trickster.
The Justice Department is also seeking to drop the case against Michael Flynn, the former national security advisor who pleaded guilty in late 2017 to lying to federal agents about his conversations during the presidential transition with a Russian envoy. Barr told CBS News he did not think Flynn committed a crime.
Not long after being sworn in as attorney general in early 2019, Barr took the unusual step of issuing a defense of the president's conduct the morning he released special counsel Robert S. Mueller III's findings in his two-year investigation into Russia's interference in the 2016 election.

Get our Essential Politics newsletter
The latest news, analysis and insights from our politics team.
You may occasionally receive promotional content from the Los Angeles Times.