Oregon governor says federal agents to leave Portland, but Trump says not so fast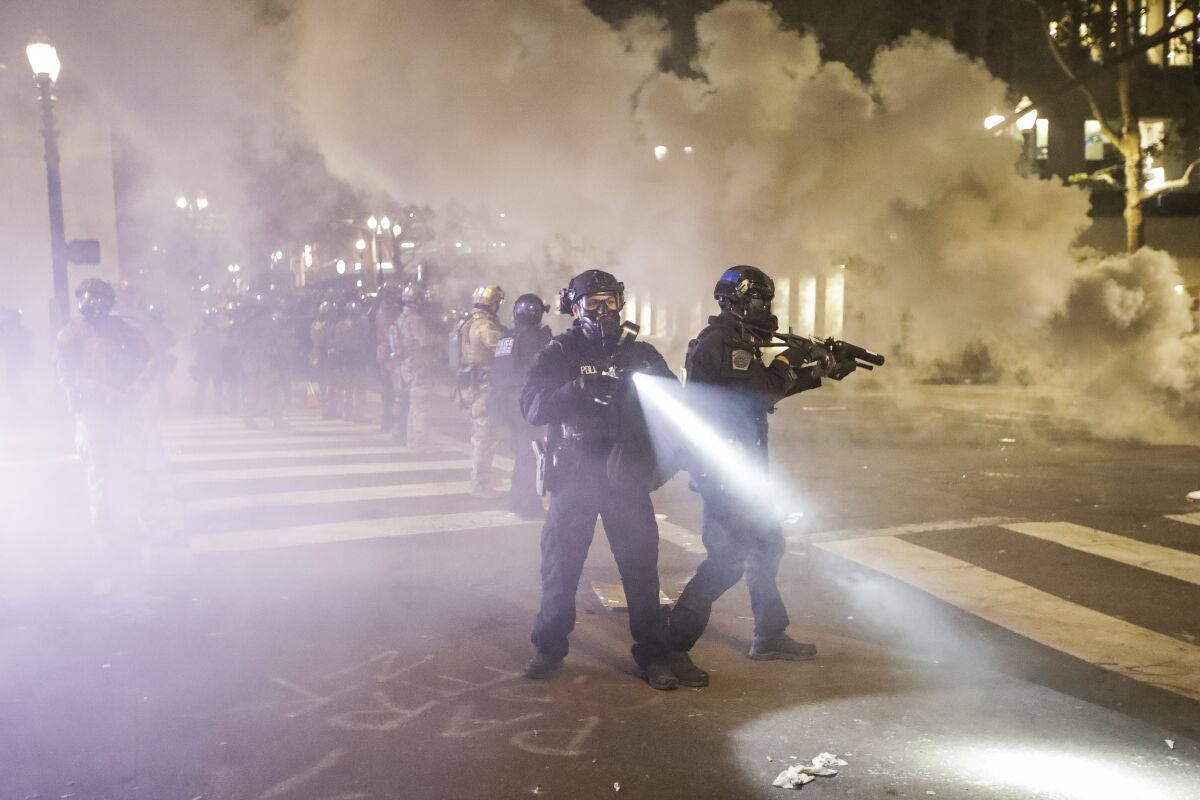 PORTLAND, Ore. —
Oregon Gov. Kate Brown announced Wednesday that the Trump administration had agreed to a "phased withdrawal" of federal agents whose deployment protecting the U.S. courthouse downtown has been a flashpoint for weeks of unrest and sometimes violent clashes.
"These federal officers have acted as an occupying force, refused accountability and brought violence and strife to our community," the governor said. "After discussions with the vice president and administration officials this week, the federal government has agreed to my demand and will withdraw these officers from Portland," Brown said, adding that the withdrawal would begin Thursday. "They will also clean up the courthouse, removing the graffiti."
The announcement appeared to signify a quick retreat from earlier statements that the Trump administration was considering reinforcing the presence of federal agents on the ground here. But U.S. officials stressed that the agents' removal would be gradual, limited in scope and would be conditional on guarantees of security at federal installations, notably the Mark O. Hatfield U.S. Courthouse, the site of recent protests.
Chad Wolf, acting secretary of the U.S. Department of Homeland Security, said that although federal agents would leave the downtown area, they would remain in Oregon's largest city until the agency is "assured that the Hatfield federal courthouse and other federal properties will no longer be attacked and that the seat of justice in Portland will remain secure."
Wolf reiterated that point when he told Fox News that the withdrawal would not be immediate.
"We are not leaving Portland until we are assured that that courthouse is safe and secure," Wolf said. "We'll continue to keep law enforcement officers in the area to make sure that that courthouse is secure at the end of the day."
In a letter to Wolf and Atty. Gen. William Barr on Wednesday, 15 senators called reports that federal agents were using excessive force on protests and members of the media "disturbing," and called on the agency to "honor state and local officials' wishes."
"Administration officials have claimed that federal forces are necessary to protect federal property in Portland. But this does not justify the use of excessive force or the detention of protesters without probable cause by agents who refuse to identify themselves. These tactics are not consistent with our Constitution or the rule of law," the senators wrote.
Meantime, President Trump — who wrote on Twitter on Wednesday that Portland "would be burned and beaten to the ground" if federal agents had not been deployed — said that the withdrawal was conditional upon local authorities having imposed sufficient security in the area.
"You hear all sorts of reports about us leaving. We're not leaving until they've secured their city," Trump told reporters in Washington, labeling the protesters "anarchists and agitators," a description rejected by Oregon officials. "We told the governor, we told the mayor, 'Secure your city,'"
Even with talk of drawing down federal forces in Portland, Trump during a visit Wednesday to Midland, Texas, renewed his threat to send National Guard troops to Portland and elsewhere.
"If they don't solve that problem locally very soon, we're going to send in the National Guard and get it solved very quickly, just like we did in Minneapolis and just like we will do in other places," he said. "They'll either solve that problem or we'll send in the National Guard."
The divergent comments left some doubt about when the agents would actually leave downtown Portland, where protesters have been clashing nightly with federal authorities. The ambiguity also left it unclear whether the development was a clear victory for protesters and Oregon officials who have pushed for a removal of federal agents.
While many protesters view the announcement as a victory, some said they plan to continue street rallies until officials meet their demands for racial justice. Daily protests have been ongoing here for more than two months since the death of George Floyd in the custody of Minneapolis police.
Get our Essential Politics newsletter
The latest news, analysis and insights from our politics team in D.C.
You may occasionally receive promotional content from the Los Angeles Times.
As part of the deal reached, Oregon State Police will be deployed in the city to back the Portland Police Bureau. Protesters have accused the bureau of using excessive amounts of tear gas and other crowd-control munitions before the arrival of federal agents in early July.
Outside the federal courthouse Wednesday, supporters of the demonstrations were generally hesitant to declare a triumph, but expressed relief at the news that federal agents would be leaving.
"It's premature to call it a victory, but it's good news, if it's true," said Robert Atkinson, a retired lawyer who stood in a park across the street with a hand-made sign declaring: "Feds Go Home."
"Everyone in Portland wants them out," Atkinson said.
The daytime scene was calm outside the courthouse, defaced with graffiti and protected by a metal fence and concrete barriers, frequent targets of nighttime protesters.
A crane lifted more barriers into place along the building's exterior. Workers were covering second-floor windows with sheets of plywood, in apparent anticipation of more clashes.
"It's better if they bring in state police," said Hans Fraungruber, 39, a former schoolteacher who carried a placard with a blue peace sign. "At least they will be more accountable, and represent the will of the people of Oregon."
Arya Morman, an activist and president of Rooted Black Inc., a consulting agency that focuses on Black health equity, education, economics and social justice, said that while Wednesday's announcement marks a step in the right direction for some Black protesters, she and others plan to continue showing up at the federal courthouse until authorities address the underlying issues of racial inequalities that sparked the unrest.
"We can expect that there will be an increase of demands by protesters because of the harm that has been done to people's mental health and physical health by federal agents," Morman said.
In recent weeks, tensions have escalated between protesters and federal agents who were protecting the courthouse. The nightly standoffs usually begin when federal agents emerge from the courthouse after a handful of protesters set off fireworks, ignite fires or throw bottles over the fence that lines the perimeter of the courthouse building.
By early morning hours, with protests mounting, federal agents usually deploy large amounts of tear gas, flash-bang grenades and rubber bullets to disperse the crowds. Several protesters have been injured in recent weeks. At times, the federal agents have ventured well beyond the perimeter of the federal courthouse to disperse the crowds.
"I have grown increasingly concerned at the nightly confrontations between local community members and federal officers," Brown said. "We need to recognize that the protests in Portland are not solely about the federal presence. They started before federal agents descended on our city and they will likely continue after they leave."
Morman said the removal of federal agents will be an opportunity for Black activists to identify those who were protesting only against the presence of the agents and others who were there to amplify Black voices.
"We will be able to single out organizations that weren't there for Black Lives Matter movement and who instead co-opted the movement," Morman said. "We will know who those people are who were there to just protest the federal agents, because they will be leaving and won't be at the courthouse anymore."
Teressa Raiford, executive director of Don't Shoot Portland, a Black-led social justice and advocacy nonprofit, echoed similar sentiments, and said the removal of federal agents will allow Black activists to redirect the time and energy needed to address inequities such as racial discrimination and police brutality in Portland.
"This doesn't stop just because the federal agents are leaving," Raiford said.
Times staff writers Laura King and Molly O'Toole in Washington contributed to this report.
---
Must-read stories from the L.A. Times
Get the day's top news with our Today's Headlines newsletter, sent every weekday morning.
You may occasionally receive promotional content from the Los Angeles Times.