Japanese Prime Minister Shinzo Abe resigns because of illness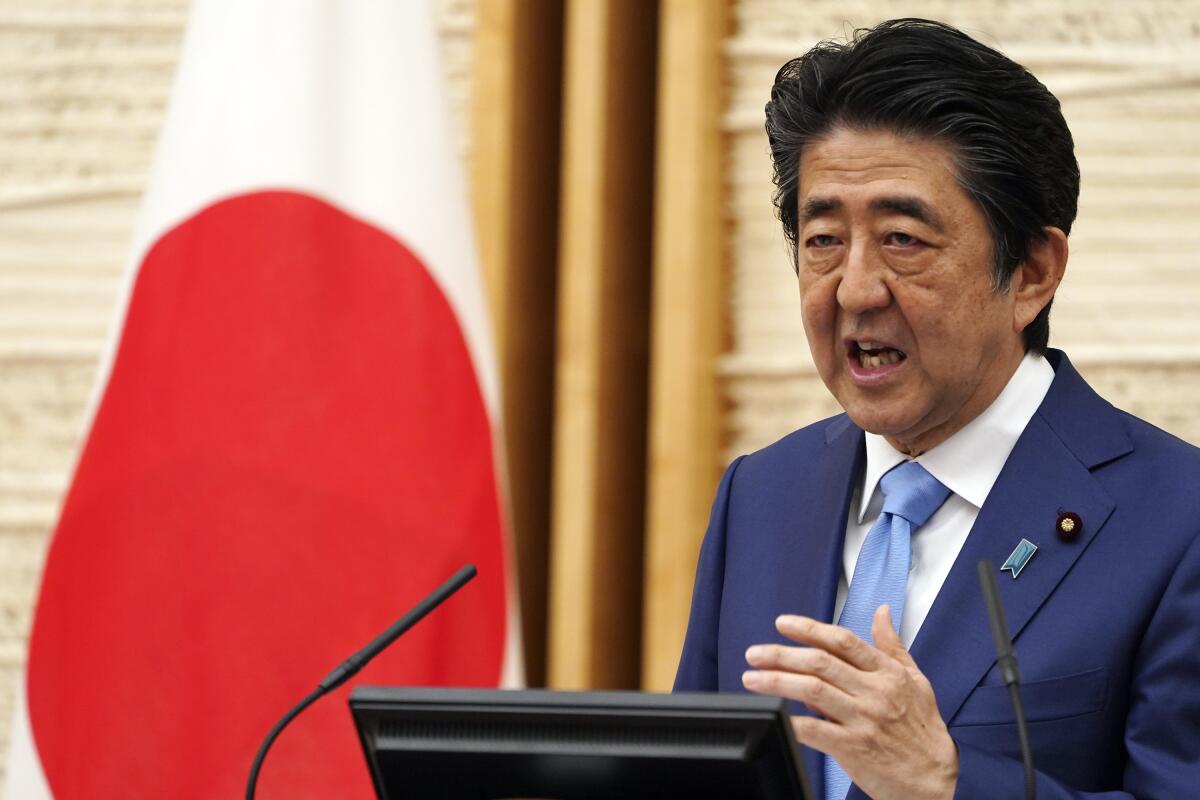 SEOUL —
Japanese Prime Minister Shinzo Abe announced Friday that he was stepping down because of illness, ending a record-breaking tenure marked less by grand achievements than by measured economic and diplomatic gains and mixed success in his push to bolster Japan's military power.
In a lengthy news conference, Abe apologized to his compatriots for stepping down at a time when the country was struggling with the economic fallout of the COVID-19 pandemic and before he had accomplished some of his most cherished goals, including a revision of the country's U.S.-installed pacifist constitution.
"I must ask you for your forgiveness that I'm resigning now," he said.
He said his long-standing chronic illness, ulcerative colitis, had reemerged in recent months and he was in need of treatment; his frequent visits to the hospital had fueled speculation about his health. He will remain in the position until a successor is formally named.
Abe first vaulted into the prime minister's office in 2006 as the youngest person, at age 52, ever to hold the job. But poor health cut short that stint, too, after only a year.
Abe, now 65, returned to power in 2012 for a second time in the wake of a tumultuous period in Japanese politics and in the aftermath of the Fukushima nuclear disaster. A scion of an elite political family, Abe on Monday broke the record of his own great-uncle, Eisaku Sato, for consecutive days as premier. Sato served 2,798 days from 1964 to 1972.
The nationalistic mood that keeps Abe in power is based on nostalgia, not about the wartime past, but the postwar era of the Japanese economic miracle.
While the years under Abe's leadership marked a period of political stability rare for Japan, he will leave behind a contentious legacy shaped by his nationalist bent and modest economic gains that are now in danger of being wiped out by the pandemic.
Abe's approval ratings have tumbled in recent months to one of the lowest levels during his years in office amid perceptions that his leadership was absent in the early days of the coronavirus outbreak in Japan.
"He was nearly invisible most of the time, and when he did come out, it was with eccentric, ill-thought-out policies," said Koichi Nakano, a political science professor at Sophia University in Tokyo.
In assessing his own legacy Friday, Abe said it would be "up to the judgment of the people." At the same time, he highlighted Japan's recovery from the Fukushima disaster, economic growth following nearly two decades of deflation and President Obama's 2016 visit to Hiroshima, a first by a U.S. leader.
Japan's government says China is using the coronavirus crisis to expand its influence and gain strategic superiority.
Abe was deeply influenced by his maternal grandfather, Nobusuke Kishi, who was once jailed as a war crimes suspect but went on to serve as prime minister in postwar Japan from 1957 to 1960. Throughout his time in office, Abe unsuccessfully pursued the unfulfilled ambition of his grandfather to revise Article 9 of the Japanese constitution, which renounces war.
Even without the revision, Abe in 2015 pushed through laws that reinterpreted the constitutional restrictions and broadened Japan's use of military powers.
David Leheny, a professor of Japanese politics at Tokyo's Waseda University, said that, in the absence of major breakthroughs to point to, views on Abe's rule would remain deeply divided along political lines.
"For people on the right, they will be glad during this era that he led the promotion of the idea that Japan can and should be proud of its history," he said. "Among the left, he's going to be remembered very darkly."
This world's first atomic bomb attack hit Hiroshima 75 years ago this week. Time is running out for survivors to tell their stories.
Leheny said Abe's endurance as prime minister came from his having dialed back the nationalist agenda and rhetoric from his first brief term. After months of being plagued by scandals, Abe at the time also cited his chronic bowel disease as the reason for stepping down.
When he returned to office, Leheny said, Abe kept his declared focus on "bread and butter issues" while continuing to quietly and more effectively pursue some of his more controversial ideas.
"For the people who were concerned about him being an ideologue, he turned out to be more pragmatic," Leheny said. "He seemed like a steady presence."
The results of his trademark policy for boosting the country's long flagging economy, which came to be known as Abenomics, have been mixed. The aim of stimulating growth with a combination of fiscal expansion, monetary easing and structural reform managed to achieve only limited gains and was hampered by unpopular consumption tax hikes.
Get breaking news, investigations, analysis and more signature journalism from the Los Angeles Times in your inbox.
You may occasionally receive promotional content from the Los Angeles Times.
The same has been true of his so-called "Womenomics" policy to boost women in the workforce, which Abe announced early in his tenure, saying he would strive for a "Japan in which women shine." Critics say the policy has focused only on women already in top corporate jobs and left out those who are low-income or otherwise vulnerable.
The Tokyo Olympics, originally scheduled for July, were to be a capstone of Abe's time in office before his term ran out in 2021, until the Summer Games were delayed by the pandemic.
Tobias Harris, author of "The Iconoclast," an English-language biography of Abe, said the outgoing prime minister's real legacy will lie in what he did behind the scenes in the halls of Japanese government, building institutions and centralizing power to be able to set trade and defense policy and exert diplomatic influence.
Yet he didn't use that consolidated authority to take bolder steps on climate change or in economic policy, Harris said.
"What were his priorities? Should he have spent as much time talking about constitutional reform or a peace treaty with Russia?" Harris said, citing two of Abe's stated goals that were never realized. "Were there things he could've done differently with that power?"
Contrary to the ultramodern image of Japan, many Japanese lack the basic tools needed to work from home during the coronavirus outbreak.
Harris said Abe would be leaving many of Japan's most serious crises for his successor to deal with, including dramatic demographic declines and deteriorated diplomatic relations with neighbors in Asia.
"Too often he chose stability over deep structural change," Harris said.
Nakano of Sophia University said that how Abe would be remembered would hinge on what his successor does with his unfulfilled agenda items.
"What he accomplished remains deeply controversial," Nakano said."He may be remembered as someone who was epoch-making or groundbreaking, or he could be remembered as someone who made changes that remained insignificant."

Sign up for Essential California for news, features and recommendations from the L.A. Times and beyond in your inbox six days a week.
You may occasionally receive promotional content from the Los Angeles Times.