Biden is declared winner in Georgia after hand tally affirms his lead over Trump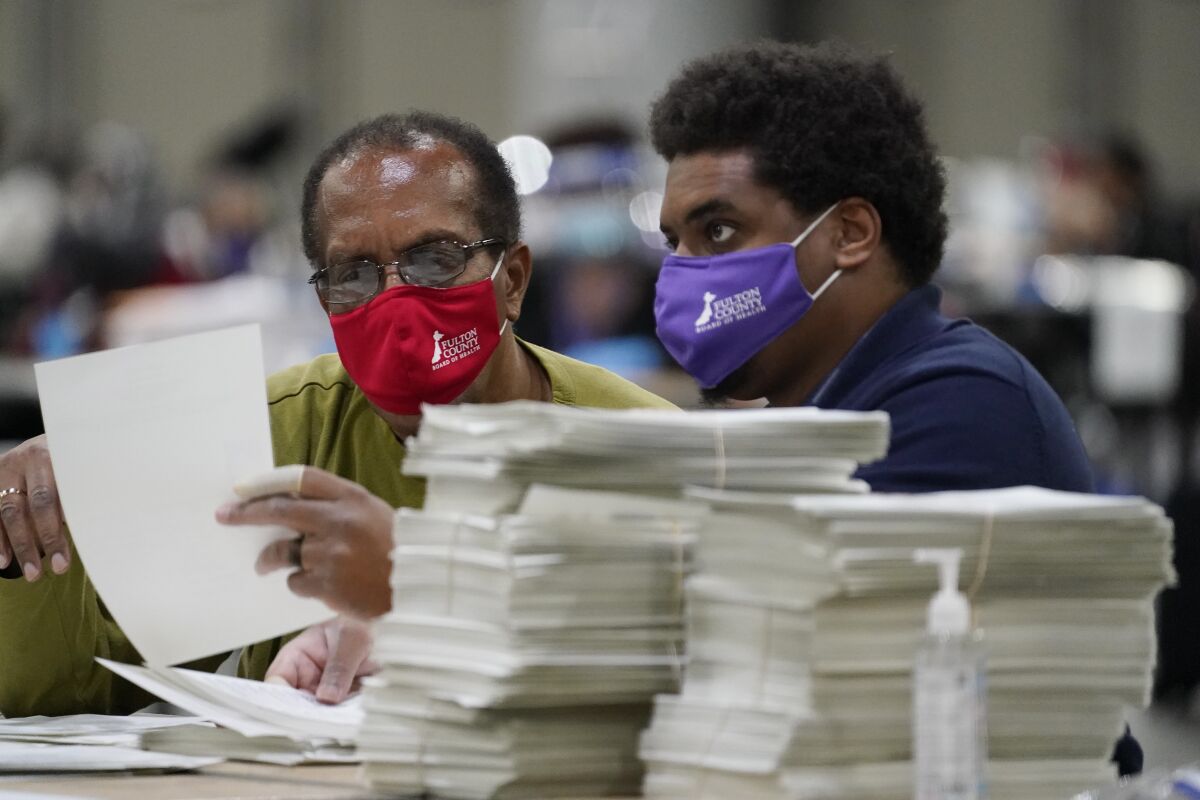 ATLANTA —
A top Georgia election official said Thursday that a hand tally of ballots cast in the presidential race has been completed, and that the results affirm Democrat Joe Biden's lead over President Trump.
After the announcement, the Associated Press declared Biden the winner of Georgia's 16 electoral votes.
The hand tally of about 5 million votes stemmed from an audit required by a new state law and wasn't in response to any suspected problems with the state's results or an official recount request. The state has until Friday to certify results that have been certified and submitted by the counties.
The counties were supposed to finish the hand count by 11:59 p.m. Wednesday. Gabriel Sterling, who oversaw the implementation of the state's new voting system, said Thursday evening that the audit was complete and the results would soon be posted on the secretary of state's website.
Once the state certifies the election results, the losing campaign has two business days to request a recount if the margin remains within 0.5%. That recount would be done using scanners that read and tally the votes and would be paid for by the counties, Sterling said.
It was Secretary of State Brad Raffensperger's decision to audit the results of the presidential race.
A USC Dornsife postelection poll showed growing damage to voters' confidence in the integrity of the presidential election.
Votes that hadn't previously been counted were found in several counties during the audit, which required recertification of the election results in those counties.
In Floyd County, more than 2,500 ballots were discovered during the audit that hadn't previously been scanned, and the secretary of state's office had called for the firing of the county's chief elections clerk, Robert Brady. The county elections board on Thursday voted to issue a written reprimand to Brady and, because it was his second written reprimand within six months, to fire him in accordance with county policy, board member Melanie Conrad said in an email.
Several other counties found memory cards with votes that hadn't been uploaded and counted prior to the audit.
Going into the hand tally, Biden led Trump by about 14,000 votes. Previously uncounted ballots discovered in four counties during the hand count will reduce that margin to about 12,800, Sterling said.
---
Must-read stories from the L.A. Times
Get the day's top news with our Today's Headlines newsletter, sent every weekday morning.
You may occasionally receive promotional content from the Los Angeles Times.