Trump says his term is ending, transition will be orderly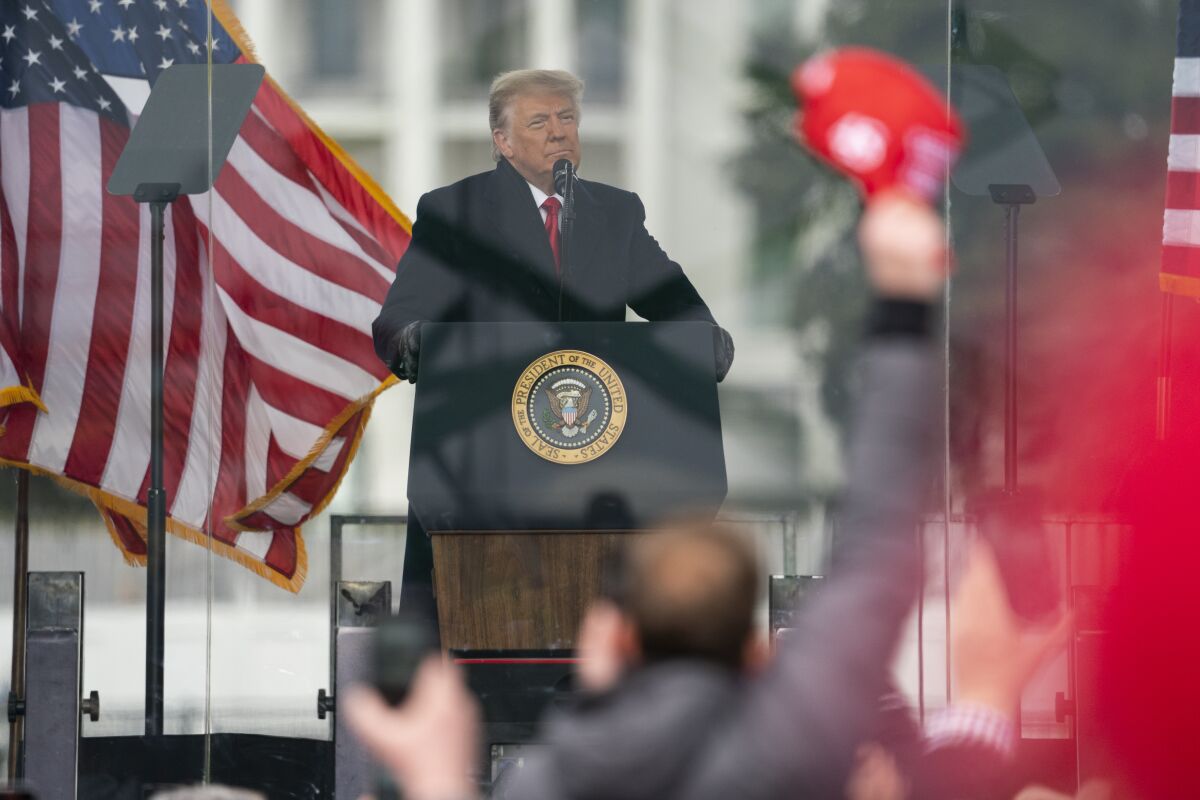 WASHINGTON —
President Trump for the first time acknowledged his defeat in the Nov. 3 election and announced there would be an "orderly transition on January 20th" after Congress concluded the electoral vote count early Thursday certifying President-elect Joe Biden's victory.
Trump's acknowledgment came after a day of chaos and destruction on Capitol Hill as a mob of his supporters stormed the Capitol building and unleashed unprecedented scenes of mayhem as it tried to halt the peaceful transition of power. Members of Congress were forced into hiding, offices were ransacked, and the formal congressional tally halted for more than six hours.
"Even though I totally disagree with the outcome of the election, and the facts bear me out, nevertheless there will be an orderly transition on January 20th," Trump said in a statement posted to Twitter by his social media director. His own account had been locked by the company for posting messages that appeared to justify the assault on the seat of the nation's democracy.
Trump added, "While this represents the end of the greatest first term in presidential history, it's only the beginning of our fight to Make America Great Again!"
Trump supporters gather in the U.S. capital to protest the ratification of President-elect Joe Biden's electoral college victory over President Trump.
The statement was the first time Trump formally acknowledged his loss after spending the last two months refusing to concede and lobbing baseless allegations of widespread voter fraud, even though his own Justice Department, federal courts and state governments have said repeatedly the vote was carried out freely and fairly.
Trump's refusal to accept reality and his incendiary rhetoric reached a breaking point Wednesday when his supporters violently occupied the Capitol in one of the most jarring scenes ever to unfold in a seat of American political power. Authorities said four people died during the violence, including one woman who was shot by an officer outside the House chamber.
Trump had encouraged his supporters to march on the Capitol to protest lawmakers' actions, and later appeared to excuse the violent occupation by the mob, which forced its way inside and clashed with police.
"These are the things and events that happen when a sacred landslide election victory is so unceremoniously & viciously stripped away from great patriots who have been badly & unfairly treated for so long," Trump wrote in a message that was later deleted by Twitter. He added, "Go home with love & in peace. Remember this day forever!"
Trump's response to the violence underscored his monthslong obsession with trying to overturn the results of the election. He has spent the final days of his presidency angrily stewing and lashing out at Republicans for perceived disloyalty while refusing to acknowledge his loss or concede.
Trump's statement could not be posted on his Twitter or Facebook feeds because both accounts had been blocked from posting.
Tweets and time stamps offer a timeline of the events that led to a pro-Trump mob storming the Capitol building hours after the president spoke at a rally nearby.
---
Life is stressful. Our weekly mental wellness newsletter can help.
You may occasionally receive promotional content from the Los Angeles Times.