CDC eases school COVID guidance, allowing desks to be closer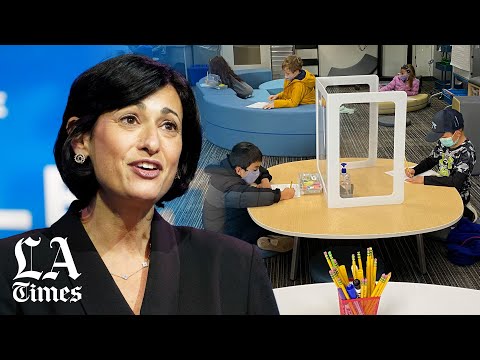 The CDC says pupils can sit 3 feet apart in classrooms, changing from the 6-foot rule that forced some schools to remove desks and stagger scheduling.
The Centers for Disease Control and Prevention announced an update to its coronavirus prevention guidelines Friday that reduces the minimum required physical distance in classrooms from six feet to three feet, substantially easing the way for more children to return to in-person learning on a full-time basis.
The recommendation comes with several limitations, and does not apply to adults or to other shared spaces on school grounds. Still, even with a host of caveats, the new leeway puts pressure on Gov. Gavin Newsom and other officials to relax rules and accommodate parents who are pushing for a more rapid and complete reopening.
If adopted by the state, the guidance would make it easier for California schools to bring all students back to campus at once instead of having to rely on a hybrid model that keeps students in smaller groups that are isolated from each other. The state's recommended six-foot distancing requirement has made it impossible to fit a full class of students into a standard-size California classroom.
The CDC says its three-foot rule applies only in classrooms where mask use is universal. However, it can be safely implemented regardless of whether community transmission is low, moderate, substantial or high, authorities said.
And it carries an asterisk: The six-foot rule stays in place for middle school and high school students whose communities have a high rate of transmission and where it's not possible for students to remain in small cohorts with the same peers and staff in order to reduce the risk of viral spread. The reason, the CDC said, is that older students are more likely than younger children to be exposed to the SARS-CoV-2 virus and spread it to others.
Outside of the classroom, the agency recommended that the six-foot rule be followed in these settings:
• Between adults, and between adults and students, in school buildings
• In common areas, such as lobbies and auditoriums
• In situations when masks can't be worn, such as when eating
• During activities when increased exhalation occurs, such as singing, shouting, band practice, sports or exercise (these activities should be moved outdoors or to large, well-ventilated spaces wherever possible, the agency noted)
The recommendation for six feet of physical distancing still holds in community settings outside of the classroom, the CDC added.
Nearly a year into the pandemic, the federal Centers for Disease Control and Prevention offers guidance on how to reopen schools safely.
The new federal guidelines are under state review and updated guidance "will be issued in the coming days," said Rodger Butler, a spokesman for the California Health and Human Services Agency.
That's not fast enough for parents who have been pushing for reopening. California ranks last among the states in terms of the amount of instructional time students spend on campus, according to a widely followed tracker.
"For a year now, Gov. Newsom has said he follows the science. The science now clearly states that three feet of distance in schools will keep our children and teachers safe," said Megan Bacigalupi, a parent advocate with the recently formed group OpenSchoolsCA. "We urge the governor to align with the CDC's revised guidance immediately, which would pave the way for all California students to return to the classroom full time."
The regional chapter of the American Academy of Pediatrics echoed that demand and called on the state to "decouple" school reopenings from the rate of community spread. The risks to children's emotional and academic development if schools stay closed outweigh the risks of returning to a safely operated campus, the medical group said.
"Urgent action is the only hope to reopen schools this year and prevent severe disruption of the academic year ahead," the doctors wrote in an open letter to Newsom that garnered more than 20 pages of signatures from health professionals.
Although the governor has prioritized the rapid reopening of campuses, he has stopped short of attempting to mandate it.
L.A. Unified, the nation's second-largest school system, plans to open elementary campuses in mid-April with the six-foot standard in place. Dr. Paul Simon, chief science officer for the L.A. County Department of Public Health, said Friday that the agency was open to revisiting its own guidelines and was likely to alter the distance rule.
Early survey results in L.A. Unified indicate that about half of students are planning to return to campus next month, and the CDC announcement may bolster the confidence of families that are still on the fence, said school board member Tanya Franklin.
About half of students plan to return to campus, based on early, partial results of a parent survey. Areas hard hit by COVID-19 are less enthusiastic.
"This new guidance may help them feel safer coming back on campus — that even though we are preparing campuses for the six feet physical distance, if their students walk, learn or play a little closer to other students, so long as they continue to wear masks, they will be OK," Franklin said.
But the recommendation had just the opposite effect on Ruby Gordillo, a volunteer parent leader with the local advocacy group Reclaim Our Schools.
"They're ridiculous, dangerous," Gordillo said of the CDC guidelines. She and her husband, who does essential work as a cashier, both came down with debilitating cases of COVID-19 but managed to keep the illness from their three children by wearing masks at home and taking other precautions.
"I wouldn't wish that on anyone," said Gordillo, who is opting to have her children continue with distance learning.
LAUSD's agreement with United Teachers Los Angeles includes six feet of distancing. That "will help protect students and educators and make families feel safer about returning," said union President Cecily Myart-Cruz. The toll that COVID-19 has exacted on Black, brown and low-income communities justifies the high safety standard, she added.
High school students The Times spoke to have struggled with online learning, and they miss their friends. But they've worked to cope and seek out hope.
The new federal advice comes on the heels of a study of 537,336 students and 99,390 staff members in 251 Massachusetts school districts. After accounting for differences in community infection rates, researchers found that coronavirus case rates among both students and staff were essentially the same in schools that adopted a three-foot rule as in those that followed the six-foot rule. The findings were published last week in the journal Clinical Infectious Diseases.
"Lower physical distancing policies can be adopted in school settings with masking mandates without negatively impacting student or staff safety," the study authors concluded.
The CDC also released three studies Friday that it said bolstered the evidence for its decision. One of them examined 20 elementary schools in Utah's Salt Lake County and found that of 1,041 students and staff who were exposed to an infected person at school in December and January, only five of them wound up with a confirmed, school-related infection. During that time, 86% of students wore masks and the median distance between students' seats was three feet.
Dr. Monica Gandhi, an infectious disease specialist at UC San Francisco, praised the CDC's move.
"I think it's a great thing," she said, pointing out that the World Health Organization already recommends just one meter, or 3.28 feet, of physical distancing in general.
"Since the requirement of the six-foot distancing rule has been identified as a hindrance to school openings in some situations, this change by the CDC is a welcome one and will hopefully facilitate more school openings here in California," Gandhi said.
Educators, health officials and scientists are still working to understand what it will take to make schools safe in the midst of the COVID-19 pandemic.
Dr. Amesh Adalja, a senior scholar at the Johns Hopkins Center for Health Security, agreed that the change was "a good idea," adding that he didn't think aerosol transmission was a major risk outside of certain healthcare settings, or in situations in which singing or vigorous exercise was taking place.
But Lydia Bourouiba, director of the Fluid Dynamics of Disease Transmission Laboratory at MIT, pointed out that the risk in classrooms depends on a range of factors — how many people are in a room at one time, what activities are taking place, how long they're in the room, how well it's ventilated, whether everyone is properly masked and what the specific airflow patterns in the room are.
Any guidance needs to consider how all of these factors interact to raise or lower risk, she said.
"Three feet is not recommended, unless it has been carefully assessed for a particular room, activity, occupancy and duration, ventilation, flow patterns, and high-grade masking is in place at all times," she said.
Requiring six feet of distance hasn't stopped schools from reopening, but it has prevented some of them from offering a full-day schedule five days a week.
The complications caused by six-foot distancing requirements were at the heart of a lawsuit filed in north San Diego County. The plaintiffs sought a full schedule for students rather than a hybrid schedule, which would have allowed students on campus for no more than half of their instructional hours.
The judge overseeing that case issued a temporary restraining order this week that barred the state from enforcing its distancing guidelines. State health authorities had established a standard of four feet but also allowed counties to require six feet of distancing, which is the policy in Los Angeles County.
Judge prevents state from enforcing 4-foot distance and red tier requirements for middle and high schools
For the time being, the state is not enforcing a distancing requirement in schools but said counties remain free to do so, officials said. That also means counties are empowered to eliminate distancing requirements altogether as long as the temporary restraining order remains in effect.
Leaders of national teachers unions — key allies for President Biden — greeted the revised guidelines with caution.
Randi Weingarten, who heads the American Federation of Teachers, expressed concern that the new recommendations were driven more by political considerations and logistics — a desire to fit more students into a classroom — than by settled science.
"While we hope the CDC is right, we will reserve judgement," Weingarten said in a statement. "We have asked the CDC to include urban and under-resourced districts in future studies, something it has not yet done," she added.
Becky Pringle, president of the National Education Assn., spoke in similar terms.
"The change to three feet distance for students in classrooms will be particularly challenging for large urban school districts and those that have not yet had access to the resources necessary to fully implement the very COVID-19 mitigation measures that the CDC says are essential," Pringle said.
As more Americans line up for COVID-19 vaccines, children have been excluded. But that is expected to change by the fall, Dr. Anthony Fauci says.
Several California school district leaders said they foresaw little immediate change based on the federal guidelines.
"It's encouraging news, because it's slowly getting us closer to a new normal," said Kyla Johnson-Trammell, superintendent of the Oakland Unified School District, which is moving ahead toward a partial reopening on March 30 using the six-foot parameter. "And, obviously, we will be awaiting more guidance from the state and from our county public health leaders."
The new guidance could come most into play as schools prepare for reopening in the fall, she said, adding "I think it provides a sense of optimism and hope for many parents."