Biden tells Netanyahu he expects 'significant de-escalation' in Israel-Hamas fighting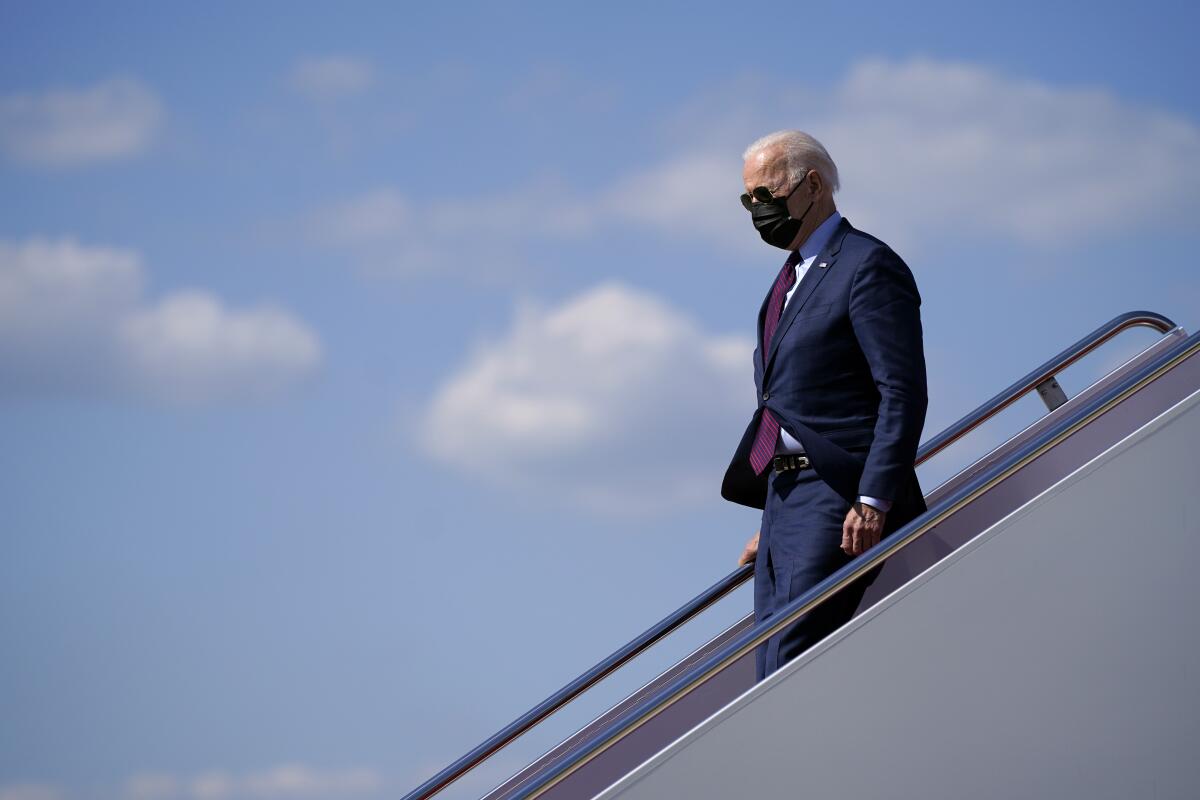 WASHINGTON —
Under pressure to take a more decisive role in ending deadly violence between Israel and the Palestinian militant group Hamas, President Biden told the Israeli prime minister he expected "a significant de-escalation" Wednesday aimed at an eventual cease-fire.
Even as the death toll mounted, Biden spoke to Prime Minister Benjamin Netanyahu on Wednesday, for the third time in five days, to urge an end to Israel's bombardment of the tiny Gaza Strip enclave.
Israel says it is targeting Hamas leadership and military capabilities, but the attacks have killed scores of civilians, including many children. About a dozen Israelis have been killed in Hamas rocket fire on Israeli cities.
"The two leaders had a detailed discussion on the state of events in Gaza, Israel's progress in degrading the capabilities of Hamas and other terrorist elements, and ongoing diplomatic efforts by regional governments and the United States," the White House said in a statement recounting Biden's latest conversation with Netanyahu.
"The president conveyed to the prime minister that he expected a significant de-escalation today on the path to a cease-fire."
Until now, Biden, in the traditional Democratic Party position of support for Israel, backed Israel's "right to self-defenses" as it attacks Gaza, which is controlled by Hamas, regarded by the U.S. as a terrorist organization.
But increasingly, demands have come from the United Nations, Europe and, perhaps most important, progressive Democrats for Biden to put more pressure on Israel, the far more powerful of the two combatant parties in the conflict. Israel has an enormous army and military apparatus and receives billions of dollars in aid — much of it in weaponry — from the United States.
Israel continues its assault on the Gaza Strip as the U.S. and others call for a cease-fire.
The U.S. is seen as the single most influential broker in the conflict, although this status was eroded under the Trump years because of former President Trump's unabashed support for Israel and the marginalization and punishment of the Palestinians. Biden's envoys have been wooing Egypt to return to a peace-making role because of the influence it wields over Hamas.
Neither Netanyahu nor Hamas has seemed inclined to accept a cease-fire. Both will have to portray whatever outcome or any halt in fighting as a victory. Netanyahu began to hint at this earlier Wednesday, when he told diplomats stationed in Israel that his military has significantly degraded Hamas' fighting capacity, including the destruction of what Israel describes as a network of tunnels under Gaza that Hamas uses to move weapons and fighters.
Hamas hopes to gain political clout and be able to exert more influence on the Palestinian population in the West Bank. It views the firing of rockets into Israel as its way to confront a better-armed adversary. Civilians, on both sides, have made up the vast majority of victims.
Why is Biden treading so gingerly as violence escalates in Jerusalem, Israel and Palestinian territories? Four years of Trump's pro-Israel policy, plus thorny domestic politics, leave Washington with fewer options than at any time in recent history.
Biden has also made a point of stating that Israelis and Palestinians alike deserved "equal measures" of security and the right to live in democracy, peace and prosperity. Secretary of State Antony J. Blinken, while also backing Israel's right to self-defense, said the country had an "extra burden" to avoid civilian casualties.
Get our Essential Politics newsletter
The latest news, analysis and insights from our politics team.
You may occasionally receive promotional content from the Los Angeles Times.