Merck's COVID-19 pill narrowly wins FDA panel's support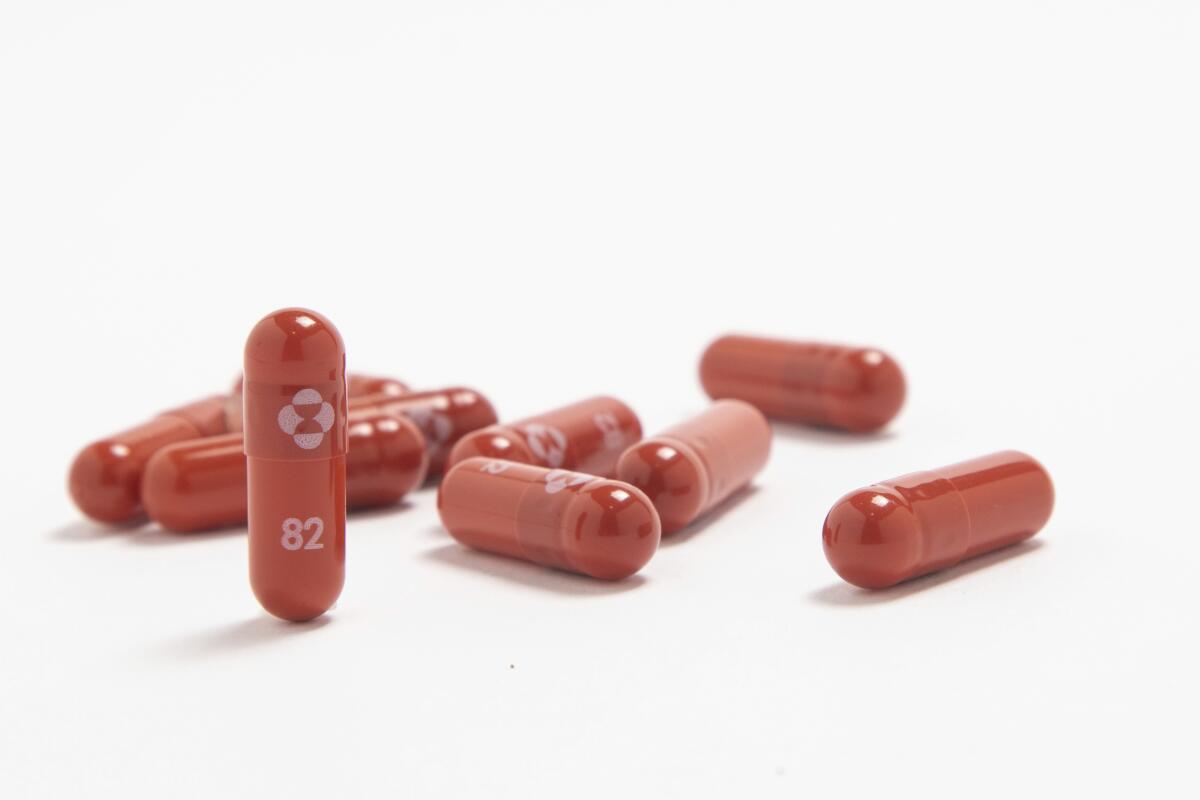 By a narrow margin, advisors to the U.S. Food and Drug Administration voted Tuesday to recommend authorization of a new pill that patients with early cases of COVID-19 can take at home, despite the fact that its initial promise gave way to a far more modest benefit.
The antiviral drug from Merck & Co., molnupiravir, is already authorized for emergency use in Britain. The FDA is expected to decide within days whether to follow suit. The agency isn't required to accept the influential panel's advice, but if it does, it will probably recommend the drug's use for only a narrow slice of patients, with strong cautions and close monitoring.
In a 13-10 vote, the FDA advisory panel made clear that newly infected Americans who are at high risk of hospitalization or death need a more accessible COVID-19 treatment than existing antibody treatments, which require an IV infusion by a trained healthcare provider.
As mutations in the coronavirus threaten to erode the effectiveness of five existing antibody therapies, many of the FDA's advisors said they welcomed the arrival of a pill that is less likely to be undermined by new viral variants.
At the same time, the experts heaped skepticism on the experimental red pill that will probably never be used in children, appears to pose dangers to developing fetuses, and has not been tested in vaccinated people suffering breakthrough infections.
Merck tacitly acknowledged that it would not seek approval for the drug's use in children after experiments in animals suggested it could disrupt the growth of bone and cartilage. And the pharmaceutical company did not include pregnant women in its clinical trials after animal testing also suggested the drug could cause abnormalities in fetal development.
If the FDA does allow the emergency use of molnupiravir in women of childbearing age, the agency may require them to take a pregnancy test before getting a prescription. In addition, the FDA would probably require that pregnancy outcomes be monitored if the pill is prescribed to women who have conceived.
Merck will let other drug firms worldwide make its COVID-19 pill, a treatment that could be a major new weapon in the fight against the coronavirus.
The new antiviral pill initially appeared to prevent severe COVID-19 in as many as half of newly infected people who were at high risk of hospitalization or death. But a more complete analysis found that molnupiravir reduced the risk of severe disease by only 30% in unvaccinated high-risk adults who began taking it within five days of testing positive for a coronavirus infection and suffering mild symptoms.
Harvard infectious disease specialist Dr. Lindsey R. Baden, who chairs the FDA advisory committee, called molnupiravir's apparent effectiveness "wobbly." He said his own decision to recommend that the FDA grant emergency-use authorization was "incredibly difficult" in light of many unanswered questions about the drug's risks.
But he said "there are populations" for whom the drug's benefits would outweigh its risks, including unvaccinated people with underlying conditions such as obesity and advanced age.
Several other panel members echoed Baden's tepid endorsement.
John M. Coffin, a Tufts University HIV and cancer researcher, said he had been hoping a pill would be developed to safely and effectively treat COVID-19.
"I'm not sure this is the one we've been waiting for," said Coffin, who voted in favor of authorization. "But it's all we've got at the moment."
That may not be true for long. Pfizer, the pharmaceutical firm that turned an mRNA vaccine for COVID-19 around in less than a year, has asked the FDA to grant emergency-use authorization for an antiviral pill it proposes to call Paxlovid.
A preliminary analysis of early clinical trials suggested mildly ill COVID-19 patients who took Paxlovid within three to five days of a confirmed infection were 86% less likely to be hospitalized or die than were those who got a placebo pill.
Another key question about the Merck drug is whether it should be offered to patients who have been vaccinated or who have some immunity due to a previous bout with COVID-19. Merck didn't study the drug in vaccinated people, but data from a handful of patients with prior infections suggested it had little benefit for them.
Some of the FDA advisors also worried that too little testing had been done to rule out what one called the "theoretical possibility" that the drug could promote genetic mutations in patients that could give rise to illnesses such as cancer years later. Those fears were prompted by animal tests that found mutations in fast-growing cells such as bone marrow.
The U.S. government will pay Pfizer $5.29 billion for 10 million treatment courses of its experimental COVID-19 drug if regulators authorize it.
Molnupiravir's novel method of action has raised another concern. The drug blunts the progression of COVID-19 by speeding the rate of random mutations in the coronavirus' replication machinery. The drug-induced mutations cripple the virus, causing it to sputter and die. An FDA staff report on molnupiravir said that genetic changes in RNA could "theoretically be transformed" in ways that cause it to be folded into healthy human DNA. That could spell disaster for the individuals affected.
Panel members also worried that accelerating RNA mutations in potentially millions of patients could have an unintended effect on the public's health by speeding the emergence of new coronavirus variants.
The dangers could be greatest when the antiviral is prescribed to COVID-19 patients with compromised immune systems, who tend to harbor the virus for longer periods of time and therefore spawn more mutations. People who start a five-day course of the antiviral but forget to take all their doses could also become fertile incubators of mutations that allow the virus to circumvent the immune system's defenses, members said.
Those worries could be swept away if molnupiravir reliably shortens infections and reduces the time that the virus replicates inside patients' bodies. But, as Coffin said, the trade-off is "not clear."
In voting against authorization, University of Utah infectious disease specialist Dr. Sankar Swaminathan called molnupiravir's effectiveness "modest at best."
The risk of mutations in individual patients still needs to be fleshed out, he said. Until that's done, he cast his no vote due to "the large potential population affected [and] the risk of widespread effect on birth defects," including the possibility that fathers might put their offspring in jeopardy due to mutations in their sperm cells.
Several panel members, including some who endorsed molnupiravir, expressed hope that the FDA would consider withdrawing emergency-use authorization if a more effective drug with fewer worrisome safety signals were to come along.
Pfizer's drug is part of a decades-old family of antiviral pills known as protease inhibitors, a standard treatment for HIV and hepatitis C. They work differently and haven't been linked to the kind of mutation concerns raised by Merck's drug.
The Associated Press contributed to this report.