'Kick him in his head!' Heroes rose to stop gunman at LGBTQ nightclub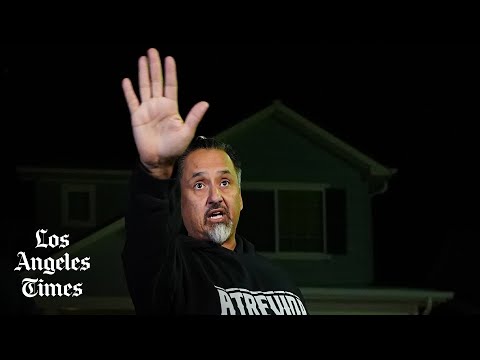 An Army veteran who helped subdue the gunman at a gay club in Colorado Springs, Colo, credits his military training and instincts after he helped disarm the attacker.
COLORADO SPRINGS, Colo. —
Richard Fierro was at Club Q with his wife, his daughter, his daughter's boyfriend and a couple of other friends Saturday, having the best night they'd had in a long time, he said.
Then the gunfire erupted, and Fierro, a U.S. Army veteran, went into "combat mode." A gunman had entered the LGBTQ nightclub and opened fire.
"The guy came in shooting, man," said Fierro, who served in Afghanistan and Iraq. He said he saw a flash and fell backward, then got up and was able to grab the shooter from behind.
"I grabbed him by the back of his little cheap-ass armor," he said.
He said he screamed at the shooter that he was going to kill him and grabbed a pistol away from him. He told another patron at the nightclub to move a rifle the gunman had dropped farther away and out of his reach.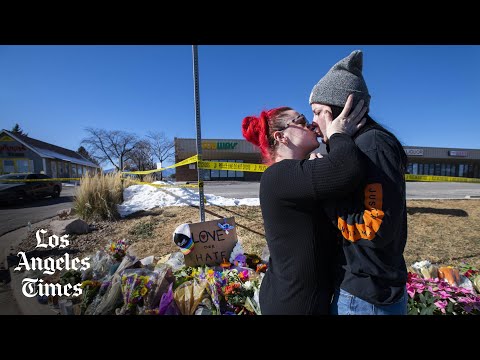 Anderson Lee Aldrich was arrested on suspicion of murder and hate crimes in the shooting at Club Q in Colorado Springs, Colo.
"I started whaling on this dude, and I'm on top of him. I'm a big dude, man, and this guy was bigger. And I just kept whaling on him, and I told the kid in front of me, 'Kick him in his head! Keep kicking him in his head!' I'm yelling, '911! Somebody call 911!'"
Fierro said he told a club performer to kick the shooter as well, and she did with her high heel.
Fierro shared his account Monday in the aftermath of the attack on Club Q, which left five people dead and 18 injured, after police and local officials praised him for his heroism in stopping the attack.
A suspect, identified by police as Anderson Lee Aldrich, 22, was arrested on preliminary counts of murder and bias-motivated crime causing bodily injury, court records show.
Michael Allen, district attorney for the 4th Judicial District of Colorado, said the case is still under investigation and more charges could be added. Officials have not issued a possible motive for the attack.
Allen said he expects the arrest warrant and probable cause affidavit will be unsealed in the coming days.
Asked whether prosecutors were considering federal hate crime charges against Aldrich, Cole Finegan, the U.S. attorney for the District of Colorado, cited the ongoing investigation and said his office was working closely with Allen's office and other local authorities but that he could not comment further.
"I just want to reiterate and reaffirm that the Department of Justice is looking at all aspects of this case," Finegan said.
The suspect remains at the hospital in custody, said Max D'Onofrio, a city spokesman.
Aldrich is the grandson of California Assemblyman Randy Voepel (R-Santee), an aide for the legislator told The Times on Monday. Voepel did not wish to comment Monday night, the aide said.
Eighteen people were injured in the attack, down from the original count of 25, according to an update Monday afternoon from the Colorado Springs Police Department. All but one sustained gunshot injuries, police said.
Five people were killed and many more injured in a shooting at a gay nightclub in Colorado Springs. Here's what we know about the dead.
Ten people are being treated at UCHealth Memorial Hospital Central, said Kelli Christensen, a hospital spokesperson. One was discharged Sunday. Christensen declined to provide updates on the patients' status.
Patrick Sharp, the chief executive of Penrose Hospital, said three people remained hospitalized there and were listed as stable on Monday.
Authorities on Monday released the names of those who were killed in the attack after family members and friends of the five victims confirmed their loved ones' deaths with The Times and other media outlets.
The victims are Kelly Loving, Daniel Aston, Derrick Rump, Ashley Paugh and Raymond Green Vance.
Aston, a 28-year-old transgender man, was a bartender at Club Q. His mother, Sabrina Aston, told the Associated Press that their family was in shock.
"I keep thinking it's a mistake, they made a mistake, and that he is really alive," she said.
The drag performer Del Lusional, who performed at Club Q the night of the shooting, posted a tribute to Aston on Twitter.
"I'm gonna miss walking into the bar and going 'WHO LET YOU IN HERE?????'" the performer tweeted. "And I'm gonna miss being greeted with his middle finger to my face. So so so much.
"Enjoy the stupid moments with your friends," the performer added.
Rump was a bartender at Club Q. His mother confirmed his death to The Times but declined an interview.
Keoni Moore, a DJ who used to work at the club, said Rump was a "lovely, funny, hilarious person" who always kept people laughing with a sassy remark or a little friendly "shade."
"Derrick was very much the comedian," Moore, 20, said.
Loving, 40, was visiting Club Q from Denver when she was shot and killed, a friend confirmed to The Times.
Natalee Skye, 25, was on FaceTime with Loving minutes before the shooting.
"I told her, 'I love you, be safe,' and she said it back to me, and I never heard back from Kelly again," Skye said in an interview.
When she tried to get back in touch with Loving later that night and the next morning, she got no response.
The two and other friends had celebrated Loving's 40th birthday days earlier, on Nov. 16. Loving was supposed to join Skye for Thanksgiving.
Paugh's family is "absolutely devastated" by her loss, her husband, Kurt, said in a statement on Monday.
"She meant everything to this family, and we can't even begin to understand what it will mean to not have her in our lives," he said. "Ashley was a loving wife — she was my high school sweetheart — and she was just an amazing mother."
Ashley had a passion for helping children and worked with Kids Crossing, a nonprofit organization that helps find homes for foster children, her husband said.
"This included working with the LGBTQ community to find welcoming foster placements for children," Kurt Paugh said. "During the holidays, Ashley organized giving trees and delivered them to businesses so that foster kids could have brighter holidays — and in fact, she was setting up giving trees even this week, canvassing Pueblo and Colorado Springs."
Vance was at the club with his girlfriend, Kassy, who is Fierro's daughter, her parents and her parent's friends.
The 22-year-old had never been to Club Q before and the group was celebrating a birthday, according to a statement by Vance's family.
"Raymond was a kind, selfless young adult with his entire life ahead of him," his family said.
He had recently started a new job at a FedEx distribution center and was thrilled to get his first paycheck, according to the statement.
"He couldn't wait to save enough money to get his own apartment, but in the meantime he lived with his mother and younger brother who adored him," according to the statement.
Vance was born in Chicago but grew up in Colorado Springs, his family said. He graduated from Sand Creek High School in 2018.
"At least two heroic people" confronted the gunman and stopped the shooting, Colorado Springs Police Chief Adrian Vasquez said, adding: "We owe them a great debt of thanks."
Police identified the two people — Thomas James and Fierro — during Monday's conference.
A gunman opened fire shortly before midnight at a gay nightclub in Colorado Springs, killing five and injuring 25. A suspect was subdued and is in custody.
Fierro's daughter broke her knee during the attack. Monday night she sat in a wheelchair on the family's porch as her father spoke during a news conference.
When police arrived at the club, they handcuffed Fierro and held him in a police car for about an hour while they sorted things out, which he said he didn't begrudge.
"That cop walked in, when he saw me, he must have thought I was crazy," he said. "Yeah, I got handcuffed, but I get it. They dragged me out of there, and I think people thought I was the shooter. That's fine. That's fine. They threw me in the car for an hour, I get it, they're trying to sort out what they're doing, OK? I'm not saying anything bad about those guys."
Fierro said he was not a hero. He said he and his family love their community, participate in Pride with their family brewery, and want the best for everyone. He said he wishes he could have saved the five who were killed. He said he only wanted to protect his family that night, and saw everyone in the bar — except the shooter — as family.
"There are five people who I could not help," he said, and his thoughts were with them and their loved ones.
"I wish I could have saved everyone in there."
A patron identified as Joshua told local station KRDO-TV: "As I was dancing on the dance floor, I heard shots fired. I thought it was the music because there were no screams. There was no, 'Help, help.'"
He ran into a dressing room when he realized what was going on. There, he and others locked the door, turned out the lights and got on the floor, he said.
"We heard everything. We heard more shots fired. We heard the assailant being beat up by someone that I assume had tackled him. We heard the police come in, we heard them yelling at him," the patron said.
"All I could think about is everything, my life," he said before breaking down in tears.
Anderson Lee Aldrich appears to have little social media footprint. But the suspect in the Colorado Springs mass shooting appears connected to earlier arrest.
Colorado Authorities said Sunday that a gunman who opened fire at a gay nightclub in Colorado — killing five and injuring 25 — was subdued by "heroic" patrons who hit him with his own gun.
The gunman used an AR-15-style semiautomatic weapon in the shooting, the Associated Press reported. A handgun and ammunition magazines also were recovered at the scene, authorities said.
Colorado Gov. Jared Polis ordered flags on all public buildings in Colorado to be flown at half-staff for five days to honor each of the five who were killed.
Times staff writer Summer Lin contributed to this report.
Sign up for Essential California for the L.A. Times biggest news, features and recommendations in your inbox six days a week.
You may occasionally receive promotional content from the Los Angeles Times.