'Heroic' patrons of gay nightclub subdued gunman after he opened fire, killing 5 people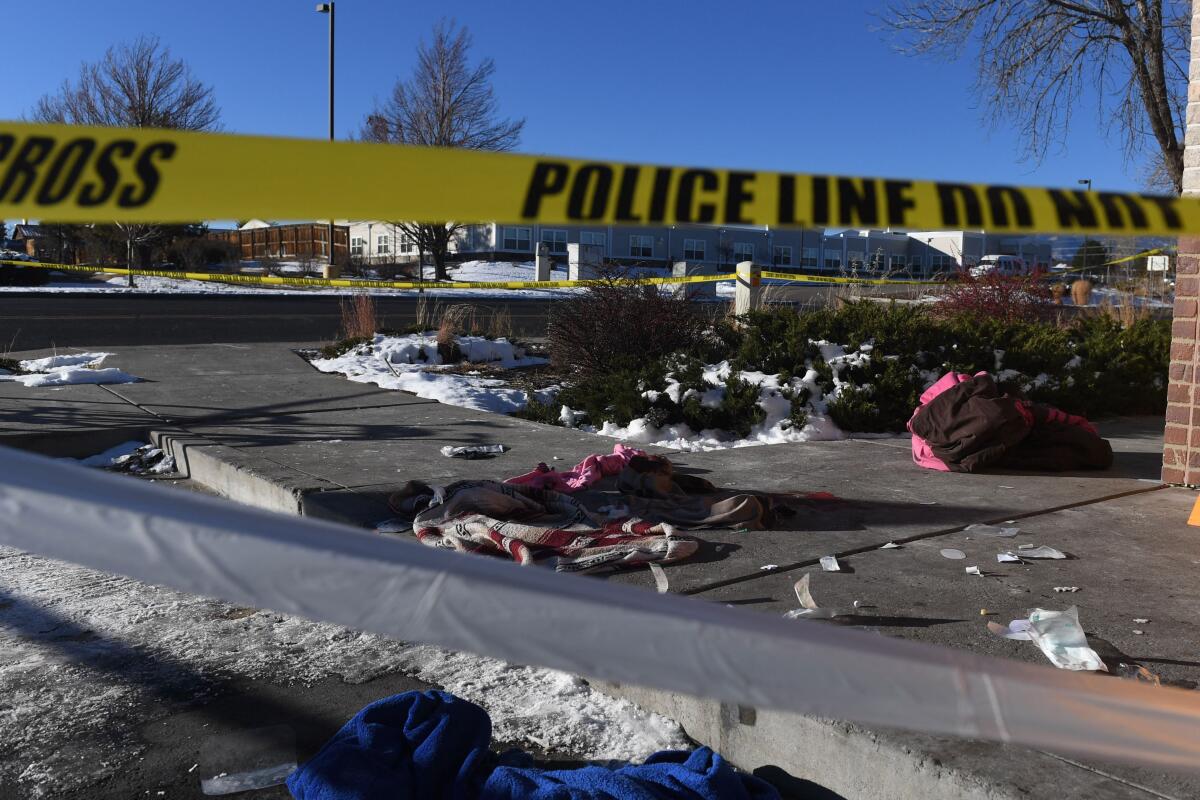 COLORADO SPRINGS, Colo. —
A gunman who opened fire at a gay nightclub in Colorado — killing five and injuring 25 — was subdued by "heroic" patrons who hit him with his own gun, authorities said.
The attacker's motive wasn't immediately clear, but the shooting is being investigated as a hate crime.
The gunman, who was identified by police as Anderson Lee Aldrich, 22, opened fire at Club Q in Colorado Springs just before midnight Saturday, police said.
He was quickly taken into custody when police arrived a few minutes after receiving a call, authorities said.
The suspect used an AR-15-style semiautomatic weapon in the shooting, the Associated Press reported. A handgun and ammunition magazines were also recovered at the scene, authorities said.
A man with the same name and age as Aldrich was involved in June 2021 in a standoff with El Paso County Sheriff's deputies who responded to reports of a bomb threat at a home in suburban Colorado Springs. Authorities found no explosives, and The Gazette in Colorado Springs reported that prosecutors did not pursue any charges. Authorities have not confirmed that the two men are the same.
The incident took place in the home of Leslie Bowman, who rented a spare room to Laura Voepel, Aldrich's mother. Bowman said Voepel texted her not to come home because people were looking for Aldrich, who was holed up with her in the home. Deputies evacuated about 10 houses and sent emergency texts to households in a quarter-mile radius, Bowman said. After a three-hour impasse, a crisis negotiations unit talked Aldrich into coming out the front door.
"No one followed up with me to ask questions or give me any details, not the district attorney, not anyone," Bowman said. When she learned of the Club Q shooting and Aldrich's suspected involvement, she paced the floors in a state of shock.
"I hope justice is served," Bowman told The Times. "I don't think it was with the bomb threat situation last year. If it was, he would be in jail and five people would not be dead today." A call to the district attorney's office Sunday was not returned.
"At least two heroic people" confronted the gunman and stopped the shooting, said Colorado Springs Police Chief Adrian Vasquez, adding: "We owe them a great debt of thanks."
One of the people in the bar took a handgun from the shooter and hit him with it, Colorado Springs Mayor John Suthers said in an interview with CNN.
Suthers called it an "incredible act of heroism."
Of the 25 people injured, 19 have gunshot wounds, Suthers said. None of those are "deemed truly critical," the mayor said.
A patron who was in the bar told local station KRDO-TV Channel 13: "As I was dancing on the dance floor, I heard shots fired. I thought it was the music because there were no screams. There was no, 'Help, help.'"
When he realized what was going on, he ran into a dressing room where he and others locked the door, turned out the lights and got on the floor.
"We heard everything. We heard more shots fired. We heard the assailant being beat up by someone that I assume had tackled him. We heard the police come in, we heard them yelling at him," the patron said.
"All I could think about is everything, my life," he said before breaking down in tears.
Keoni Moore, 20, who identifies as nonbinary, is a DJ who worked at Club Q before recently moving to another club just across the street.
He was at work Saturday night and realized something was terribly wrong when he heard sirens and saw ambulances arriving at Club Q.
"Who is in there? Who's going to get out? Who am I not going to see anymore?" he wondered.
As of Sunday afternoon, he had heard that two friends and former co-workers had been killed.
He said they were warm, welcoming and funny — and helped make Club Q what it was.
"It was very welcoming," he said. "Every time you came in, whether you were new or had been there for so long, there was never a stuck-up feeling like you don't belong."
Colorado Gov. Jared Polis, who in 2018 became the first openly gay man in the United States to be elected governor, said, "My heart breaks for the family and friends of those lost, injured and traumatized in this horrific shooting."
On Sunday afternoon, groups of friends and couples walked up to the entrance of the club's parking lot, placing flowers near a sign that read, "Love over hate."
Emily Paduch, 26, who identifies as bisexual, lives down the street and said the club had been a sanctuary for local LGBTQ people and others. "It was like the one safe spot for everyone. It didn't matter who you were," Paduch said through tears.
Bucky Baldwin, 57, and his wife, Lisa, 58, brought flowers to show their respects. Baldwin works in the music industry, and the couple have many gay friends, they said. Hatred toward LGBTQ people must be confronted, they said.
"There has to be a tolerance movement. There's an intolerance that has festered," he said. "People just have to be more accepting."
"How do you stop hate through generations?" Lisa Baldwin wondered.
Siblings Sophie Aldinger, 23, and Abby Aldinger, 20, who grew up in Colorado Springs and both identify as nonbinary, said Club Q is a place of love and laughter — not something that's always easy for LGBTQ people to find in Colorado Springs.
They hope it survives.
"You can't fight hate with hate. You can only fight hate with love," Sophie said.
The attack was over within minutes. Police received 911 calls starting at 11:56 p.m., and an officer arrived at midnight. The suspect was detained at 12:02 a.m., police said.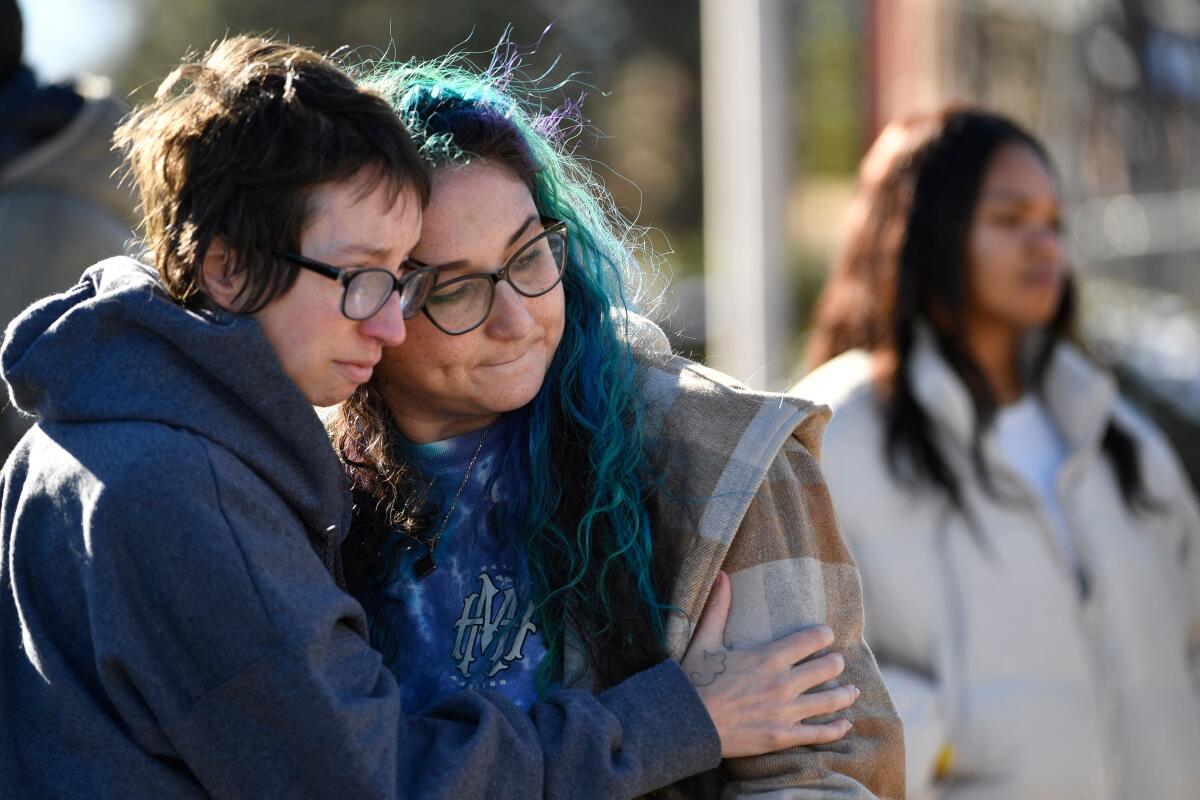 The suspect was being treated at a hospital, police said, adding that officers did not shoot at him.
In a statement, Club Q termed the shooting a hate attack.
"Club Q is devastated by the senseless attack on our community," the club posted on its Facebook page. It said its prayers were with victims and families, adding: "We thank the quick reactions of heroic customers that subdued the gunman and ended this hate attack."
The attack was the sixth mass killing in the U.S. this month and comes seven months after the deaths of 21 in a school shooting in Uvalde, Texas.
There have been 523 mass killings in the U.S. since 2006 resulting in 2,727 deaths as of Nov. 19, according to the Associated Press/USA Today database on mass killings in the U.S.
President Biden and other political leaders offered support and condolences on social media.
"While no motive in this attack is yet clear, we know that the LGBTQI+ community has been subjected to horrific hate violence in recent years," Biden wrote in a statement. "Gun violence continues to have a devastating and particular impact on LGBTQI+ communities across our nation and threats of violence are increasing."
Sarah Kate Ellis, president of GLAAD, the world's largest LGBTQ media advocacy organization, suggested an alarming rise in hate speech and anti-gay legislation inspires such violence.
"You can draw a straight line from the false and vile rhetoric about LGBTQ people spread by extremists and amplified across social media, to the nearly 300 anti-LGBTQ bills introduced this year, to the dozens of attacks on our community like this one," Ellis wrote.
"This unspeakable attack has robbed countless people of their friends and family and an entire community's sense of safety," Ellis added.
Los Angeles Police Chief Michel Moore said the department is adding patrols and increasing "visibility," noting that Sunday is Trans Day of Remembrance. "America grieves over yet another mass shooting," he said.
For years, Club Q was the only gay club in Colorado Springs. "The whole idea of this place [Club Q] is to have a safe place," co-owner Nic Grzecka said in a 2020 interview with Colorado Springs Indy.
Rector reported from Colorado Springs, Dolan from Long Beach, Kelly from Denver and Newberry from Los Angeles.
Sign up for Essential California for the L.A. Times biggest news, features and recommendations in your inbox six days a week.
You may occasionally receive promotional content from the Los Angeles Times.