China tries to minimize COVID-19 risk during Lunar New Year travel crush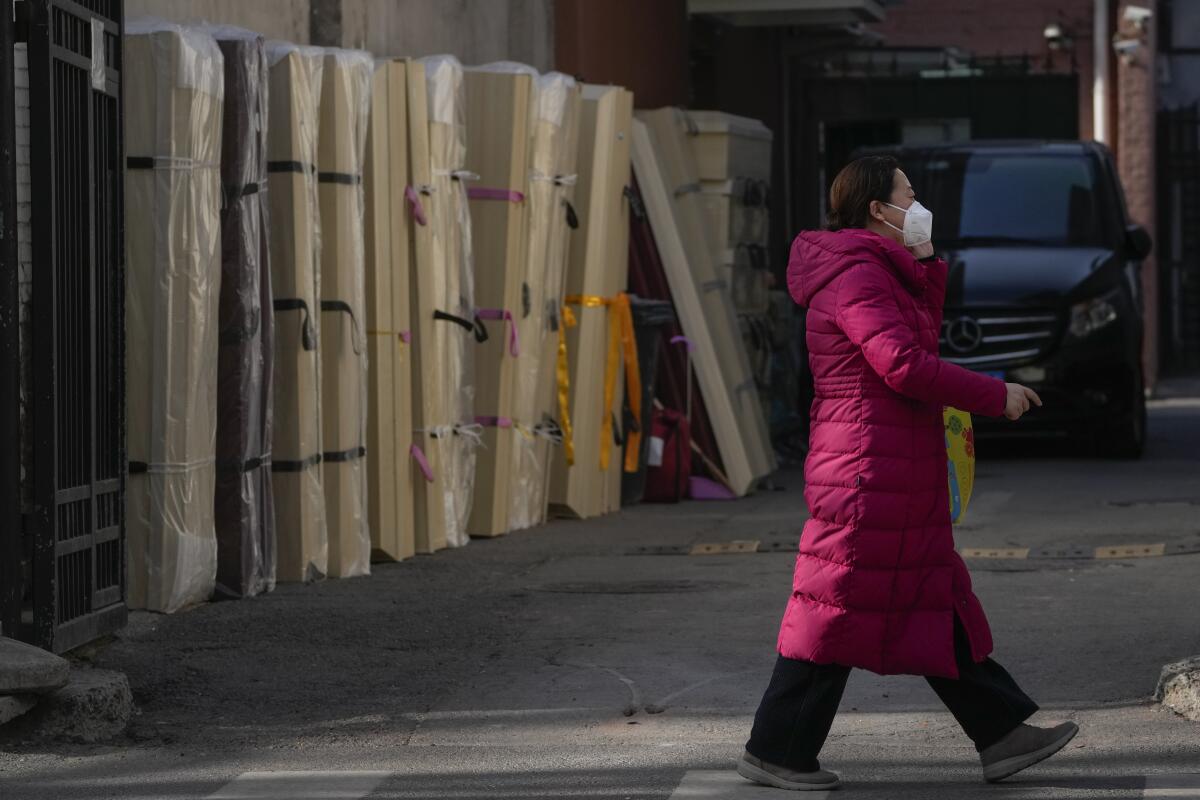 BEIJING —
China is seeking to minimize the possibility of a major new COVID-19 outbreak during this month's Lunar New Year travel crush following the end of most pandemic containment measures.
The Transportation Ministry on Friday called on travelers to reduce trips and gatherings, particularly if they involve older people, pregnant women, small children and those with underlying medical conditions.
People using public transport are also urged to wear masks and pay special attention to their health and personal hygiene, Vice Minister Xu Chengguang told reporters at a news briefing.
The call stopped short of asking citizens to stay home entirely, as the government had done since the pandemic began, although some local governments have urged migrant workers not to return home.
Xu said authorities expect more than 2 billion trips to be made during the weeklong festival season, the most important time for visiting family and friends on the traditional Chinese calendar. That is nearly double the number from last year and 70.3% over the same period in 2019 before the pandemic hit, Xu said.
Demand for family visits and tourism has "accumulated over the past three years of the pandemic to be met all at once," Xu said.
Patients, most of them elderly, lie on stretchers in hospital hallways or take oxygen while sitting in wheelchairs as COVID-19 cases surge in Beijing.
"We encourage people to make travel plans based on the situation of themselves and their family members," he said.
China abruptly ended a strict regime of lockdowns, quarantines and mass testing in December amid growing concerns about their economic impact and rare public protests in a country that permits no open political dissent.
China on Sunday is also ending mandatory quarantines for people arriving from abroad.
The current outbreak appears to have spread the fastest in densely populated cities, putting a strain on the healthcare system. Authorities are now concerned about the possible spread to smaller towns and rural areas that lack resources such as intensive care beds.
Could the COVID-19 surge in China unleash a new coronavirus mutant on the world. Maybe it could. Maybe not.
Overseas, a growing number of governments are requiring coronavirus tests for travelers from China, saying they are needed because the Chinese government is not sharing enough information on the outbreak, particularly about the potential emergence of new coronavirus variants.
The European Union on Wednesday "strongly encouraged" its member states to impose pre-departure coronavirus testing, though not all have done so. The World Health Organization has also expressed concern about the lack of data from China, while the U.S. is requiring a negative test result for travelers from China within 48 hours prior to departure.
China has criticized the requirements and warned that it could impose countermeasures against countries using them. Chinese officials have said the situation is under control and reject accusations of a lack of preparation for reopening.
Despite concerns, Hong Kong announced that it would reopen some of its border crossings with mainland China on Sunday and allow tens of thousands of people to cross every day without being quarantined.
Protesters in China are eager to see an easing of "zero-COVID" rules, but health experts warn that doing so could prompt a massive health emergency.
The city's land and sea border checkpoints with the mainland have been largely closed for almost three years, and the reopening is expected to provide a much-needed boost to Hong Kong's tourism and retail sectors.
China has also gradually opened to visits by foreign officials, hosting Philippines President Ferdinand Marcos Jr. this week.
U.S. Secretary of State Antony J. Blinken is tentatively due to make his first visit to Beijing in office this month or next, during which he will meet with newly appointed Foreign Minister Qin Gang, China's blunt-speaking former ambassador to Washington.
Sign up for Essential California for news, features and recommendations from the L.A. Times and beyond in your inbox six days a week.
You may occasionally receive promotional content from the Los Angeles Times.