Gay couples in India take their fight for marriage equality to the Supreme Court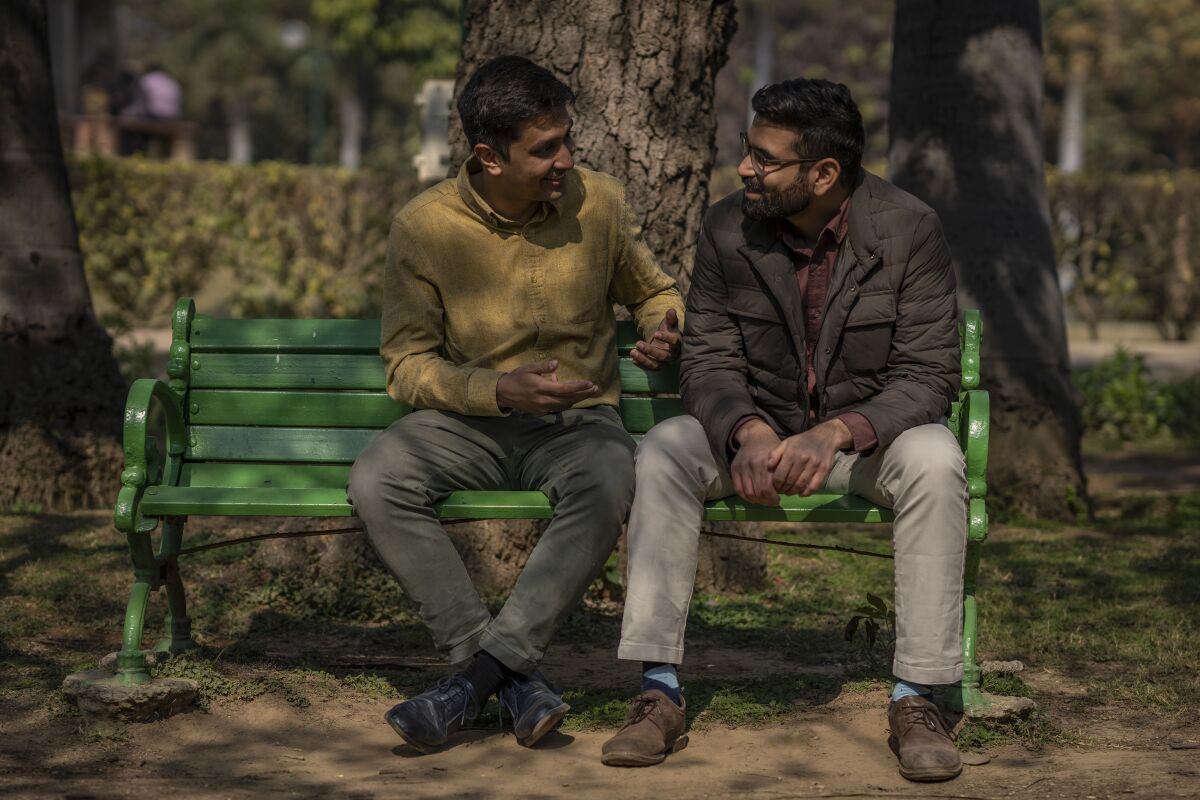 NEW DELHI —
Utkarsh Saxena and Ananya Kotia's love story began just like any other college romance. Except no one else knew about the gay couple's relationship.
It was 2008. Homosexuality had yet to gain a degree of acceptance in deeply conservative India, with many gay couples facing stigma and isolation. So Saxena and Kotia took their time, watching how people's attitudes toward homosexuality changed.
"We were actually quite scared about the consequences," said Saxena, a public policy scholar at Oxford University in England. "We were very fragile and vulnerable, a young couple figuring out ourselves, and didn't want, you know, something as drastic as this to break us in some sense."
Over the years, as Indian society became more accepting and more LGBTQ people began celebrating their sexuality openly, the couple decided to make their relationship known to their friends and family. Most of them were accepting.
Now, 15 years into their relationship, they're taking on a bigger challenge: They've filed a petition with India's Supreme Court that seeks the legalization of same-sex marriage. Three other same-sex couples have filed similar petitions that will be heard by the country's top court in March.
If their petitions succeed, India would become the biggest country in Asia to recognize same-sex marriage, a significant step for a nation that decriminalized gay sex only a little more than four years ago. A ruling for marriage equality would also make India the world's biggest democracy with such a right for LGBTQ couples but would run counter to the ruling Hindu nationalist government's position, which opposes same-sex marriages.
Bhutan, which measures progress with a 'gross national happiness' metric, has decriminalized gay sex and seen a rise in LGBTQ acceptance and activism.
"Our relationship has been, in a social sense, undefined for so long that we would like it to now be embraced in the same way as any other couple's relationship," Saxena said.
Legal rights for LGBTQ people in India have been expanding over the last decade, mostly through the Supreme Court's intervention.
In 2014, the court legally recognized nonbinary or transgender people as belonging to a "third gender" and three years later made an individual's sexual orientation an essential attribute meriting privacy protections. The historic ruling in 2018 that struck down a British colonial-era law that had made gay sex punishable by up to 10 years in prison expanded constitutional rights for the gay community. The decision was seen as a landmark victory for gay rights, with one judge saying it would "pave the way for a better future."
Despite this progress, legal recognition of same-sex marriage has met with resistance from Prime Minister Narendra Modi's government.
She read in the morning paper that the decision was coming, so the 24-year-old master's student skipped classes Thursday and came to the Supreme Court building flanked by two friends.
In a court filing last year, it said same-sex marriages would cause "complete havoc with the delicate balance of personal laws in the country." Sushil Modi, a lawmaker from Modi's Bharatiya Janata Party, told Parliament in December that such marriages would be "against the cultural ethos of the country" and that a decision should not be left to "a couple of judges."
The Supreme Court has, however, signaled that it could challenge the government's position.
In January, its collegium — comprising the chief justice and two other justices — alleged that the government was opposing a gay judge's nomination in part because of his sexual orientation. The government did not respond to the allegations.
Gay couples and LGBTQ activists argue that, by refusing to recognize same-sex marriage, the government is depriving such couples of their right to equality enshrined in the constitution and of the opportunities enjoyed by married heterosexual couples.
In India, where being gay is a crime, a royal son was shunned when he told his secret. Now he fights to change the law and public mind-set.
"Basically, you need to be treated the same as any other citizen. It's not special rights that are being asked for; it's just the right that every other citizen has," said Ruth Vanita, an expert on gender studies and author of "Love's Rite: Same-Sex Marriage in India and the West."
In India, marriage is governed by a set of different laws tailored to the country's religious groups, and a secular law for interfaith couples called the Special Marriage Act. All limit marriage to opposite-sex couples.
With no legal recognition of their relationships, many same-sex couples say they have faced a host of hurdles.
Common property and inheritance laws do not apply to LGBTQ couples. They are also not allowed to have children born with the help of an Indian surrogate mother. And an LGBTQ person can apply to adopt a child only as a single parent, not together with a partner as the other parent.
Get breaking news, investigations, analysis and more signature journalism from the Los Angeles Times in your inbox.
You may occasionally receive promotional content from the Los Angeles Times.
Many gay couples believe that legal recognition of same-sex marriage would not just be a vital step toward equality but would also result in more people coming out, as well as strengthening their relationship with the state.
Homosexuality has long carried a stigma in India's traditional society, even though there has been a shift in attitudes toward same-sex couples in recent years. India now has out gay celebrities, and some high-profile Bollywood films have dealt with gay issues. According to a Pew survey, acceptance of homosexuality in India increased by 22 percentage points to 37% between 2013 and 2019.
But many same-sex couples continue to face harassment in many Indian communities, whether Hindu, Muslim or Christian.
In December, India's LGBTQ community found support from an unexpected quarter.
LGBTQ groups applauded the repeal but said discrimination will continue without recognition of same-sex couples.
The head of Rashtriya Swayamsevak Sangh, a Hindu nationalist group that is the ideological parent of Modi's party, said LGBTQ people are "a part of the Indian society" and that Indian civilization has traditionally acknowledged the community. Mohan Bhagwat's comments, which could spur the government to reassess its position, were a departure from the group's long-held views on homosexuality, which has a tangled history in India, even though some of Hinduism's most ancient texts are accepting of same-sex couples.
"In the West, right up to the 19th century, people were executed for same-sex relations, or they were put in prison. India has, as far as we know, no such history. We have always written about it [homosexuality], talked about it and discussed it," said Vanita.
Without the legal right to marry, many LGBTQ couples have opted for commitment ceremonies, particularly in big cities, using traditional Indian wedding rituals.
Saxena and Kotia said they were planning a ceremony of some kind as well, preferably if the court rules in their favor.
"I think we would like a big wedding. Our relatives and our family and friends would like an even bigger wedding," Saxena said.
Must-read stories from the L.A. Times
Get the day's top news with our Today's Headlines newsletter, sent every weekday morning.
You may occasionally receive promotional content from the Los Angeles Times.