India's first LGBTQ radio show aims to broaden the country's concept of love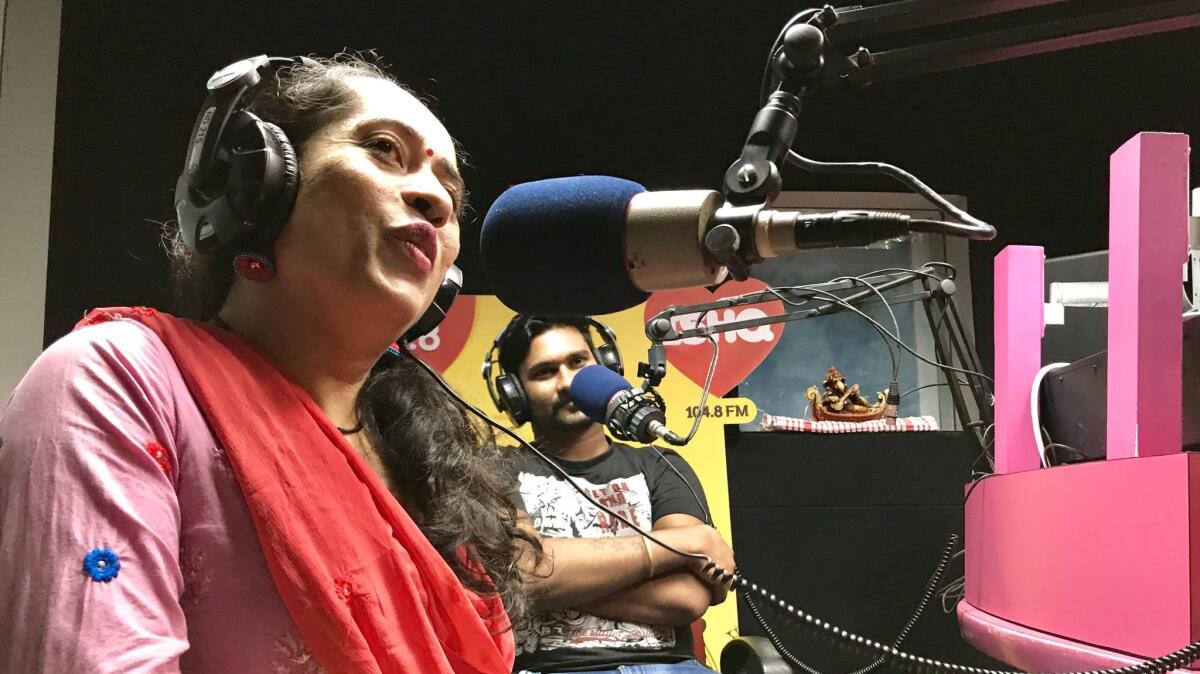 Reporting from MUMBAI, India —
The topic of the radio talk show was love, and the newlyweds sitting side by side behind studio microphones were brimming with it.
He had noticed her on Facebook and messaged her several times, finally traveling 125 miles to see her after she agreed to a date. She touched his arm, remembering how they had talked that night until after 4 a.m.
The host smiled. "We don't want to propagate Facebook stalking," he said, "but in this case it seems to have worked."
Just your average Sunday afternoon radio fare — except that the host was Harish Iyer, perhaps India's most outspoken gay rights activist, and his guests were a transgender woman and her straight husband.
They were speaking on "Gaydio," the first radio show dedicated to LGBTQ issues in India, where homosexuality is taboo, same-sex relations are officially illegal and most marriages still take place within socially prescribed boundaries of caste and religion, not to mention gender.
The weekly two-hour program airing in Mumbai and two other cities since mid-July is a quietly revolutionary experiment in broadening India's concept of love. The week before Madhuri Sarode Sharma, the transgender woman, and her husband, Jay Sharma, were invited on the show, its guests were two men, a Muslim and a Sikh, who have been together for more than a decade.
"I'd like to bring on a bisexual man — they are one of the most invisible communities," Iyer said, sipping water after the taping in suburban Mumbai. "The point of the show is to create a safe space, an infrastructure where you can come and speak about your lives."
By having the Sharmas on the show, Iyer said he hoped to open listeners' eyes to the discrimination faced by transgender people, who occupy an uncomfortable limbo in Indian society.
Like many transgender Indian women, Madhuri Sharma is a hijra, part of a community that appears in ancient Hindu texts and is often invited to dance at weddings because they are believed to bring good fortune.
India's Supreme Court has enshrined a person's right to identify as transgender and set aside places for such people in schools and government jobs. Some states even subsidize sex reassignment surgeries, such as the one Madhuri Sharma, who was born as a man named Prakash, underwent beginning a decade ago.
But most hijras still live on the margins, reduced to prostitution or begging on street corners. Until December, when the Sharmas were wed in a traditional Hindu temple ceremony — she wearing a red sari and garlands around her neck, he a white suit and turban — no transgender Indian had married openly.
In the taping, Iyer asked Madhuri Sharma, who is slender and chatty, about the reputation that hijras have for being belligerent, particularly when asking for money.
"Transgender people don't get love from anywhere," she said. "That's why they are aggressive."
Later, Iyer came back to the topic of their first date, 15 months before they were married. Given that hijras are so often exploited for sex, wasn't she scared when she invited Jay Sharma to her house after they had only chatted on Facebook?
"I had already been cast off from society," she said. "We have gotten so much pain. So if someone genuinely wants to meet me, why would I be scared?"
Iyer and his producer liked that line, and ended the taping soon after that.
Afterward, Iyer said that exploring such simple, real-life stories was the goal of the station, Ishq 104.8 FM, whose name means "love" and whose target audience is young urban adults.
"We are really speaking to them about their lives and the lives of the people they encounter on a daily basis," he said.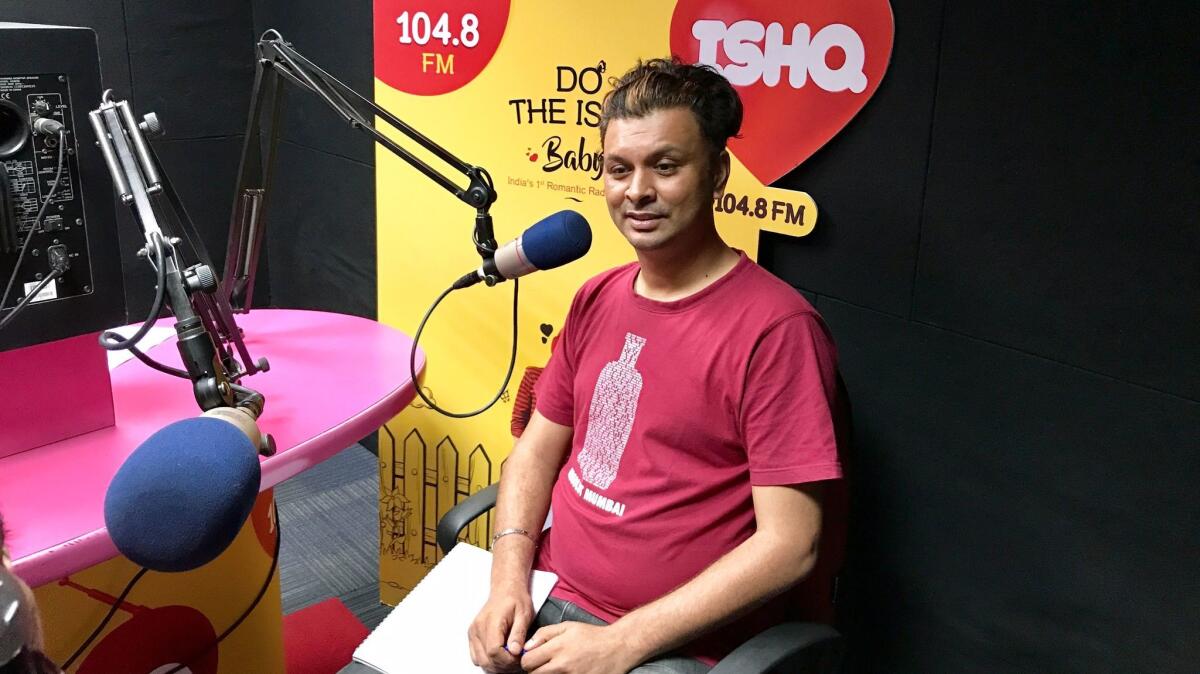 Iyer, 38, has long been a trailblazer. Two years ago, he made international news when his mother took out a classified ad looking for a "groom for my son." Matrimonial ads — with their often deeply specific requirements for a suitor's age, height, career, caste and complexion — are a staple of newspapers here, but this was believed to be the first such ad for a gay Indian.
His mother wrote that a man from the family's Iyer caste — an elite community of Brahmins from southern India — would be "preferred," leading to charges that the ad perpetuated the same sort of discrimination it was aiming to fight. Iyer said that his mother just wanted a man whose customs she was familiar with, and that the reference was meant to be slightly tongue in cheek.
Several men responded, including one from the Iyer community who visited his house and impressed the family with a rendition of traditional Carnatic music, but there hasn't been a match yet. "I'm still single," the activist said.
In a 2009 magazine piece, Iyer recounted in gut-wrenching detail how, starting at age 7, he was sexually abused by an uncle. He was forced to perform oral sex and was raped until he bled, sometimes by multiple men, until he was 18.
He has since told the story in countless interviews and speeches, although it still shocks. Sex is hardly discussed publicly in India, let alone graphic accounts of sexual abuse. In a TED talk recorded last year, Iyer chastised an audience for cringing as he discussed his ordeal.
"I know it's uncomfortable," he said, an edge in his voice. "I can see people making these faces. But you guys are responsible for what has happened to me. Because of your taboo, because you don't speak about sex."
Iyer likes to say that living "truly and unabashedly" is his best form of activism — and he is a fearless voice on many causes, including animal rights and gender equality. So it was a bit of a departure for him when the radio station chose to not publicize the show until after it debuted, hoping to avoid opposition from media regulators or conservative religious groups.
"Our view was, you have to be in the system to subvert the system," said Shradha Singh, the station's programming chief. "We wanted to get it on the air first. And the reaction so far has been mostly positive."
The decision to air the show on Sundays at noon was also deliberate, Singh said.
"That's family time, you're listening by chance or driving in the car with your family and have the radio turned on," she said. "We want the show to reach out to everybody."
Iyer, while no stranger to the microphone, is still getting accustomed to asking questions. He acknowledged that an openly gay voice speaking to a mass audience in India — not a self-selected group at a TED talk or human rights event — was a revolutionary step, but shrugged when asked whether the country was ready for it.
"No one is ever ready for anything, anywhere," he said. "You just have to take the first step."
Follow @SBengali on Twitter for more news from South Asia
ALSO
The sorry state of a multimillion-dollar art collection reveals deeper troubles at India's national airline
A million miles away behind her own front door: A Saudi woman's secret apartment
How an L.A. native learned to stop worrying and love — OK, tolerate — India's monsoon
Mexican soccer fans are reluctant to give up a favorite chant — an anti-gay slur
Sign up for Essential California for news, features and recommendations from the L.A. Times and beyond in your inbox six days a week.
You may occasionally receive promotional content from the Los Angeles Times.