Dangerously cold temperatures envelop Northeast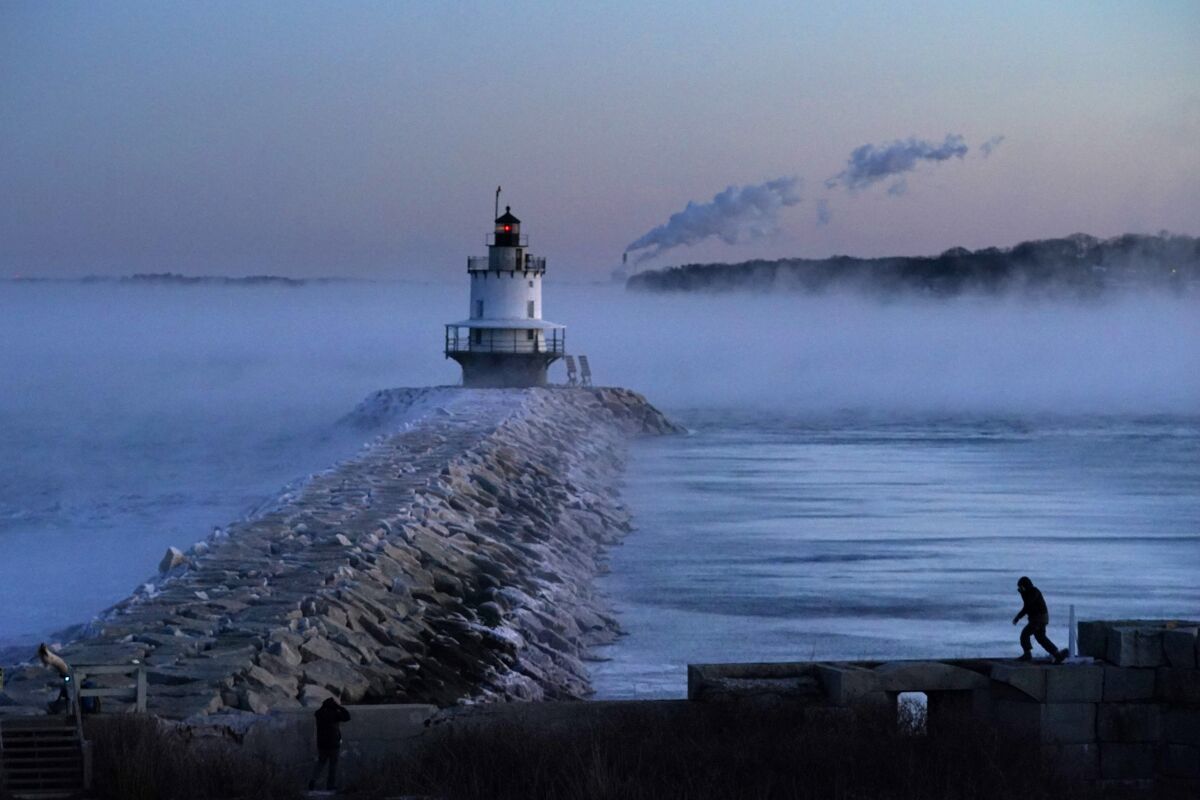 BOSTON —
The Arctic air that descended on the Northeast on Saturday brought dangerously cold temperatures to the region, including a record-setting wind chill of minus-108 degrees Fahrenheit on the summit of Mt. Washington in New Hampshire.
Temperatures got so low that authorities in Massachusetts took the unusual step of keeping the South Station transit hub in Boston open overnight so homeless people had a safe place to sleep. Several cities in the Northeast set or tied record low temperatures for the date, while the high winds brought down a tree branch on a car in western Massachusetts, killing an infant.
"I can't remember it being this cold, not since 2015," said Gin Koo, 36, wrapped up in three shirts and a down jacket, as well as a hat and a hood, as he walked his Boston terrier, Bee, in Boston on Saturday morning. Even Bee, wrapped in a doggie coat, shivered. "I wouldn't go out if I didn't have to."
Paul Butler, 45, who has been homeless since he was evicted in December 2021, took shelter in South Station.
"This is the coldest I ever, ever remember, and I worked the door at a bunch of clubs for 15 years," said the former Marine.
The Arctic air reached the region just as a rapid cyclogenesis developed over Canada's Newfoundland and Labrador, churning up powerful winds, meteorologist Donald Dumont at the National Weather Service in Gray, Maine, said Friday, explaining the temperature plunge.
A cyclogenesis refers to an intensification of a cyclone or low-pressure storm system.
The Mt. Washington Observatory at the peak of the Northeast's highest mountain, famous for its extreme weather conditions, recorded a temperature of minus-47, tying an observatory record set in 1934 and a wind gust of 127 mph.
Across the rest of the region, wind chills — the combined effect of wind and cold air on exposed skin — dropped to as low as minus-45 to minus-50 degrees, the National Weather Service reported.
The current method to measure wind chill has been used since 2001.
In Southwick, Mass., on Friday, the winds brought a tree branch down on a vehicle driven by a woman with an infant, according to the Hampden County district attorney's office. The driver, a 23-year-old from Winsted, Conn., was taken to the hospital with serious injuries, but the infant died, authorities said.
Boston's Pine Street Inn, the largest provider of homeless services in New England, ramped up outreach to those on the streets, doubling the number of vehicles that could transport people to shelters and opening the lobby to provide extra space.
"On a night like last night, the biggest concern is the people who have compromised judgment," Pine Street Inn President and Chief Executive Lyndia Downie said Saturday of people who have substance-use disorders or mental illness. "On these cold nights, they are not thinking at 100% of their capacity. Those are the people we are most worried about."
The emergency room at Massachusetts General Hospital treated several people for hypothermia overnight, and a couple were admitted for frostbite.
"The reason that people unfortunately end up with severe frostbite in most cases is just because they don't have anywhere warm and safe to go," said Dr. Ali Raja, deputy chair of the emergency department.
Boston along with Providence, R.I.; Hartford, Conn.; Worcester, Mass.; and Albany and Glen Falls, N.Y., set or matched record low temperatures for Feb. 4, according to the National Weather Service.
The cold curtailed some traditional winter activities. Organizers of an annual ice castle attraction in North Woodstock, N.H., shortened the evening visitor schedule for Saturday night.
Erin Trotta of Massachusetts, who had booked a visit and still planned to go, was taking extra steps to stay warm.
"We are prepared to take on the polar-vortex ice castles. ... Snow pants, thick winter coats, hand and foot warmers, face masks, the kind where only your eyes are exposed, and good gloves and winter boots. Plan to drink some hot cocoa to keep warm."
In New York's Adirondack Mountains, Old Forge recorded a temperature early Saturday of minus-36 degrees. Temperatures plunged into the negative teens in dozens of other cities and towns.
Under the new calendar, proposed based on recommendations from Biden, candidates would face voters in South Carolina on Feb. 3, followed by Nevada and New Hampshire.
Must-read stories from the L.A. Times
Get the day's top news with our Today's Headlines newsletter, sent every weekday morning.
You may occasionally receive promotional content from the Los Angeles Times.