Zelensky presses the flesh at EU summit — and the case for Ukrainian membership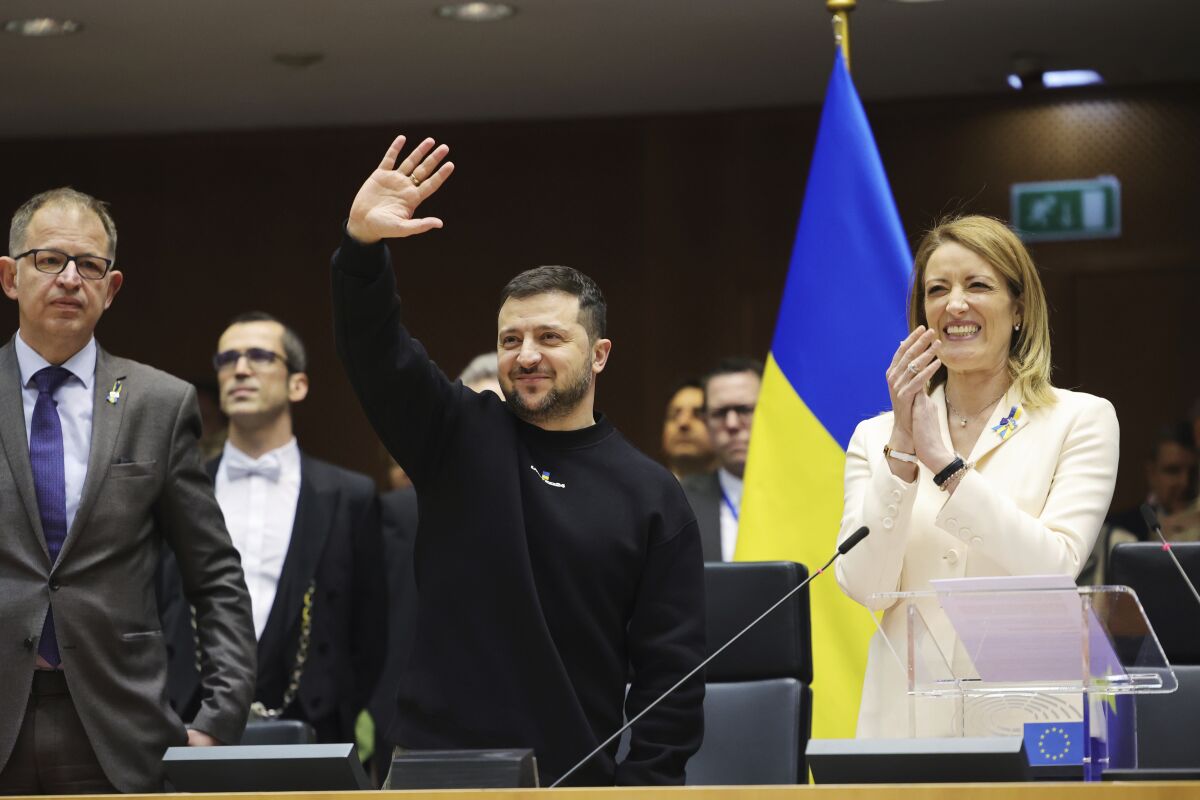 BRUSSELS —
Ukrainian President Volodymyr Zelensky pressed the case Thursday for his country's membership in the European Union, arguing that the bloc wouldn't be whole without Ukraine being an integral part of it.
Zelensky made his comments during an address to the European Parliament in Brussels on a rare trip outside his war-torn country, which has been trying to repel a full-scale invasion by Russia for nearly a year.
The visit came as Russia intensified its attacks in eastern Ukraine amid signs that a major new offensive by Moscow was underway before the Feb. 24 anniversary of the war.
Zelensky, who also visited Britain and France on a whirlwind European tour that started Wednesday, will head home with heaps of goodwill and commitments of more military aid.
He arrived at the European Parliament to rapturous applause, cheering and hoots from legislators, insisting in his plenary speech that Ukraine's fight against Russia was one fought for the freedom of Europe as a whole.
"A Ukraine that is winning is going to be [a] member of the European Union," Zelensky said to applause, building his address around the common destiny that Ukraine and the 27-nation bloc face in confronting Russia head-on.
Ukrainian President Volodymyr Zelensky sought support in a surprise European tour, pushing for fighter jets to battle Russian invaders in a dramatic speech to the U.K. Parliament.
"Europe will always be and remain Europe as long as we are together and as long as we take care of our Europe, as we take care of the European way of life," he said.
Zelensky added that Russia wants to destroy the European way of life, but "we will not allow that."
He held up an EU flag after his address, and the entire legislature stood in somber silence as the Ukrainian national anthem and then the EU anthem, Beethoven's "Ode to Joy," were played.
Zelensky then headed to the urn-shaped Europa building where the 27 EU leaders were meeting to push those same points.
After months of agonizing, the U.S. has agreed to send longer-range bombs to Ukraine as it prepares to launch a spring offensive.
Before Zelensky spoke, European Parliament President Roberta Metsola said allies should consider "quickly, as a next step, providing long-range systems" and fighter jets to Ukraine. Metsola said the response to Russian President Vladimir Putin's war against Ukraine "must be proportional to the threat, and the threat is existential."
Metsola also told him that "we have your back. We were with you then, we are with you now, we will be with you for as long as it takes."
EU leaders were hoping to impress on Zelensky that the powerful bloc is steadfast in its support for Ukraine as Russia is feared to be making moves for a new offensive around the Feb. 24 anniversary of the war.
The latest draft of the summit conclusions, seen by the Associated Press, says that "the European Union will stand by Ukraine with steadfast support for as long as it takes."
Must-read stories from the L.A. Times
Get the day's top news with our Today's Headlines newsletter, sent every weekday morning.
You may occasionally receive promotional content from the Los Angeles Times.
German Chancellor Olaf Scholz said the bloc would send Zelensky "this signal of unity and solidarity, and can show that we will continue our support for Ukraine in defending its independence and integrity for as long as this is necessary."
Estonian Prime Minister Kaja Kallas said that "it is my plea that everyone will do what they can. The price will go up with every delay."
Zelensky's high-profile pursuit of more Western military aid came as evidence mounted that Russia's anticipated offensive around the anniversary of the invasion is starting to take shape.
Zelensky stepped up to the dais of the European Parliament hoping to match his Wednesday speech to the British Parliament, when he thanked the nation for its unswerving support.
The longest battle of the war in Ukraine has turned Bakhmut into a ghost city fought over by Ukrainian troops and by Russian forces eager for a win.
That same support has come from the EU. The bloc and its member states have already backed Kyiv with about $53.6 billion in aid, provided military hardware and imposed nine packages of sanctions on the Kremlin.
French President Emmanuel Macron's office has already confirmed that the bloc "will reiterate Europeans' unwavering support to Ukraine and the Ukrainian people." Few would expect anything less.
The EU is in the midst of brokering a new sanctions package worth about 10 billion euros, or $10.7 billion. And there is still plenty of scope for exporting more military hardware to Ukraine.
Russia is also watching Zelensky's movements closely. On Wednesday, Russian state television showed the flight path of a British Royal Air Force plane that Zelensky used to travel to London, taken from a flight monitoring site. The news anchor noted that the plane flew from the Polish air base in Rzeszow, which serves as a hub for Western arms deliveries to Ukraine.
Liberation has not diminished the hardship for residents of the Ukrainian village of Kalynivske, both those returning home and those who never left.
One topic that wasn't on the agenda in Britain but will be in Brussels is Ukraine's desire to become a member of the European Union as soon as possible.
A high-profile visit to EU headquarters can only add to the goodwill to help his country on to the road of accession talks. Ukraine is talking about joining the EU in a matter of years, but past examples have shown that it can take decades before aspiring members are considered fit to join.
Meanwhile, fighting intensified in Ukraine on Thursday.
In the eastern Donetsk region, the front line expanded significantly over the previous day, with fierce battles taking place as Moscow's forces closed in on key Ukrainian-held towns, according to regional Gov. Pavlo Kyrylenko. Russian shelling struck a kindergarten, hospital, cultural center, factory and apartment buildings, he said.
On the Belarusian border, Ukrainian drones monitor a long expanse of marsh and woodland for a possible Russian offensive from the north.
"The intensity of the shelling has increased dramatically, and we are seeing a significant intensification of activity by the Russian army immediately in the south, center and north of the region," Kyrylenko said. "Russia is again actively using combat aircraft to shell our cities and villages."
Russian forces also stepped up their attacks in neighboring Luhansk province, launching "a broad offensive," regional Gov. Serhiy Haidai said.
In northeastern Kharkiv province, 23 cities and villages came under shelling, officials said. In the border city of Vovchansk, shelling damaged about 10 apartment buildings.
Must-read stories from the L.A. Times
Get the day's top news with our Today's Headlines newsletter, sent every weekday morning.
You may occasionally receive promotional content from the Los Angeles Times.