Review: Beethoven, politics and a Ninth Symphony for all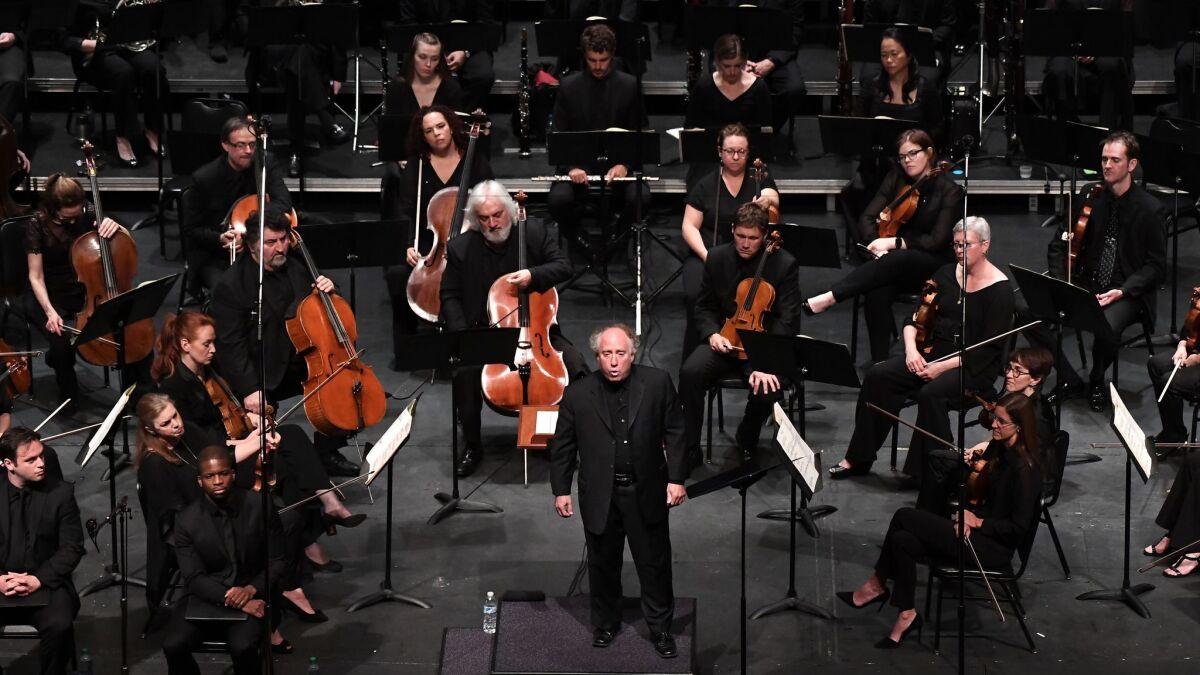 Music Critic
Jeffrey Kahane's mission in his final season with the Los Angeles Chamber Orchestra has become — with the help of the likes of Kurt Weill and Beethoven — an extraordinary encouragement to lift our voices. Sunday night at UCLA's Royce Hall, at Kahane's galvanizing performance of Beethoven's Ninth Symphony — his penultimate weekend concert as music director of the orchestra for two decades — the first voice required for heavy lifting was that of a gifted young bass, Justin Hopkins.
In the last movement, Hopkins introduced Beethoven's undying setting of Schiller's "Ode to Joy" with an ode to urgency. The words here are not by Schiller but Beethoven himself. The standard, innocuous translation found in the program book asks that friends sing not "these tones" but more cheerful ones.
What came to my mind was a more politically pointed translation of Beethoven's text by Larry Rothe that has Beethoven beckoning us to put aside not tones but these sounds so that we become more civil and speak more joyfully. Hopkins' stirring voice and commanding presence summoned a call to action that resonated all too easily.
Hopkins and Kahane had set the stage for such a call two months earlier with the conductor's "Lift Every Voice" project, which looked at music's engagement in human rights and ended with Weill's Broadway opera, "Lost in the Stars." Hopkins was the eloquent lead in this adaption of Alan Paton's South African civil rights novel, "Cry, the Beloved Country," and on Sunday the bass was perfectly poised to illuminate, through Beethoven, what became something of a cry for our own beloved country.
Listed as "conductor & musical tour guide," Kahane began the evening with a taste of the "Fidelio" Overture, Beethoven's opera and his most overtly political work. Likewise separating the Ninth from politics, Kahane explained, is the equivalent of talking about the Olympics but leaving out sports.
With the orchestra, chorus and solo singers onstage, the conductor/tour guide demonstrated how the roots to Beethoven's immortal "Ode to Joy" tune can be found in the Ninth's pregnant opening, with the horns holding two notes a fifth apart as the strings nervously fidgeted like something ominous might happen. From there, the musical journey was one of darkness illumined when an hour later all forces proclaimed Alles with a magnificence never before reached in music. All men, Beethoven incomparably drives in, are brothers. Schiller wrote his "Ode to Joy" inspired by the American Revolution, and Kahane added that there is "no dictionary anyplace where the word 'all' means some."
And yet music is the art form with perhaps the greatest powers of deception. Kahane acknowledged how Beethoven's Ninth lifted the Nazi spirits when they were down. He brought up the unsettling image of mass murderer Dylann Roof posing on Facebook with a Rhodesian flag as symbol of white nationalism. The national anthem of Rhodesia is based on the tune of Beethoven's "Ode to Joy."
Kahane also brought up the great German conductor Wilhelm Furtwängler, who conducted the Ninth for Hitler but was against everything Hitler stood for. The music is complicated and so are the politics. Kahane's solution to this was to drive the Ninth with such force that nothing else in the world seemed to matter.
This is a symphony, after all, that begs for overwhelming bigness. Gustavo Dudamel is happiest when he has an orchestra of at least 200, and another 100 or more in the chorus. Joined by members of the Los Angeles Master Chorale, Kahane had but a third of those forces for what was the first time the orchestra performed the symphony on its own. (It once participated in a monster Ninth at the Hollywood Bowl.)
Without excessive orchestral weight, Kahane took advantage of velocity. Everything moved too quickly for what he had pointed out to be musically audible, which may have been his intention. He wanted us to know what was there, but not lose the political forest for analytical trees. The speed created a clotted orchestral texture. There was no time for instrumental niceties.
Even so, this was not a breathless or even rushed performance. Kahane has an acute sense of rhythm. Fast is a 64-minute Ninth (a good 10 minutes faster than was typical of Furtwängler), every gesture felt essential. The Scherzo had the rhythmic elation of a conductor who had once studied with John Adams. (Kahane will, in fact, join pianist Joanne Pearce Martin for the West Coast premiere of Adams' new "Roll Over Beethoven" for two pianos in a LACO chamber music concert May 2.)
The slow movement, while hardly relaxed, had the glow that Kahane brings to Beethoven as a pianist. The Finale was the achievement of a joy that can't come too soon and can't wait. The other soloists — soprano Kathryn Mueller, mezzo-soprano Suzanna Guzmán and tenor Paul Appleby — soared along with the Master Chorale.
Kahane's Ninth is a Ninth of wholes. It is a Ninth where everything adds up. It is a Ninth where the question, as he earlier posed it, is: What don't you understand about the word "all"?
We now enter into a season of Ninths. The Pasadena Symphony will end its season with it Saturday. Dudamel conducts it with the Los Angeles Philharmonic at the Hollywood Bowl in July. Alan Gilbert also has chosen the Ninth next month for one of his farewell concerts as music director of the New York Philharmonic.
Then again, there is always somewhere a season of Ninths. With this in mind, may I make a modest request of LACO? The Royce stage was festooned with microphones. Please do whatever it takes to put a recording of Kahane's introduction on the orchestra's website so that this tour guide who rises to profound humanitarian testimony might become a lasting part of the Ninth's legacy.
---
Get our L.A. Goes Out newsletter, with the week's best events, to help you explore and experience our city.
You may occasionally receive promotional content from the Los Angeles Times.