Nicaraguan bishop who refused exile gets 26 years in prison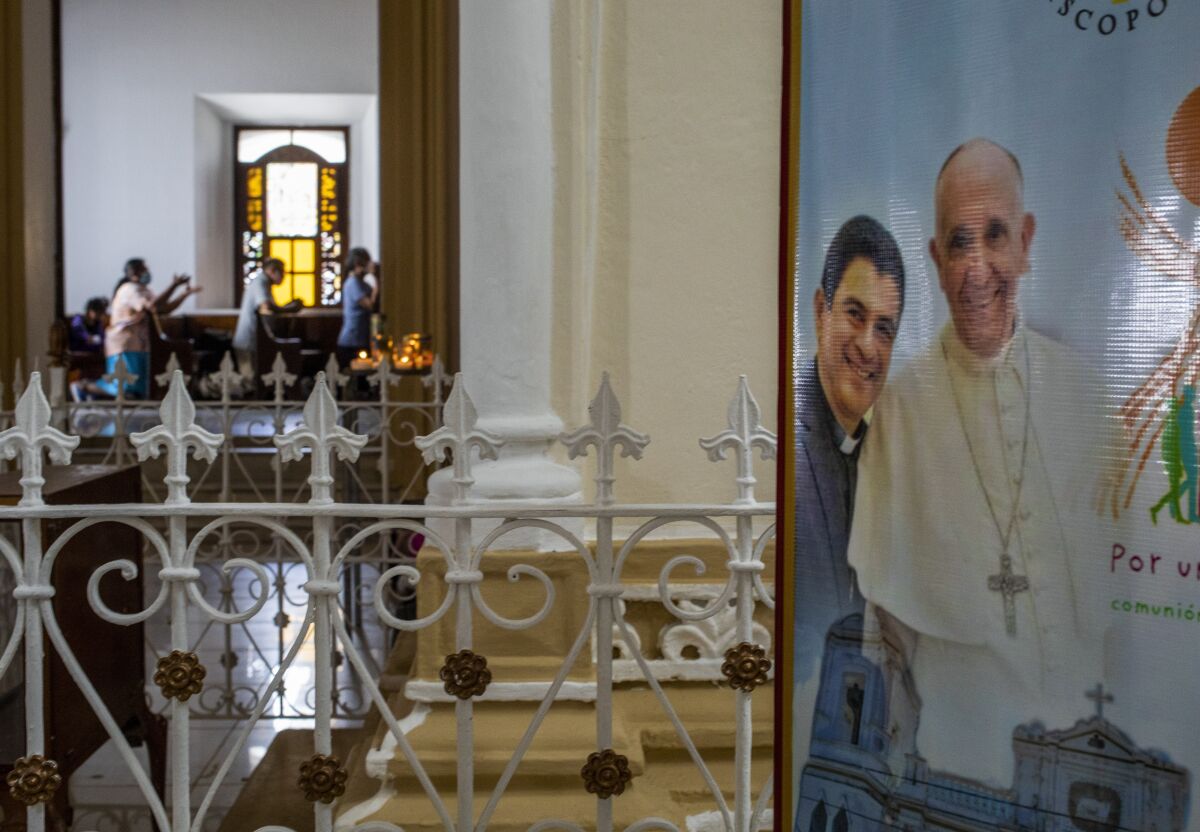 MEXICO CITY —
Roman Catholic Bishop Rolando Álvarez, an outspoken critic of Nicaragua's government, was sentenced to 26 years in prison and stripped of his Nicaraguan citizenship Friday, the latest move by President Daniel Ortega against the Catholic Church and his opponents.
A day after he refused to get on a flight to the United States with 222 other prisoners, all opponents of Ortega, a judge sentenced Álvarez on charges of undermining the government, spreading false information, obstruction of functions and disobedience, according to a government statement published in official outlets.
The sentence handed down by Octavio Ernesto Rothschuh, chief magistrate of the Managua appeals court, is the longest given to any of Ortega's opponents in recent years.
Álvarez was arrested in August along with several other priests and laypeople. When Ortega ordered the mass release of political leaders, priests, students and activists widely considered political prisoners and had some of them put on a flight to Washington on Thursday, Álvarez refused to board without being able to consult with other bishops, Ortega said.
Nicaragua's president called Álvarez's refusal "an absurd thing." Álvarez, who had been held under house arrest, was then taken to the nearby Modelo prison.
Álvarez had been one of the most outspoken religious figures still in Nicaragua as Ortega has intensified his repression of the opposition.
U.S. officials said dozens of political prisoners who had been jailed in Nicaragua are headed to Washington after a negotiated release.
Nicaragua's Episcopal Conference did not immediately respond to a request for comment on the sentence. Reached by the Associated Press, Managua vicar Msgr. Carlos Avilés said he hadn't heard anything official. "Maybe tomorrow."
The church is essentially the last independent institution trusted by a large portion of Nicaraguans, and that makes it a threat to Ortega's increasingly authoritarian rule.
Msgr. Silvio Báez, the outspoken former Managua auxiliary bishop who was recalled to the Vatican in 2019, described the sentence on Twitter this way: "irrational and out of control the Nicaraguan dictatorship's hatred toward Mons. Rolando Álvarez."
Álvarez, the bishop of Matagalpa, about 80 miles north of Managua, the capital, has been a key religious voice in discussions of Nicaragua's future since 2018, when a wave of protests against Ortega's government led to a sweeping crackdown on opponents.
When the protests first erupted, Ortega asked the church to serve as mediator in peace talks, which ultimately failed.
On April 20, 2018, hundreds of student protesters sought refuge at Managua's cathedral, where the church was collecting donations to support demonstrators. When police and Sandinista Youth members descended, the students retreated inside, leaving only after clergy negotiated their safe passage.
"We hope there would be a series of electoral reforms, structural changes to the electoral authority — free, just and transparent elections, international observation without conditions," Álvarez said a month after the protests broke out. "Effectively the democratization of the country."
U.S. citizens should avoid travel to certain regions of Mexico over increased crime and kidnappings, the State Department says.
By that summer, the church was under attack by Ortega's supporters.
A pro-government mob shoved, punched and scratched at Cardinal Leopoldo Brenes and other Catholic leaders as they tried to enter the Basilica San Sebastian in Diriamba on July 9, 2018.
For nearly 15 hours overnight on July 13-14, 2018, armed government backers fired on a church in Managua while 155 student protesters who had been dislodged from a nearby university lay under the pews. A student who was shot in the head at a barricade outside died on the rectory floor.
More recently, Ortega has accused the church of being in on an alleged foreign-backed plot to depose him.
Last summer, the government seized several radio stations owned by the diocese. At the time, it appeared Ortega's administration wanted to silence critical voices ahead of municipal elections.
The Vatican has been largely silent on the situation in Nicaragua, believing that any public denunciation will only inflame tensions further between the government and the local church.
The Holy See's last comment came in August when Pope Francis expressed concern about the raid of Álvarez's residence and called for dialogue.
Earlier this week, judges sentenced five other Catholic priests to prison. They were all aboard Thursday's flight.
U.S. officials had called Thursday's massive release a positive sign, but said they did not yet see a change in the government's policies toward dissent.
Before the sentence was announced Friday, Emily Mendrala, a deputy assistant secretary in the U.S. State Department's Bureau of Western Hemisphere Affairs, said that "we see yesterday's event as a positive step that could put the [bilateral] relationship on a more constructive trajectory." But she added that "we still have concerns with the human rights situation and the situation with democracy in Nicaragua."
The State Department said Secretary of State Antony J. Blinken spoke by phone Friday with Nicaragua Foreign Minister Denis Moncada about the prisoners' release and "the importance of constructive dialogue [with] the United States to build a better future for the Nicaraguan people." Presumably the conversation occurred before Álvarez's sentence was announced.
Portland, Ore., long a famously progressive city, faces a crisis of confidence as it grapples with homelessness and crime. Residents can't agree on solutions.
Vilma Núñez, director of the Nicaragua Center for Human Rights, which had been supporting prisoners in their cases, called the sentence "arbitrary and last-minute," noting that it included crimes that were not part of his original conviction.
"The personal well-being and life of the monsignor is in danger," Núñez said, mentioning Ortega's comments about the bishop Thursday night.
Antonio Garrastazu, regional director for Latin America and the Caribbean at the International Republican Institute in Washington, spoke before the sentence of the importance of Álvarez's decision to stay in Nicaragua.
After expelling nearly all his most vocal critics, Ortega found himself stuck with the bishop in a still heavily Catholic country.
"The Catholic Church, I think, is one of the main institutions that the Ortega regime really, really fears," said Garrastazu. "The Catholic Church are really the ones that can actually change the hearts and minds of the people."
Prior to the release of prisoners, sanctions and public criticism of Ortega had been building for months, but U.S. and Nicaraguan officials say the decision to put 222 dissidents on a plane to Washington came suddenly.
The majority had been sentenced in the last few years to lengthy prison terms. The release came together in a couple of days and the prisoners had no idea what was happening until their buses turned into Managua's international airport.
"I think the pressure, the political pressure of the prisoners, the political prisoners became important to the Ortega regime, even for the people, the Sandinista people who were tired of abuses," opposition leader Juan Sebastian Chamorro, who was among those released, said during a news conference Friday. "I think [Ortega] wanted to basically send the opposition outside of the country into exile."
In Ortega's mind, they are terrorists. Funded by foreign governments, they worked to destabilize his government after huge street protests broke out in April 2018, he maintains.
Ortega said Vice President Rosario Murillo, his wife, first came to him with the idea of expelling the prisoners.
"Rosario says to me, 'Why don't we tell the ambassador to take all of these terrorists?'" Ortega recounted in a speech Thursday night. In a matter of days, it was done.
AP reporters Gisela Salomon in Miami, Ciaran Giles in Madrid and Nicole Winfield in Rome contributed to this report.

Must-read stories from the L.A. Times
Get the day's top news with our Today's Headlines newsletter, sent every weekday morning.
You may occasionally receive promotional content from the Los Angeles Times.