U.N. appeals for $1 billion to help Turkey quake survivors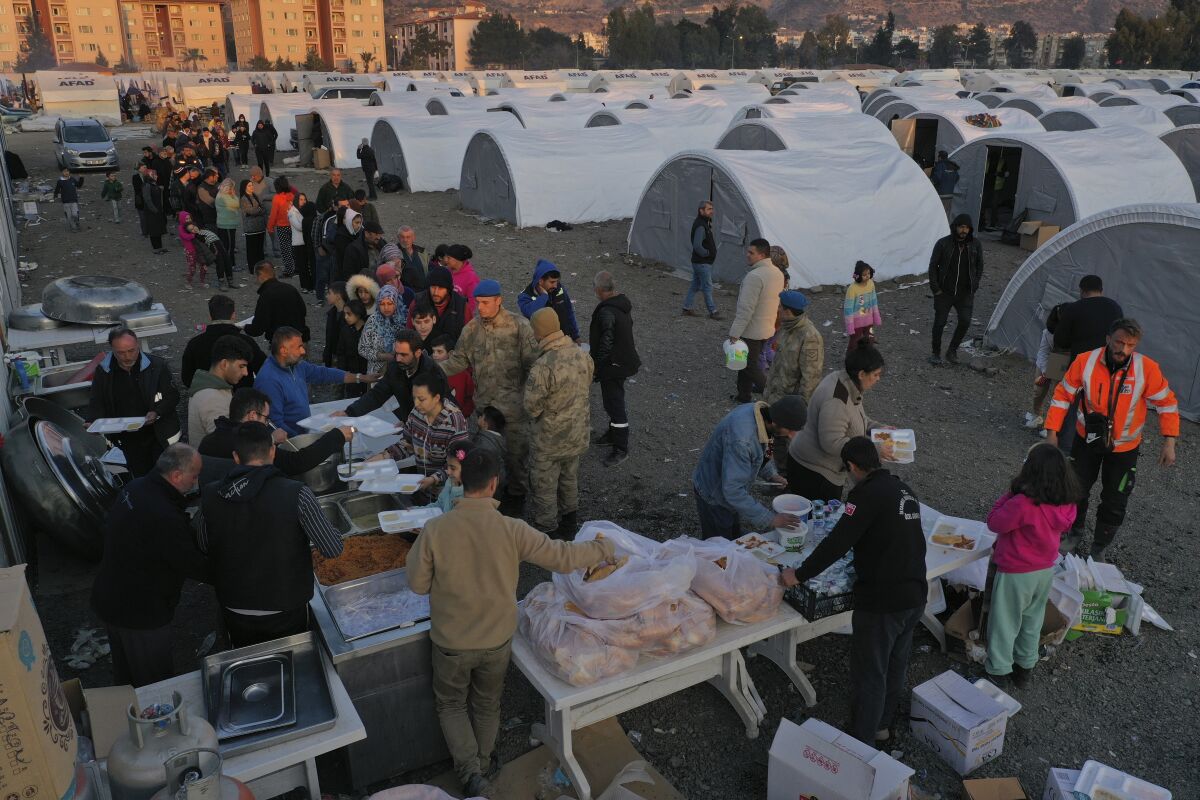 UNITED NATIONS —
The United Nations launched a $1-billion appeal Thursday to help 5.2 million survivors of the most devastating earthquake in Turkey's modern history, two days after starting a $397-million appeal to help nearly 5 million Syrians across the border in the rebel-held northwest.
U.N. spokesman Stéphane Dujarric was peppered with questions about why the appeal for Turkey is targeted at only 5.2 million people when the U.N. and the government have said more than 15 million were affected. He also was asked why the appeal for Turkey is 2½ times larger than the one for Syria to help almost the same number of people.
He said the Turkish appeal "was designed in very close cooperation with the government of Turkey, which is leading the relief efforts."
"This is the number they came up with for the focus on people who need the most humanitarian aid, most quickly, and where the U.N. can be most effective," Dujarric said. He said Turkey has "a very efficient search and rescue and humanitarian system."
Since last week's earthquake, refugees of Syria's civil war living in Turkey have faced growing anger from those who see them as a burden and blight.
Part of the reason for the disparity in the amount of the appeals, he said, is that "there is already a well-established humanitarian community which has been working in Syria," and before the quake there was a $4.8-billion humanitarian appeal for Syria for 2023.
"So there's already a humanitarian pot of money that exists for Syria, which did not exist for Turkey," he said.
Both appeals are for emergency funds for the next three months, and will be followed by fresh appeals for longer-term help.
U.N. Secretary-General Antonio Guterres announced the $1-billion appeal for Turkey, saying the money would allow aid groups to rapidly scale up support for government-led relief efforts, including providing food, protection, education, water and shelter to survivors of the magnitude 7.8 quake on Feb. 6 that devastated southern Turkey and northwestern Syria.
"The needs are enormous, people are suffering and there's no time to lose," Guterres said. "I urge the international community to step up and fully fund this critical effort in response to one of the biggest natural disasters of our times."
Excavators dig out 200-foot trenches in southern Turkey to bury the bodies of earthquake victims. The death toll rises to more than 20,000.
He said that "Turkey is home to the largest number of refugees in the world and has shown enormous generosity to its Syrian neighbors for years," so it is time for the world to support the Turkish people.
More than 1.74 million refugees live in the 11 Turkish provinces affected by the earthquakes, according to the U.N. refugee agency.
"The people of Turkey have experienced unspeakable heartache," said U.N. humanitarian chief Martin Griffiths, who visited both quake-ravaged countries last week.
The earthquake struck at the peak of winter, leaving hundreds of thousands of people, including small children and the elderly, without access to shelter, food, water, heaters and medical care in freezing temperatures. Griffiths' office said some 47,000 buildings had been destroyed or damaged.
"We must stand with them in their darkest hour and ensure they receive the support they need," Griffiths said.
The United Nations has been criticized for the slow response in getting aid and heavy equipment into Syria's rebel-held northwest since the earthquake struck.
In the days since the magnitude 7.8 earthquake struck Turkey, search-and-rescue teams, including one from Los Angeles County, have been a ubiquitous presence.
On Monday, after Griffiths visited Damascus, Syria's capital, Guterres announced that the country's President Bashar Assad had agreed to open two additional crossing points on its northwestern border with Turkey — at Bab al Salam and Al Raee — for an initial period of three months.
The U.N. had previously been allowed to deliver aid to the Idlib area in Syria's northwest only through a single crossing at Bab al Hawa, at the insistence of Russia, an ally of Syria.
Dujarric, the U.N. spokesman, said 22 trucks with food and other aid crossed through Bab al Hawa on Monday and two trucks with tents crossed through Bab al Salam on Thursday. No convoys had yet entered northwestern Syria from Al Raee.
"As of Feb. 14, according to the latest information we received, 8,900 buildings have been completely or partially destroyed in the northwest of Syria, leaving 11,000 people homeless," Dujarric said.
Shelter is the top immediate need in Syria, with food, cash assistance and supplies to cope with the winter weather also priorities, he said.
Before the earthquake, global humanitarian needs were already 25% higher this year than last year, so the U.N. is worried about the growing number of people who need help, Dujarric said.
The death toll is in the thousands after a magnitude 7.8 earthquake, followed by a magnitude 7.5 quake, struck southern Turkey.
"Our humanitarian system is stretched to the limit," he said.
Many people needing aid are in areas beset by conflict and the effects of climate change, Dujarric said.
For the U.N., he said, it is frustrating that "so many of these issues could be addressed beforehand," but dealing with "the consequences of ignoring climate change, of not putting enough effort into peace, into reconciliation, into social cohesion ... lands on the U.N.'s doorstep."
Dujarric said the U.N. was working as fast as it could within international law and the U.N. Charter, "which sometimes forces the U.N. as opposed to other relief agencies to take into consideration and have to respect the political context."
"If I were on the receiving end of aid, I would feel nothing is coming quickly enough," he acknowledged.
With earthquake survivors and millions of others in need of help, Dujarric said, "we hope that member states find the solidarity and generosity that is needed, also from the public and private sector."
Must-read stories from the L.A. Times
Get the day's top news with our Today's Headlines newsletter, sent every weekday morning.
You may occasionally receive promotional content from the Los Angeles Times.