Top U.S. and China diplomats meet amid tensions over balloon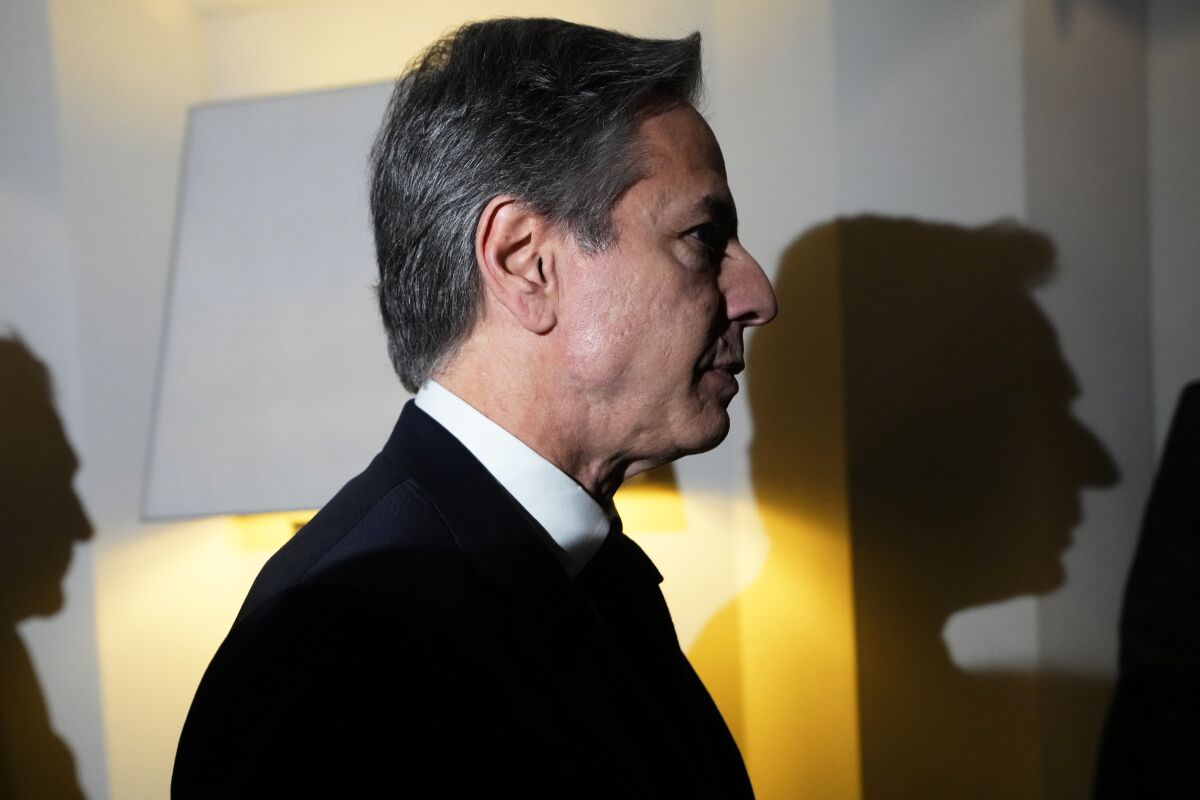 WASHINGTON —
U.S. Secretary of State Antony J. Blinken met Saturday with his Chinese counterpart, the first high-level contact between the world's two largest economies since President Biden opened a tentative rapprochement with Beijing last year. The meeting comes amid mutual, sustained recriminations over recent incidents of alleged aerial espionage.
Blinken sat down to talk with Wang Yi, director of the Chinese office of foreign affairs, on the margins of a global security conference taking place in Munich, the State Department said in a statement.
The meeting was much anticipated because of long-standing tensions between the two countries, inflamed this month when the U.S. shot down what it alleges was a Chinese spy balloon over American territory. That incident prompted Blinken to cancel a more formal meeting scheduled with Wang in Beijing on Feb. 5.
Blinken raised the issue of the spy balloon in his unannounced meeting with Wang on Saturday, State Department spokesman Ned Price said in a news release. Washington maintains the enormous balloon was conducting surveillance, possibly over sensitive military installations, from an altitude of about 60,000 feet in violation of U.S. sovereignty and international law.
Price said Blinken told Wang that "this irresponsible act must never again occur." China's "high altitude surveillance balloon program — which has intruded into the air space of over 40 countries across 5 continents —has been exposed to the world," Price added.
It was not clear how much progress Blinken made in pushing the U.S. viewpoint, however. Just hours before their meeting, Wang doubled down on criticisms over what Beijing has characterized as an American overreaction, which he publicly called "hysterical" and "absurd."
Republican lawmakers are accusing China of deliberately surveilling sensitive U.S. military sites with a suspected spy balloon.
"There are so many balloons all over the world, so is the United States going to shoot all of them down?" Wang said, according to Reuters.
"The actions don't show that the U.S. is big and strong, but ... the exact opposite," he said.
China has maintained that the aircraft, brought down by a single Sidewinder missile fired by a U.S. combat jet, was a weather research balloon that accidentally strayed into U.S. airspace.
U.S. officials hoped the contact Saturday would be part of a process in which the Biden administration highlights disagreements with Beijing without barreling into all-out conflict.
"The United States will compete and will unapologetically stand up for our values and interests," Blinken told Wang, according to Price, "but ... we do not want conflict with the [People's Republic of China] and are not looking for a new Cold War.
The Pentagon says the Chinese balloon shot down off the South Carolina coast was part of a large surveillance program that China has been conducting for 'several years.'
"The Secretary underscored the importance of maintaining diplomatic dialogue and open lines of communication at all times," Price said.
In an interview to be aired Sunday morning on NBC News' "Meet the Press with Chuck Todd," the secretary of State said Wang did not apologize for the balloon incident.
Blinken added that there was no doubt the balloon, with a payload said to measure the length of three buses, was attempting to engage in surveillance. The Pentagon said Friday that all remnants of the vessel, which was shot down off South Carolina, have been recovered and are being examined by the FBI and intelligence officials.
The secretary of State also reiterated support for Taiwan and the importance of "peace and stability" across the Taiwan Strait, Price said.
In a move that Beijing may see as provocative, a U.S. congressional delegation led by California Rep. Ro Khanna (D-Fremont) was to arrive in Taiwan this weekend.
In his meeting with Wang, Blinken also raised China's possible support for Russia in its war against Ukraine, which is about to enter its second year. Chinese President Xi Jinping has voiced solidarity with Moscow, but if he provides equipment, material support or ways to evade international sanctions, there will be consequences, Price said.
Separately at the Munich conference on Saturday, Vice President Kamala Harris also warned China against supporting Russian aggression in Ukraine and what she outlined as massive war crimes.
"We are ... troubled that Beijing has deepened its relationship with Moscow since the war began," she said.
Must-read stories from the L.A. Times
Get the day's top news with our Today's Headlines newsletter, sent every weekday morning.
You may occasionally receive promotional content from the Los Angeles Times.