A Turkish teen filmed a farewell message from beneath quake rubble. Then he survived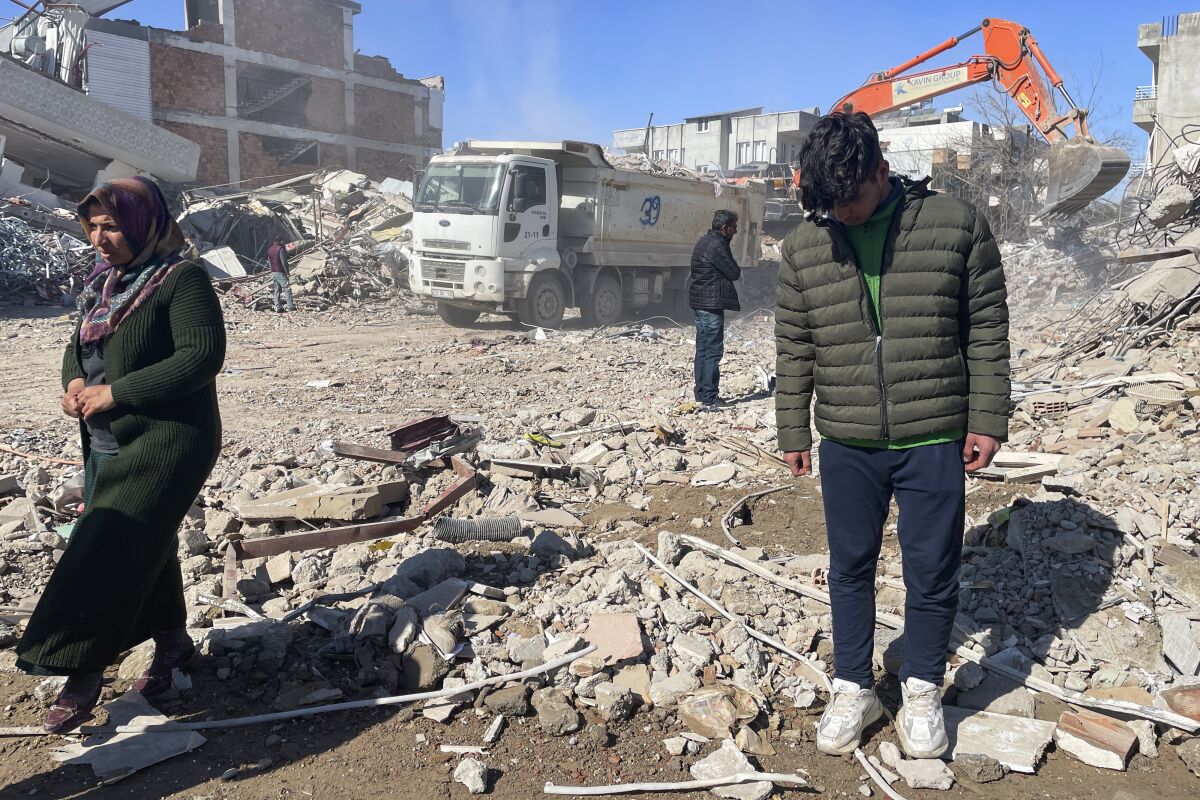 ADIYAMAN, Turkey —
A 17-year-old earthquake survivor has captured Turkish hearts with the farewell message he filmed to his loved ones as he was trapped under the rubble of his collapsed home, certain he was about to die.
High school student Taha Erdem and his family were fast asleep when a magnitude 7.8 quake hit their hometown of Adiyaman in the early hours of Feb. 6.
Taha was abruptly woken by the violent shaking of the four-story apartment building where his family lived, in a blue-collar neighborhood of the central Anatolian city.
Within 10 seconds, Taha, his mother, father and younger brother and sister were plunging downward with the building.
He found himself alone and trapped under tons of rubble, with waves of powerful aftershocks shifting the debris, squeezing his space amid the mangled mess of concrete and twisted steel. Taha took out his cellphone and began recording a final goodbye, hoping it would be discovered after his death.
"I think this is the last video I will ever shoot for you," he said from the tight space, his phone shaking in his hand as tremors rocked the collapsed building.
Survivors are still being rescued in Turkey and Syria more than a week after a quake killed more than 43,000 people. How long can you live trapped under rubble?
Showing remarkable composure and bravery for a teenager who believed he was probably speaking his last words, he lists his injuries and speaks of his regrets and the things he hopes to do if he emerges alive. During the video, the screams of other trapped people can be heard.
"We are still shaking. Death, my friends, comes at a time when one is least expecting it." says Taha, before reciting a Muslim prayer in Arabic.
"There are many things that I regret. May God forgive me of all my sins. If I get out of here alive today, there are many things that I want to do. We are still shaking, yes. My hand isn't shaking — it's just the earthquake."
The teen goes on to recount that he believes the rest of his family to be dead, along with many others in the city, and that he will soon join them.
In L.A. as in Turkey, builders are supposed to meet a "life safety" standard — structures that won't collapse in a big earthquake. That doesn't make those buildings resilient.
But Taha was destined to be among some of the first people saved from the destroyed building. He was pulled from the rubble two hours later by neighbors and taken to an aunt's home.
Ten hours after the quake, his parents and siblings were also saved by residents who dug at the wreckage of the building with their bare hands and whatever tools they could find.
When the Associated Press spoke to the Erdem family on Thursday, they were living in a government-provided tent, along with hundreds of thousands of others who survived the temblor that hit southern Turkey and northern Syria, killing more than 43,000.
"This is my home," said Taha's mother, Zeliha, 37, as she watched excavators digging up their old life and dumping it into heavy trucks.
American and Turkish search and rescue teams pull a teenage boy alive from a quake-damaged building in Hatay, Turkey.
"Boom-boom-boom, the building went down, floor by floor, on top of us," she recalled, describing how she had kept yelling her son's name while trapped under the debris in the hope that all five members of the family could die together.
The Erdems' younger children — 13-year-old daughter Semanur and 9-year-old son Yigit Cinar — were sleeping in their parents' room when the quake hit.
But Taha could not hear his mother's calls through the mass of concrete separating them, nor could she hear her son's cries in the dark, and each believed the other was lying dead in the destroyed building.
It was only when Zeliha, her husband, Ali, 47, a hospital cleaner, and the other children were taken to her sister's home that they realized Taha had survived.
The catastrophic magnitude 7.8 earthquake that struck Turkey a week ago should be a warning to Californians.
"The world was mine at that moment," Zeliha said. "I have nothing, but I have my kids."
The story of the Erdem family is one of many emotional tales of human fortitude to emerge from the widespread disaster area. Many vividly recount the horrors of being trapped beneath their homes.
Ibrahim Zakaria, a 23-year-old Syrian who was rescued in the coastal Syrian town of Jableh on Feb. 10, told the AP that he survived by licking water dripping down the wall next to him, slipping in and out of consciousness and losing hope of survival in his waking moments.
"I almost surrendered because I thought I will die," he said from his hospital bed. "I thought: 'There is no escape.'"
The earthquakes in Turkey show how big quakes are more likely to cause big aftershocks far from the epicenter. The same could happen in California.
Muhammet Enes Yeninar, 17, and his 21-year-old brother were saved after 198 hours in the Turkish city of Kahramanmaras, near the epicenter.
He said they cried for the first two days, mostly wondering about their mother and whether she had survived, the IHA news outlet reported. They later began to comfort each other, "talking about brotherhood" and eating powdered protein.
Must-read stories from the L.A. Times
Get the day's top news with our Today's Headlines newsletter, sent every weekday morning.
You may occasionally receive promotional content from the Los Angeles Times.