Mideast, North Africa governments targeting LGBTQ people online, rights group says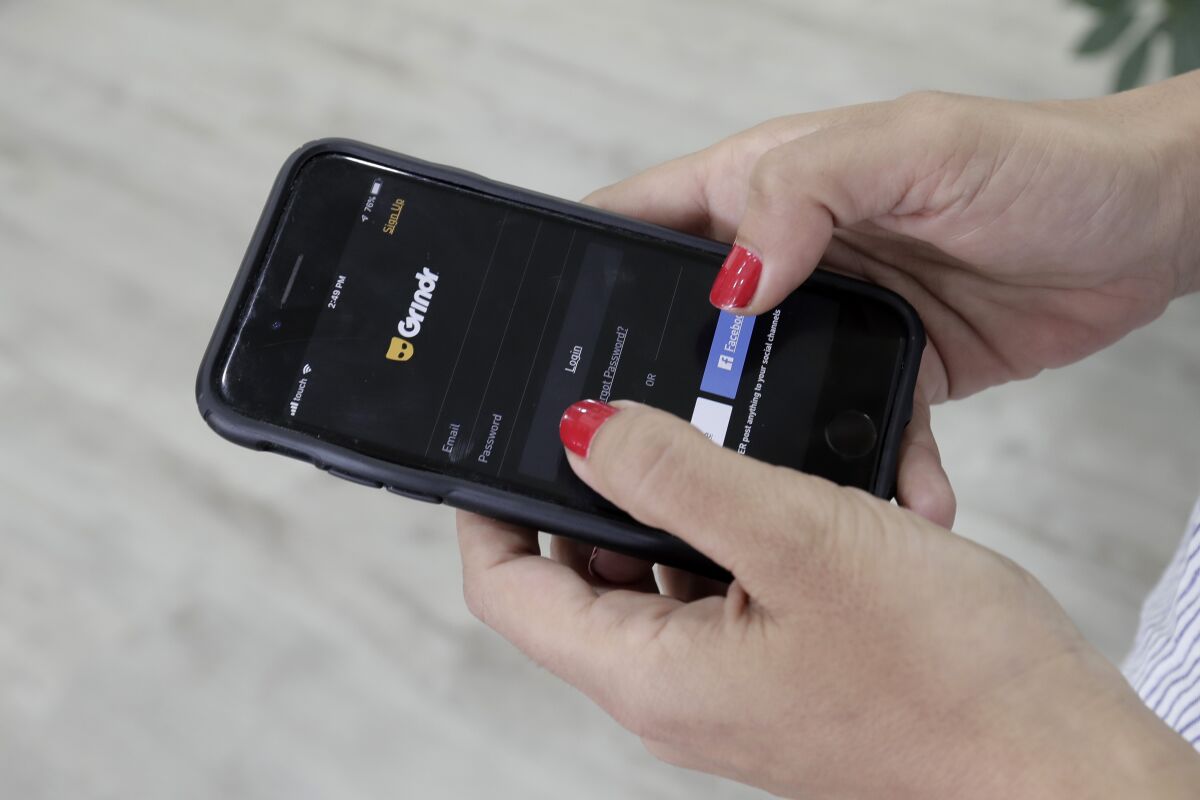 BEIRUT —
Security agencies and government officials in countries across the Middle East and North Africa have been using social media platforms and mobile dating apps to crack down on LGBTQ people, a rights group said Tuesday.
The findings of a new report by Human Rights Watch exposed digital methods of clamping down on the region's LGBTQ community. For years LGBTQ people have relied on online platforms for safety and privacy to sidestep oppression and discrimination from social stigma and laws that criminalize their sexuality.
The report documents dozens of cases of security agencies in Egypt, Jordan, Lebanon, Iraq and Tunisia extorting from, harassing, publicly outing and detaining LGBTQ people based on their activities on Facebook and Instagram, as well as gay dating app Grindr.
The publication also criticizes major tech companies for not investing sufficiently in Arabic-language content moderation and protection.
"This type of social media frenzy really had implications on people's lives," Rasha Younes, senior researcher with the LGBT Rights Program at Human Rights Watch, said at a news conference.
One case documented in the report is a 27-year-old gay man from Egypt named Yazid who said he was arrested and beaten in prison until he would sign papers that said he was "practicing debauchery" and publicly outing himself.
He said one of the officers was someone impersonating a gay man whom he met on Grindr. Human Rights Watch documented several cases of ill treatment and sexual assault among other detainees.
In some cases, private individuals and gangs were involved in extortion. In Lebanon, some people who were blackmailed online told Human Rights Watch that they were threatened with being outed to their families and the authorities if they did not pay a certain amount of money.
Pope Francis, the head of the Anglican Communion and the top Presbyterian minister have spoken out on LGBTQ rights.
Younes added that many of the victims lost their jobs, faced violence and deleted their online accounts, while some opted to leave the country. Many of the victims say they suffered depression, anxiety and distress, while some reportedly attempted suicide.
Mohamad Najem, executive director of the Beirut-based digital rights organization SMEX, accused tech companies of a lack of transparency on their content-moderation process. Content moderation is when a company monitors what is published on their platforms to ensure that it is not abusive, illegal or in violation of the platform's rules and guidelines.
Human Rights Watch called on governments to respect LGBTQ rights and on major tech companies, notably Meta, Twitter and Grindr, to invest in stronger Arabic-language content moderation and respond better to reported incidents, as many of the victims who reported harassment and threats say they received no answers from the companies.
Younes said it was unclear whether tech companies were doing their best to protect users from online harassment and other abusive practices, especially in the Middle East and North Africa.
"In my brief engagement with platforms, there is a repetition of how policies are meant to account for hate speech for everyone," she said, adding that there is "inequity in moderating content."
Must-read stories from the L.A. Times
Get the day's top news with our Today's Headlines newsletter, sent every weekday morning.
You may occasionally receive promotional content from the Los Angeles Times.