New magnitude 5.6 quake hits Turkey, killing one person and toppling more buildings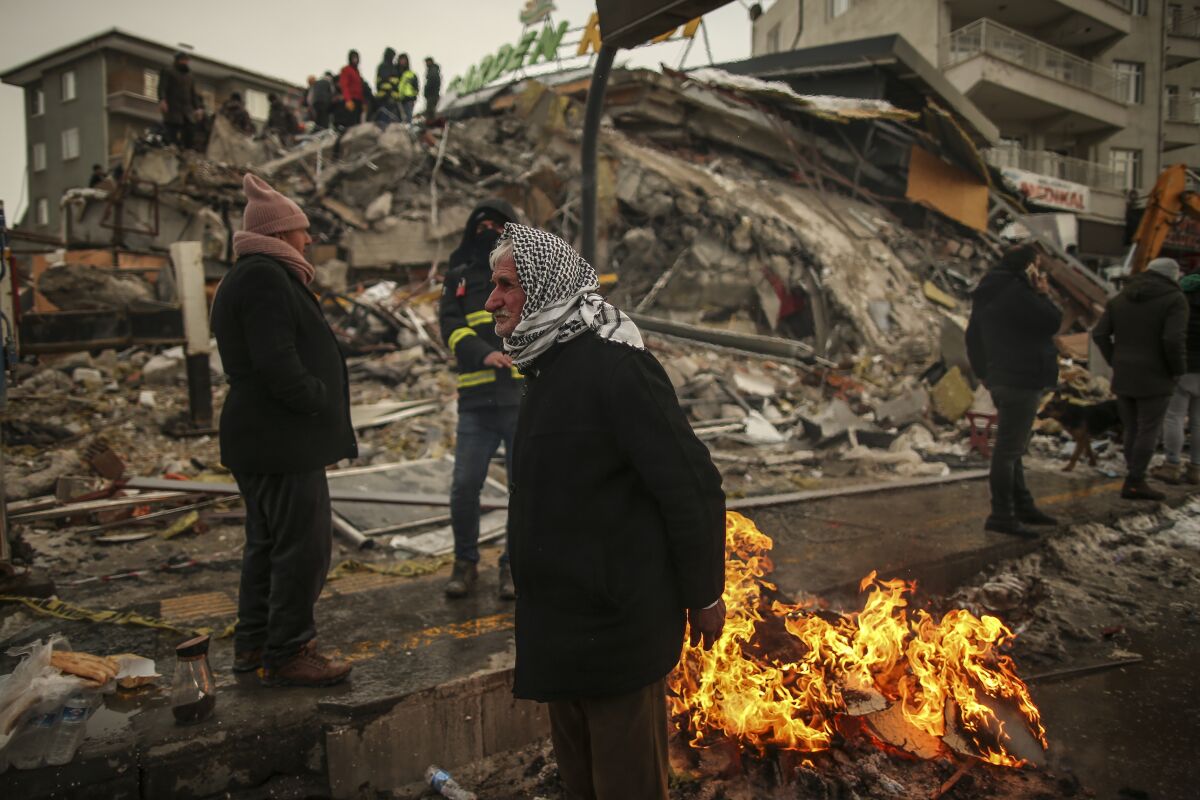 ANKARA, Turkey —
A magnitude 5.6 earthquake shook southern Turkey on Monday, killing at least one person and causing the collapse of buildings damaged by the catastrophic, even bigger temblor that devastated the region three weeks ago, authorities said.
More than 100 people were injured as a result of Monday's quake, which was centered in the town of Yesilyurt in Malatya province, Yunus Sezer, the chief of Turkey's disaster management agency, AFAD, told reporters. More than two dozen buildings collapsed.
A father and daughter who were trapped beneath the ruins of a four-story building in Yesilyurt were rescued with injuries. They had entered the damaged building to collect belongings.
Elsewhere in Malatya, search-and-rescue teams were sifting through the rubble of two damaged buildings that toppled on some parked cars, the news outlet Haberturk reported. It was not clear if anyone was trapped under the debris.
Malatya was among 11 Turkish provinces that suffered damage in the magnitude 7.8 earthquake that devastated parts of southern Turkey and northern Syria on Feb. 6.
That quake led to more than 48,000 deaths in both countries, as well as the collapse or serious damage of 185,000 buildings in Turkey.
Mervan Ergun lost 14 family members, including his mother, two sisters and a brother, in the massive earthquake that hit Turkey and Syria on Feb. 6.
AFAD's chief urged people not to enter damaged buildings, saying strong aftershocks continued to pose a risk. More than 10,000 aftershocks have hit the region since Feb. 6.
The World Bank said Monday that it estimates the massive earthquake caused $34.2 billion in "direct damages" in Turkey — equivalent to 4% of the country's GDP in 2021.
The recovery and reconstruction cost could be potentially twice as large, the World Bank said, adding that GDP losses would also add to the earthquake's cost.
The World Bank estimated that 1.25 million people had been left temporarily homeless.
Meanwhile, fans of Turkish soccer team Besiktas threw stuffed toys and winter clothing on the field during a match Sunday to be donated to children affected by the earthquake.
Must-read stories from the L.A. Times
Get the day's top news with our Today's Headlines newsletter, sent every weekday morning.
You may occasionally receive promotional content from the Los Angeles Times.