'Dilbert' and Scott Adams' rapid downfall doesn't surprise anyone who followed both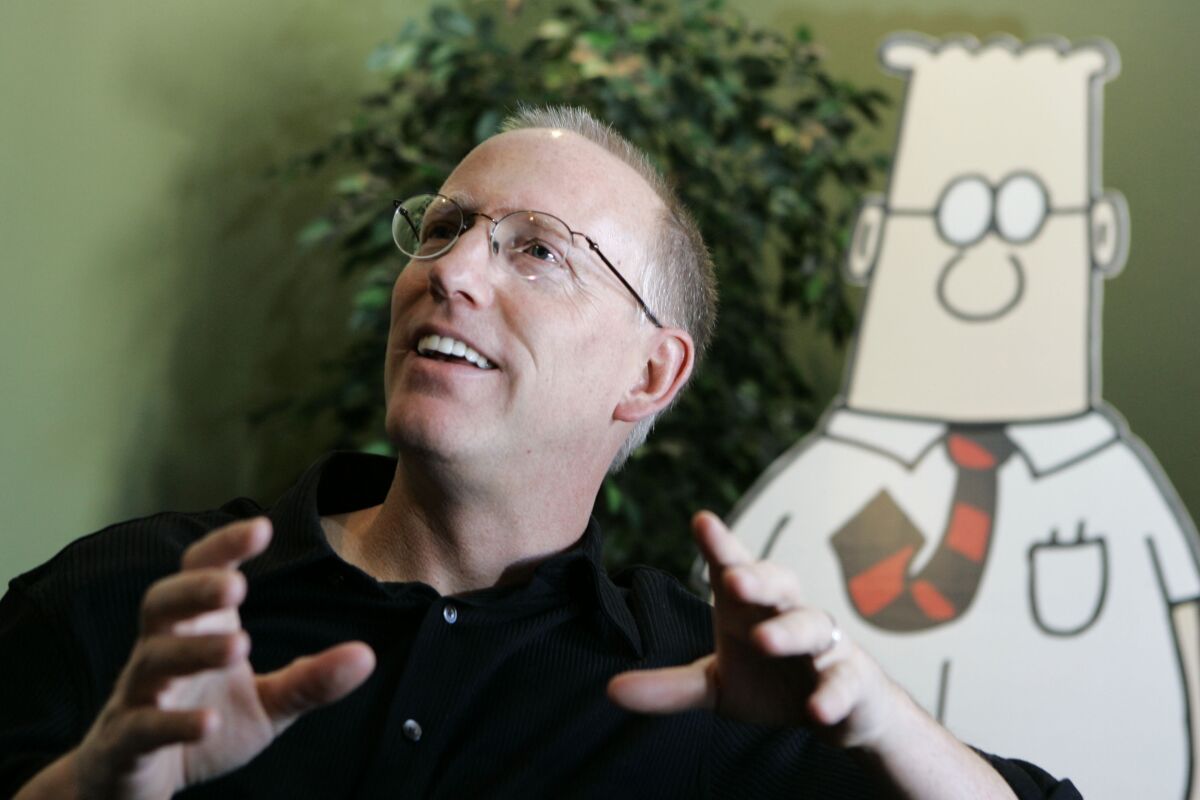 NEW YORK —
The comic strip "Dilbert" disappeared with lightning speed following racist remarks by creator Scott Adams, but it shouldn't come as a shock to anyone who has followed them both.
Adams, who is white, was an outspoken presence on social media long before describing Black people as a "hate group" on YouTube, and, to some, "Dilbert" had strayed from its origin as a chronicler of office culture.
The Los Angeles Times, which joined dozens of other newspapers in dropping the comic strip following last week's remarks, had quietly replaced four of Adams' strips last year. The editor of the San Francisco Chronicle, which dumped "Dilbert" last year, said the comic strip "went from being hilarious to being hurtful and mean."
"He kind of ran out of office jokes and started integrating all this other stuff, so after a while, it became hard to distinguish between Scott Adams and 'Dilbert,'" said Mike Peterson, columnist for the industry blog Daily Cartoonist.
As individual newspapers told readers they were dropping "Dilbert," the company that distributed the strip, Andrews McMeel Universal, said it was severing ties with Adams. By Monday, "Dilbert" was gone from the GoComics site, which also features many top comics such as "Peanuts" and "Calvin and Hobbes."
Adams said Monday that the strip, which first appeared in 1989, would be available only on his subscription service on the Locals platform.
After the Highland Park parade shooting, cartoonist Scott Adams says parents have only two choices when dealing with troubled young men. Both are dark.
"Dilbert" is effectively dead, Peterson said.
Adams said Monday on YouTube that his distributor didn't really have a choice because clients and other cartoonists were angry. "They were just forced into it," he said.
On Twitter, he said his book publisher and book agent had "canceled" him. The Penguin Random House imprint Portfolio said it wouldn't publish Adams' book "Reframe Your Brain" in September, according to the Wall Street Journal.
Adams has long been active on Twitter, where its CEO, Elon Musk, was among the few to publicly back him. He also blogs regularly and puts out a regular podcast on YouTube.
You (and Scott Adams) can say or write whatever you want, but there will be consequences. It's not self-censorship to think before you speak.
He's attracted attention for comments he's made in the past, including saying in 2011 that women are treated differently by society for the same reason as children and the mentally disabled — "it's just easier this way for everyone." He said 2016 GOP presidential candidate Carly Fiorina had an "angry wife face."
Adams became a vocal supporter of former President Trump, saying Trump had a hypnotist's skill in attracting followers. He said that stance cost him money in lost speaker's fees.
He said he lost the prime-time animated "Dilbert" series that ran on UPN for two seasons for "being white" when the network decided to target a Black audience; he also claims to have lost two other corporate jobs because of his race.
During Wednesday's episode of his YouTube podcast, "Real Coffee with Scott Adams," he referenced a Rasmussen Reports survey that had asked whether people agreed with the statement "It's OK to be white." Most agreed, but Adams noted that 26% of Black respondents disagreed and others weren't sure.
Two college students, home in San Ramon on winter break, were making a video when a man approached them and hurled slurs.
The Anti-Defamation League said the phrase at the center of the question was popularized as a trolling campaign by members of 4chan — a notorious anonymous message board — and was adopted by some white supremacists. Rasmussen Reports is a conservative polling firm that has used its Twitter account to endorse false and misleading claims about COVID-19 vaccines, elections and the Jan. 6, 2021, attack on the U.S. Capitol.
Adams repeatedly referred to Black people as members of a "hate group" or a "racist hate group" and said he would no longer "help Black Americans." On his podcast Monday, he called his "hate group" remark "hyperbole," but continued to defend his advice that white people "get the hell away" from Black people.
In announcing that "Dilbert" would be cut from the Kansas City Star, the newspaper's community engagement editor, Derek Donovan, said Adams' "antagonistic, childishly macho persona" has been a constant for years.
"It's not cancel culture," Richard Green, editor of the Santa Rosa Press Democrat, said. "It's doing the right thing."
Get breaking news, investigations, analysis and more signature journalism from the Los Angeles Times in your inbox.
You may occasionally receive promotional content from the Los Angeles Times.
The Sun Chronicle in Attleboro, Mass., left a blank space Monday where "Dilbert" would normally run and said it would keep it that way through March "as a reminder of the racism that pervades our society."
The San Francisco Chronicle stopped publishing "Dilbert" in October — a move that drew only a handful of complaints. Editor-in-Chief Emilio Garcia-Ruiz said in the newspaper that he had objected to a strip that said, in an effort to diversify workplaces, straight men should pretend to be gay.
In a Sept. 2 "Dilbert" strip, a boss said that traditional performance reviews would be replaced by a "wokeness" score. When an employee complained that could be subjective, the boss said, "That'll cost you two points off your wokeness score, bigot."
In an August strip, the boss said the company was getting into the "pandemic prevention market" and creating demand by unleashing a deadly virus.
Rick DeSantis and other conservatives are crowing about having killed off "woke" policies. But their celebration is way premature.
A Black employee featured in an Oct. 20 strip noted that his boss ignored his actual accomplishments to recommend him for a job for which he was not qualified. The employee backed down when told it would be a big jump in pay.
Peterson said there are other examples of how Adams' attitudes had replaced the biting workplace humor that Peterson and a legion of middle managers loved. Adams seemed to run out of jokes.
"The strip jumped the shark," he said.
Must-read stories from the L.A. Times
Get the day's top news with our Today's Headlines newsletter, sent every weekday morning.
You may occasionally receive promotional content from the Los Angeles Times.