Man gets 2 years in prison for calendars that allegedly mocked Thailand's king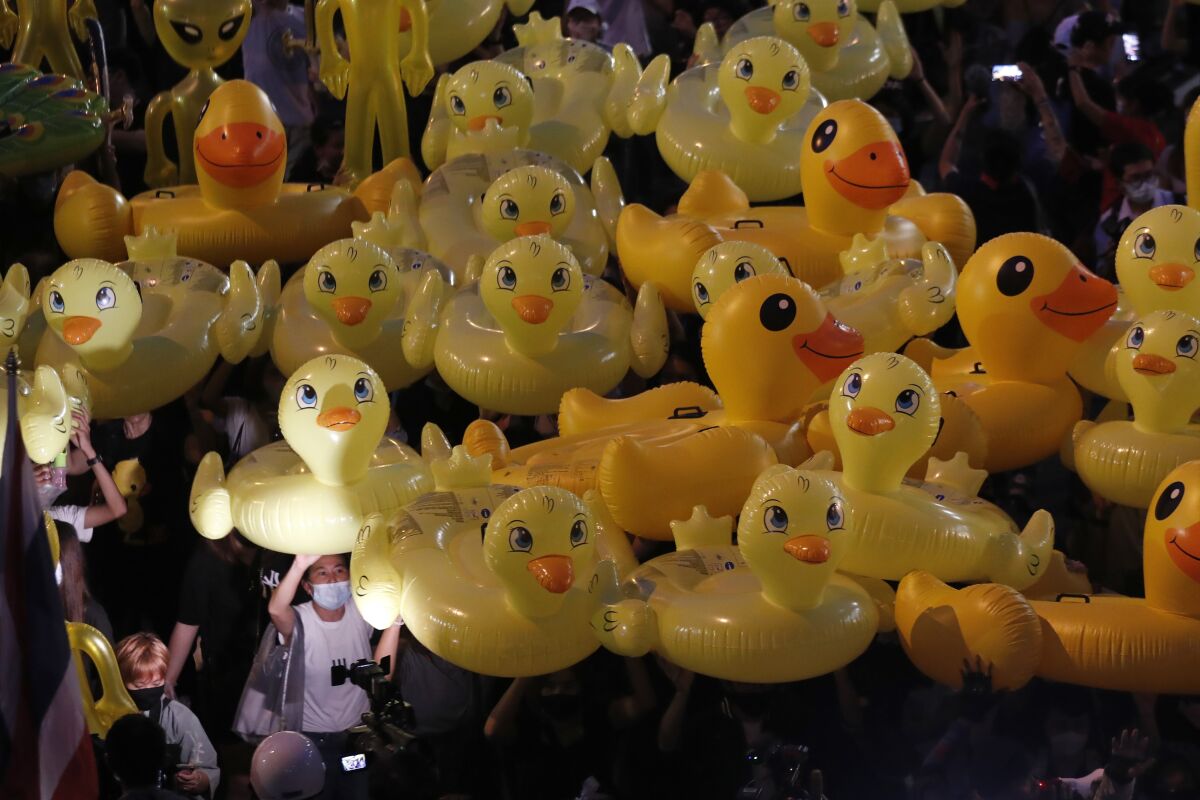 BANGKOK —
A Thai man has been sentenced to two years in prison for selling calendars featuring satirical cartoons of yellow ducks that a court said mocked the country's king, a legal aid group said.
Bangkok's Criminal Court ruled Tuesday that the 2021 calendar, which contained pictures of yellow ducks in various poses, ridiculed King Maha Vajiralongkorn and diminished his reputation, the group Thai Lawyers for Human Rights said.
Yellow rubber ducks were at one point a tongue-in-cheek symbol of Thailand's pro-democracy protest movement.
Narathorn Chotmankongsin, 26, was charged under Thailand's lèse-majesté law, which calls for three to 15 years' imprisonment for anyone who defames, insults or threatens the king, the queen, the heir apparent or the regent.
The court declared that six illustrations in the calendar were made to mock the king.
Thai Lawyers for Human Rights said Chotmankongsin had his sentence reduced to two years because he cooperated with the court.
Thailand's King Vajiralongkorn is facing demands for limits on his powers and public oversight of an estimated $70 billion in crown wealth.
Human Rights Watch issued a statement Wednesday asking Thai authorities to "quash the sentence and promptly release Narathorn Chotmankongsin."
"The prosecution and three-year sentence of a man for selling satirical calendars shows that Thai authorities are now trying to punish any activity they deem to be insulting the monarchy," said Elaine Pearson, Asia director at Human Rights Watch. "This case sends a message to all Thais, and to the rest of the world, that Thailand is moving further away from — not closer to — becoming a rights-respecting democracy."
The lèse-majesté law has long drawn criticism for its harshness and a provision allowing anyone to file a complaint, lending itself to use for partisan political purposes. In recent years, it has become a focus of pro-democracy activists, who have called for it to be amended or abolished.
Two young female activists seeking its repeal and other judicial reforms are reportedly in critical condition after hunger-striking for more than six weeks.
Installed on a golden throne under a nine-tiered, white-and-gold umbrella resembling a wedding cake, Thailand's King Maha Vajiralongkorn was crowned Saturday as ruler of one of the world's most enduring monarchies in solemn, elaborate ceremonies that sought to unite a fractured nation under gilded pageantry and centuries-old ritual.
At least 233 people have been charged with lèse-majesté since November 2020, according to Thai Lawyers for Human Rights. Before that, prosecutions had been informally suspended, but they were revived as the protest movement gained strength and made increasingly strong criticisms of the monarchy.
The demands to reform the monarchy have been controversial because, by tradition, the institution has been considered untouchable and one of the main foundations of Thai nationalism.
Must-read stories from the L.A. Times
Get the day's top news with our Today's Headlines newsletter, sent every weekday morning.
You may occasionally receive promotional content from the Los Angeles Times.