Former Malaysian prime minister faces graft charges, vows to fight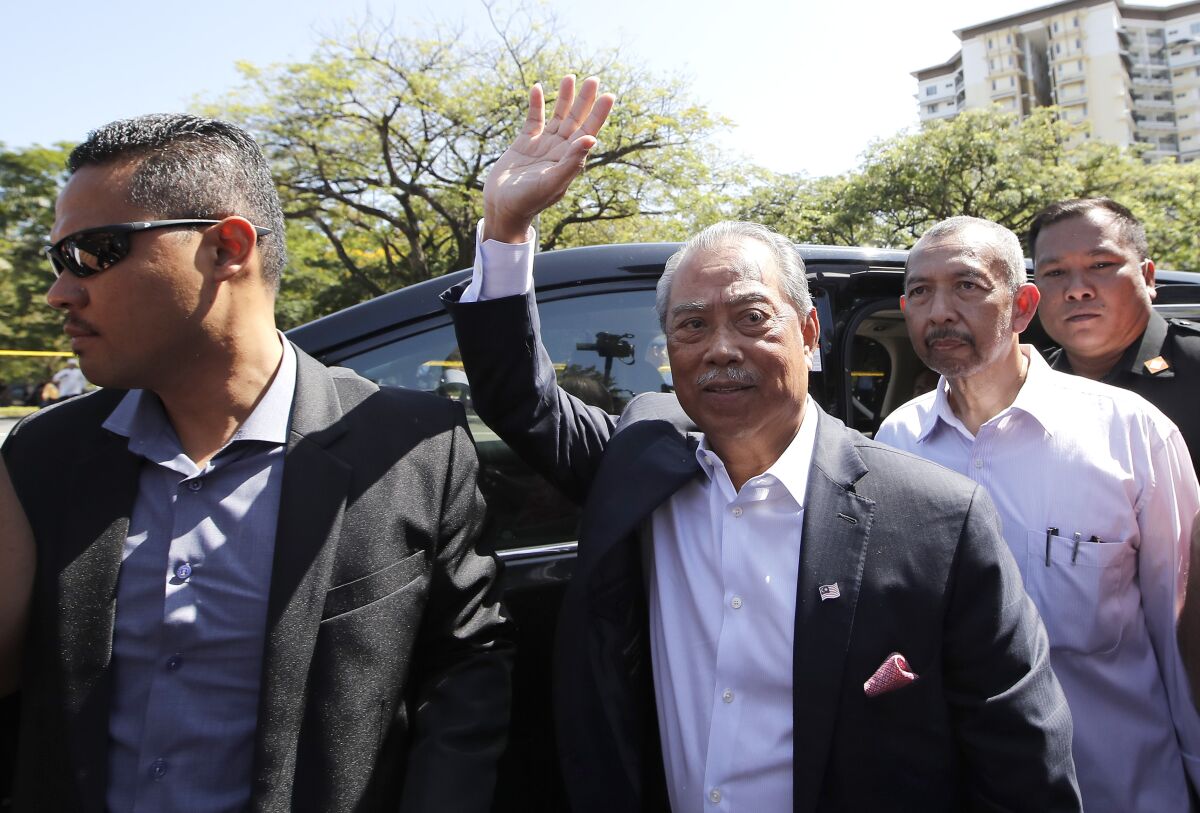 PUTRAJAYA, Malaysia —
Former Malaysian Prime Minister Muhyiddin Yassin was arrested Thursday and will be brought to court to face corruption charges, the country's anti-graft agency said.
Muhyiddin, who led Malaysia from March 2020 until August 2021, will be the country's second leader to be indicted after leaving office. Former Prime Minister Najib Razak was hit with multiple graft charges after he lost the 2018 general election and began a 12-year prison term in August after losing his final appeal in the first of several trials.
The anti-graft agency said Muhyiddin, 75, will face several charges Friday related to alleged abuse and money-laundering linked to government projects awarded during his 17-month tenure as premier. It said Muhyiddin was detained shortly after he arrived at the agency for the second time in three weeks to answer questions about an economic stimulus program for ethnic Malay contractors during the COVID-19 pandemic.
Muhyiddin was released on bail later Thursday and denied any wrongdoing. He told reporters that he faces seven graft charges, calling it a "malicious political act" by current Prime Minister Anwar Ibrahim's government to crush the Islamic-dominated opposition coalition Muhyiddin leads ahead of state elections. He said he never met the contractors who won the projects and did not receive any money from them.
"The purpose is to embarrass me by dragging me to court tomorrow," Muhyiddin said. "I affirm that I am innocent and that I will answer all the charges against me in court."
Anwar, who took power after November's general elections, had ordered a review of government projects approved by past administrations that allegedly did not follow the rules. He has denied that the case against Muhyiddin was politically motivated, telling local media that the investigation was independently carried out by the anti-graft agency.
"If you said all cases are politically motivated, then how are we going to arrest people for big corruption cases?" Anwar was cited as saying by the Malay Mail, an online news portal.
Two senior leaders from Muhyiddin's Bersatu party were also recently charged with graft. The anti-graft agency froze Bersatu's bank accounts amid investigations into alleged illegal proceedings.
A Dutch court has convicted two Russians and a Ukrainian of the murders of 298 people who died in the 2014 downing of Malaysia Airlines Flight 17. The fourth defendant, a Russian, was acquitted.
Earlier Thursday, a large crowd of supporters gathered outside the anti-graft agency building, chanting, "Fight! Fight!" and "Allahu Akbar!" ("God is great!") amid speculation that Muhyiddin would be arrested and charged.
Apart from the award of government contracts, Muhyiddin said the charges against him include abuse of power for supporting a tax-cancellation appeal by a business tycoon. He said any contributions from the tycoon to Bersatu were political funds channeled directly into the party's account, not his personal bank account, and should not be considered a bribe.
He said the charges were an attempt to thwart his opposition coalition's strong support, especially from the country's majority ethnic Malays. He warned that Anwar's government would "be punished by the people" in the state elections.
Anwar and Muhyiddin battled for the premiership after November's general elections produced a deadlocked parliament. The country's king later appointed Anwar as prime minister after he formed a unity government with several smaller parties. Anwar's strength will be put to the test in elections in six states in the coming months.
Must-read stories from the L.A. Times
Get the day's top news with our Today's Headlines newsletter, sent every weekday morning.
You may occasionally receive promotional content from the Los Angeles Times.