At least 37 reported killed in attack on Tunisian beach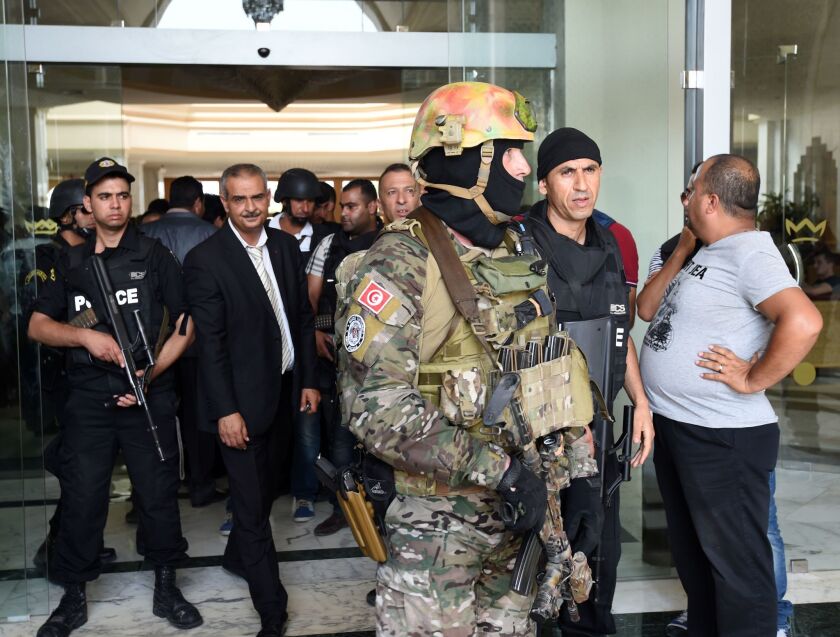 Reporting from Cairo —
A gunman disguised as a bather, with an automatic weapon concealed under a beach umbrella he carried, raked a seaside hotel's shore and pool area with bullets on Friday, killing at least 37 people, many of them European visitors, and injuring dozens more, Tunisian officials said.
It was the second major strike in just over three months against a tourist target in the North African country, rare in the region for its progressive and secularist traditions and one of the few beacons of relative stability in the wake of the Arab Spring uprisings more than four years ago.
Islamic State militants stopped short of claiming responsibility for the attack, but it was praised on a forum associated with the extremist group.
The assault took place outside a beach hotel in the Tunisian city of Sousse, at noontime on a hot summer day when the seaside was crowded with visitors. The city, about 90 miles south of the capital, Tunis, is a popular destination for tourists traveling from Europe as well as elsewhere in the country and the region, attracting many package visitors from Britain.
Officials initially believed there were two attackers, but later said the strike appeared to have been carried out by a lone gunman, who was shot dead. Tunisian media later reported the arrest of two accomplices.
There was no immediate claim of responsibility, though suspicion fell on Islamist militants who have sought to destablize Tunisia by harming its fragile economy. Tunisia's Health Ministry said the dead included nationals from Tunisia, Britain, Germany and Belgium, and the Irish government said one of its citizens had been killed.
A Tunisian calling himself Abou Anas, who is affiliated with the Islamic State-affiliated forum Ifriqiyah Media, tweeted gleefully after the attack: "Didn't we tell you that this is a month of conquests, a hard blow to tourism." He characterized the dead as "apostate crusaders" and added: "Hahahaha."
Witnesses to Friday's attack described terrified swimmers dashing from the surf to run for cover and sunbathers shot dead in their lounge chairs on the private beach fronting the Imperial Marhaba hotel -- named for an Arabic greeting. British vacationer Steve Johnson told the BBC that he and others barricaded themselves in the hotel spa to wait until they were told it was safe to emerge.
"We heard what we thought was fireworks, then people were screaming and starting to run in all directions," he said. Another vacationer, Briton Gary Pine, told Channel 4 in London that he heard dozens of gunshots.
"You could hear the bullets whizzing through the air," he said. "I was happy to get of that beach, as you'd imagine."
The assailant sneaked into the complex by dressing like a beachgoer and carrying a beach umbrella under which he hid a Kalashnikov rifle, senior Interior Ministry official Rafiq Chelli told Tunisia's Radio Mosaique. He identified the attacker, who he said was killed by security forces, as a student from the city of Kairouan, 35 miles inland from Sousse.
It was not the only terror attack to rattle the region on Friday. In Kuwait, an explosion at a Shiite Muslim mosque killed up to 24 people, according to news reports – the latest in a string of sectarian bombings in the Persian Gulf region at a time of rising Shiite-Sunni tensions. Islamic State, which says it has carried out similar attacks in Saudi Arabia and Yemen, claimed responsibility.
At the scene of the shooting in Sousse, police swiftly converged on the waterfront, blocking off access to the hotel and neighboring resorts as an army helicopter buzzed overhead, witnesses said. A Tunisian radio reporter at the scene said security forces handled the body of the slain attacker with extreme care, apparently in case he had been carrying explosives.
Tunisia's tourism industry had already suffered a devastating blow on March 18, when attackers hit the Bardo National Museum in the capital, whose antiquities were a major draw for visitors. That attack left 21 people dead, most of them European tourists on a cruise-ship stopover. Militants declaring allegiance to the Islamic State claimed responsibility.
The tourism sector is crucial for the economy in Tunisia, which is considered the only real success story in the wake uprisings that swept the region, the first of them beginning in Tunisia in late 2010. The country has been relatively politically stable, especially compared with its chaos-riven neighbor Libya, but the calm has been punctuated by occasional Islamist attacks, and economic stagnation and joblessness are major concerns.
Radicalization of young Tunisians has been a worsening worry for Tunisian authorities. The country has been by some reckonings the largest source of recruits to the Islamic State, with more than 3,000 young men having slipped away to fight in Syria or Iraq.
---
Must-read stories from the L.A. Times
Get the day's top news with our Today's Headlines newsletter, sent every weekday morning.
You may occasionally receive promotional content from the Los Angeles Times.