Aid workers fear 'catastrophe' if Kenya closes massive Dadaab camp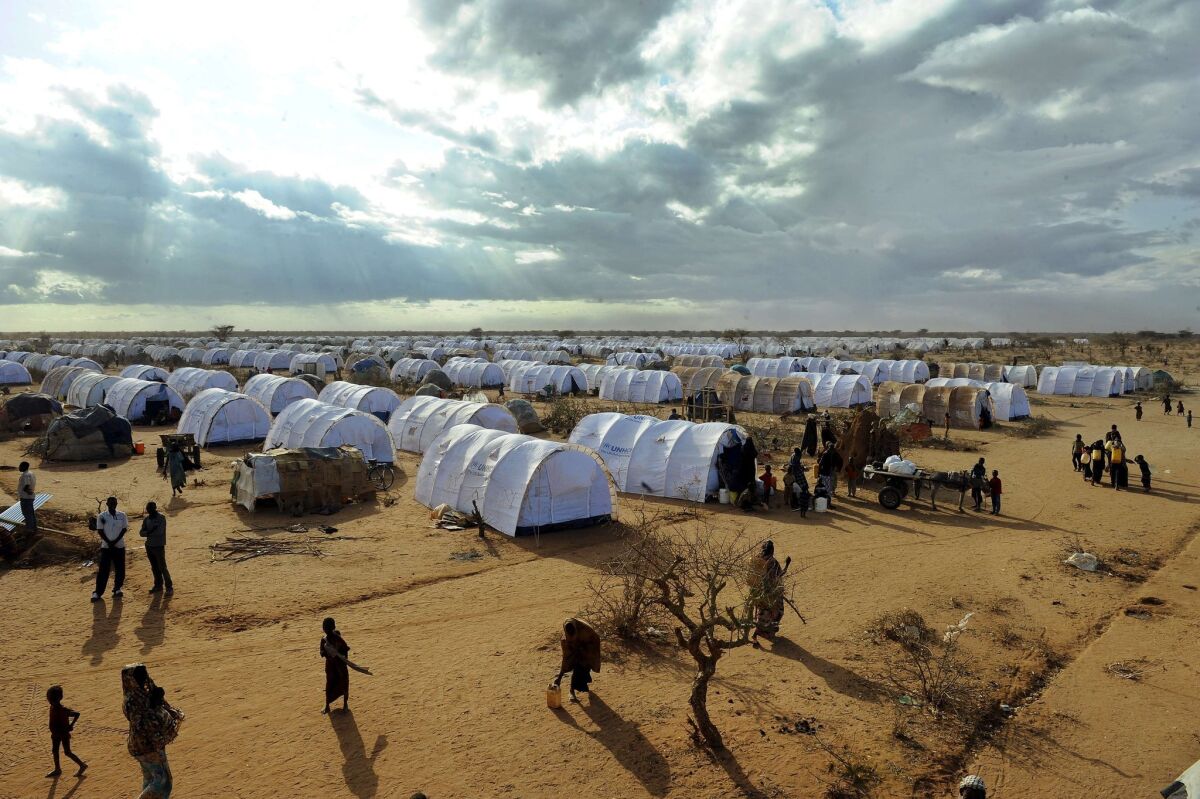 Reporting from Johannesburg, South Africa —
With makeshift tents and tin sheds spread out along red dusty roads, the Dadaab refugee camp has seen a generation born and grow up in its more than 20 years. But Kenyan authorities say that the camp's more than 350,000 residents have to leave within three months or face eviction.
Loading a population equal to a large town onto trucks and dumping them into a war zone would lead to a catastrophe, humanitarian agencies say. Few aid groups can work in Somalia because of killings and harassment of their workers by the terror group Shabab, which has carried out a long insurrection against the Somali government.
The move, announced recently by Deputy President William Ruto, came amid Kenyan fury over the attack by Shabab on a university in northeast Kenya, around 60 miles from Dadaab, that killed at least 148 people.
Kenya believes there are Shabab cells operating in the sprawling camp, citing several kidnappings in recent years of camp workers taken away to Somalia.
The threat to evict refugees horrified aid organizations, human rights groups and the U.N. refugees organization, which said doing so would breach Kenya's obligations under international refugee law.
Many refugees have nowhere to go in Somalia, according to agencies. Fighting continues in many parts of the country, and they may face attacks by Shabab, which has lost control of major towns but still dominates much of the countryside in southern and central areas.
The attack on Garissa State College saw at least 142 students killed by four gunmen, as Kenya's police counter-terrorism unit took about 11 hours to get to the scene in a botched response that angered many Kenyans. President Uhuru Kenyatta's approval rating slumped from 76% to 66% after the attack, according to a poll by Ipsos Synovate.
Amid increasing deadly Shabab attacks in Kenya, politicians and others have increasingly called for the return of refugees to Somalia. The Kenyan government also released a list of people and organizations, including remittance companies and bus companies, it accuses of supporting Shabab, which was also responsible for the 2013 attack on an upscale shopping mall in Kenya's capital, Nairobi.
"The way America changed after 9/11 is the way Kenya will change after Garissa," Ruto said Saturday. "We must secure this country at whatever cost."
He said the Kenyan government had asked the Office of the U.N. High Commissioner for Refugees, or UNHCR, to relocate the residents in three months or "we shall relocate them ourselves."
Aside from questioning the legality, humanitarian agencies say moving such a huge group of people in just three months isn't feasible.
"It's not going to be a solution to the problem. The humanitarian consequences would be catastrophic, that's quite clear," Charles Gaudry, spokesman for Doctors Without Borders in Nairobi, said in an interview. "If 350,000 people now living in Dadaab are sent to Somalia, in the current conditions on the other side of the border, they will have no assistance. A very big number of them will have no place to go and will be in danger.
"It's obviously something to take very seriously, but at the same time, it does not seem feasible to do it, at least in conditions that would be accepted in terms of the human dignity and safety of these refugees, especially once they got across the border. It's extremely difficult to provide humanitarian assistance in Somalia today."
There has been little access to desperately needed health care in many parts of Somalia since Doctors Without Borders was forced to close down operations in 2013 after dozens of attacks on its workers, including abductions and killings. Sixteen staff members have been killed in Somalia since 1991.
Kenya signed a tripartite agreement with the Somali government and U.N. in 2013 on the voluntary return of refugees from Dadaab to safe areas of Somalia. But only about 2,000 people have done so.
UNHCR spokeswoman Karin de Gruijl said in a statement Tuesday that "abruptly closing the Dadaab camps and forcing refugees back to Somalia would have extreme humanitarian and practical consequences, and would be a breach of Kenya's international obligations." She said that large-scale voluntary returns to Somalia were not feasible.
Human Rights Watch said forcible returns would breach Kenya's obligations under the international convention of refugees that forbid states from returning refugees to countries where they could face persecution or death.
"The fact that this comes from the executive, from Ruto himself, raises concerns that the government is serious about this," said Laetitia Bader, Human Rights Watch spokeswoman in Nairobi, in an interview.
"Over the last few years, we have seen an increasingly strict environment for refugees in Dadaab," said Bader, adding that Somalis in Nairobi were also subjected to sweeping raids and mass arrests last year.
Refugees sent back to areas the Somali government does not control "risk human rights abuses, such as rape and killings, as well as extortion," Amnesty International warned.
Follow @robyndixon_LAT on Twitter for news out of Africa
---
Must-read stories from the L.A. Times
Get the day's top news with our Today's Headlines newsletter, sent every weekday morning.
You may occasionally receive promotional content from the Los Angeles Times.