Kenya's democracy is tested as protests spread over disputed rerun election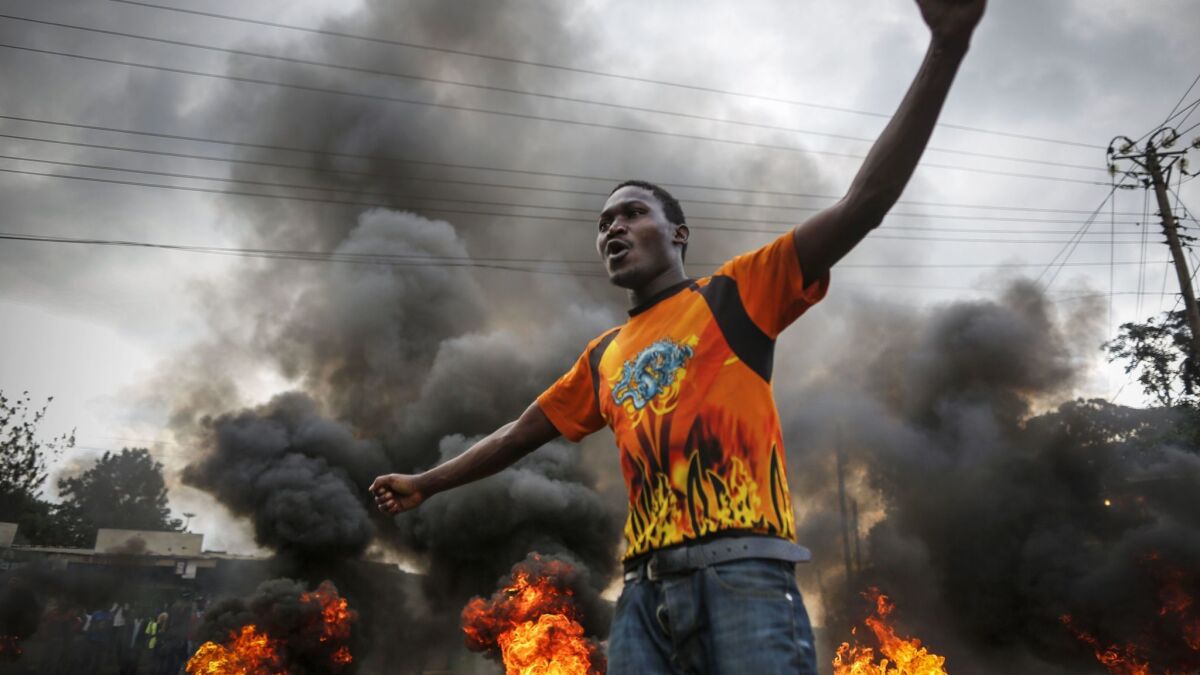 Reporting from Johannesburg, South Africa —
Kenya faces its deepest democratic crisis in nearly a decade, with a rerun election due to proceed Thursday though the vote lacks legitimacy among opposition supporters and may trigger violence, according to analysts.
The election process, plagued with killings, hate speech, death threats, attacks on democratic institutions and a tangle of court disputes, has paralyzed the economy for months and has even seen rising levels of hunger.
One of the most troubling signs in a chaotic process came Wednesday when the Supreme Court failed to decide on a petition calling for the election to be delayed, for lack of a quorum. The petition was brought by three activists who argued that conditions for a fair election did not exist.
Several judges were unable to appear, and the highly charged political atmosphere gave rise to speculation that some of the jurists were unwilling to preside in the case.
Kenyans voted in a presidential election Aug. 8, but the Supreme Court annulled the outcome because of irregularities. After that decision, President Uhuru Kenyatta, who won the most votes in the disputed balloting, called the judges "crooks," accused them of stealing the election and vowed to "fix" them.
The court's failure to convene follows an armed attack Tuesday on the car of Deputy Chief Justice Philomena Mwilu, one of the Supreme Court judges who annulled the August election.
A motorcyclist pulled up and shot Mwilu's bodyguard, seriously injuring him. Mwilu was not in the car at the time. She was one of the judges who did not appear in court Wednesday. Another judge was sick and out of the country, and a third was not in Nairobi. No reason was offered as to why two other judges did not come to court.
The court's failure to adjudicate the petition also comes after one electoral official was killed days before the August vote and another fled to the U.S. last week, fearing for her life after receiving death threats.
The International Crisis Group, an independent think tank specializing in conflict resolution, has called for the election to be delayed, warning that the risk of violence was high and that proceeding with the vote could further escalate the crisis.
"The risk of clashes between rival supporters or between security forces and protesters seeking to block the vote is high. New violence would be devastating for Kenya, the economic hub of East Africa," the group said in a statement.
The European Union election observer mission has scaled back its effort and also called for a delay to allow for dialogue and compromise.
"We have assessed the safety of our observers considering the extreme tension, disruptions of polling preparations, and strong criticism that has been made of the international community. Based on this, we have had to reconsider the extent to which we can observe across the country," it said in a statement.
The Atlanta-based Carter Center, which observes elections, called for dialogue and also scaled down its mission for security reasons.
"Given the heightened political tensions, it is imperative that Kenya's political leaders find a mutually acceptable path forward for holding credible democratic elections," said former President Carter.
Experts from the United Nations Human Rights Council issued a statement Wednesday calling for both sides in the impasse to show restraint, warning that people's rights are threatened.
"We are alarmed by recent reports of threats, intimidation, inflammatory statements, and mob violence contributing to an increasingly hostile political environment as Kenya heads into the repeat presidential election," said the statement, issued in Geneva.
Kenya is an important strategic partner for the U.S. in its fight against terrorism in East Africa, and it has troops in Somalia fighting the extremist group Shabab. The country gets more than $639 million a year in U.S. assistance. It is also East Africa's main economic powerhouse and a drawing card for Western tourists.
The humanitarian situation in the country, recovering from a severe drought, has deepened during the election crisis, according to the Norwegian Refugee Council, with 3.4 million people facing hunger, a sharp increase since June.
Kenyan opposition leader Raila Odinga, who challenged Kenyatta in the August vote, withdrew from the upcoming election earlier this month, saying it would not be free and fair, after his calls for changes in the voting process were ignored. Odinga has since called a series of protests demanding that the elections be delayed and reforms be carried out.
Odinga on Wednesday said the judges who failed to appear were "either intimidated or compromised" and accused the government of breaching the constitution by insisting the election go ahead.
"The August elections and the one scheduled for [Thursday] are part of the emerging trend of electoral autocracy gaining ground in Africa. This is a system where dictators give a cloak of democratic respectability by organizing sham elections every four or five years which they must 'win' at any cost," he said.
Electoral commissioner Roselyn Akombe, who fled last week because of death threats, said the commission was divided along partisan lines and unable to deliver an election that was free and fair. Commission Chairman Wafula Chebukati also expressed doubt last week on whether the panel could deliver an untainted election, saying his attempts to introduce the reforms required had been stymied by commissioners' partisanship. He accused political leaders of both parties of interference.
The impasse is alarming given Kenya's history of volatile elections and political violence along ethnic lines. After disputed elections in 2007, mobs hunted down and killed members of rival ethnic groups, killing about 1,500 people across the nation. Under Kenyatta, most jobs in the government, civil service and state-owned enterprises have gone to members of the Kikuyu and Kalenjin ethnic groups that form his political coalition, while other ethnic groups, notably from Odinga's tribe, the Luos, feel excluded and aggrieved.
When opposition protests broke out after the August vote, police fired live bullets at demonstrators, killing 67 people, according to Amnesty International and Human Rights Watch.
There are fears dozens more could die in coming days, with tensions high and opposition supporters furious over the electoral commission decision to press ahead with the election.
The election process has been so divisive that even the word "peace" — a central part of Kenyatta's rhetoric — has become politicized. Some opposition supporters believe that the government's rhetoric of peace at all costs creates an environment in which election shortfalls are tolerated.
An opposition governor, Anyang Nyong'o, from Kisumu — a stronghold of Odinga in western Kenya — said Thursday that if the election went ahead, Kenyans would be entitled to rebel against the government.
"If the government subverts the sovereign will of the people ... then people are entitled to rebel against this government," he told Reuters. Riot police quelled protests which erupted in Kisumu Wednesday over news the election would go ahead.
As the opposition called for a boycott, Kenyatta addressed the nation on television, saying Kenyans had a duty to vote because freedom fighters had shed blood for the right of Africans to vote.
He said the Supreme Court's decision to annul the Aug. 8 0election was distressing and unsettling, and came at a time when Kenyans needed to heal after a divisive election.
"Experience has taught us that elections by their very nature polarize people," he said. Kenyatta said he would not let the country slide into anarchy and warned that security forces had been deployed around the nation to enforce peace.
"We cannot remain in a perpetual state of politicking. Many wonder when if ever all this politicking will end," he said, adding that it had cost business millions.
Twitter: @RobynDixon_LAT
Must-read stories from the L.A. Times
Get the day's top news with our Today's Headlines newsletter, sent every weekday morning.
You may occasionally receive promotional content from the Los Angeles Times.