Cyril Ramaphosa's election as head of the ANC means he'll probably be South Africa's next president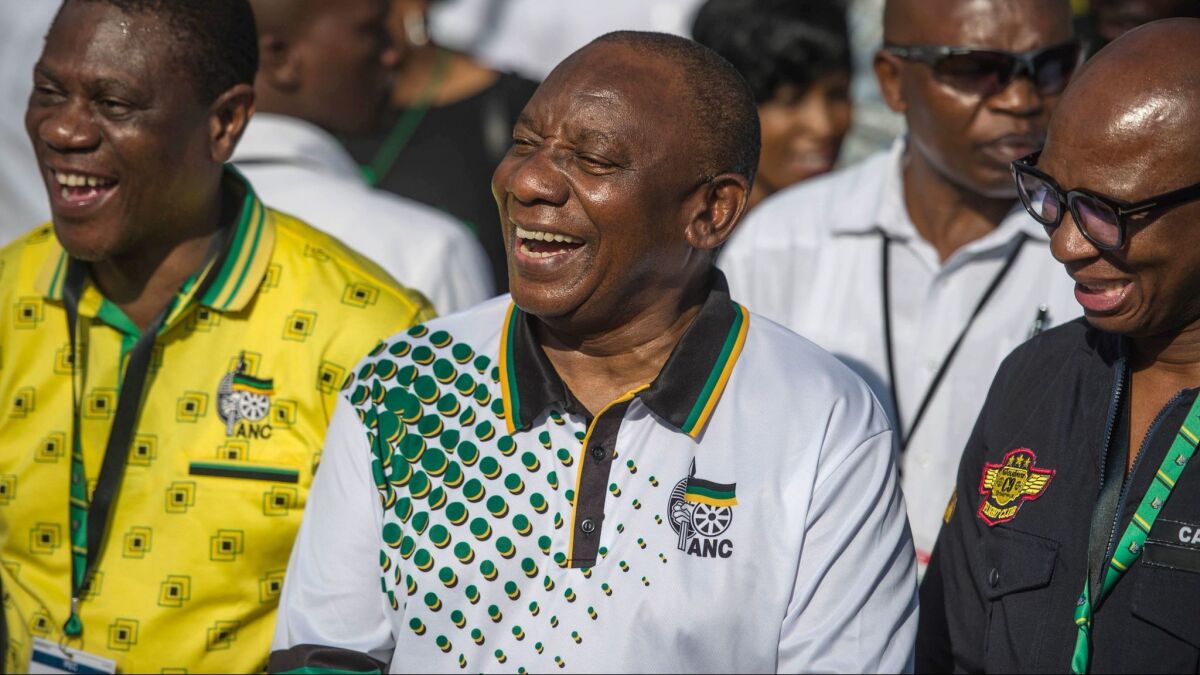 Reporting from Soweto, South Africa —
Cyril Ramaphosa, the new leader of South Africa's ruling party and the country's presumptive next president, quit politics two decades ago to become a businessman with the blessing of Nelson Mandela.
Ramaphosa had hoped to succeed Mandela as South African president, but the party disagreed, elevating Thabo Mbeki to the position.
Ramaphosa became a successful business tycoon before returning to active politics five years ago. With his election this week as leader of the African National Congress, Ramaphosa, 65, is a step away from the country's top job.
To many South Africans, Ramaphosa's rise is a chance to reverse what they consider the rot that has set in under President Jacob Zuma, the outgoing party leader. For the ANC, which has governed since the end of apartheid but faces slumping support under Zuma's unpopular leadership, Ramaphosa is the man who might keep the party in power.
Ramaphosa, characteristically quiet and understated, told journalists Tuesday that he was "humbled" to have been chosen as ANC leader by a majority of delegates a day earlier during a party conference.
"Things are going extremely well. They could not go better," a smiling Ramaphosa said while touring vendors' stalls next to the conference venue in Soweto, southwest of Johannesburg. "The ANC family, this great organization of our people, wants to emerge out of this conference united, renewed and stronger."
Ramaphosa won after a closely fought contest with Nkosazana Dlamini-Zuma, the ex-wife of Zuma, but finds himself in an awkward position. While Ramaphosa is party leader, he is still the deputy president of the country under Zuma, whose term ends in 2019.
Ramaphosa will also have to grapple with Zuma loyalists who were elected this week to senior party positions, including the ANC's new deputy leader and secretary general.
"Given strained relations between the two men, a cohabitation between Zuma as president and Ramaphosa as party leader will be tense," said John Ashbourne, an analyst with Capital Economics, a consultancy.
Ramaphosa lacks the natural charisma of Zuma, who is known for endearing himself to crowds with his jovial personality plus deft dance moves and impressive singing ability. But Ramaphosa, with a reputation for being sensible and outspoken against corruption, has developed a large base of supporters who are fed up with Zuma and the steady stream of graft allegations that have marred his presidency.
On the street outside the ANC conference venue, William Mthetwa, 59, hawked CDs of songs praising Ramaphosa. He had recorded the songs himself and said the discs were selling like "hotcakes" for 50 rand (around $4) each.
"Cyril Ramaphosa is the one who can save us," Mthetwa said. "Without him South Africa is going back to the dustbin."
Ramaphosa was born in Soweto in 1952, though his family is originally from the minority Venda-speaking area of Limpopo province. The son of a policeman, he was a hard-working student and the first in his family to attend university, where he earned a law degree despite being detained several times for his anti-apartheid activism.
In the 1980s Ramaphosa was a trade union leader, and helped with preparations for Mandela's release from prison, which occurred in 1990. He later acted as the ANC's chief negotiator in talks to end apartheid, earning a reputation for being highly skilled and shrewd.
After leaving politics in 1996, Ramaphosa amassed a range of business interests including stakes in mining and the McDonald's Corp. master franchise for South Africa.
Ramaphosa was on the board of directors at Lonmin, a platinum mining firm, when workers went on strike in 2012. Police opened fire and killed 34 of the striking mineworkers in what is known as the Marikana massacre — the deadliest police action in post-apartheid South Africa.
Ramaphosa was criticized for an email written days before the killings that described the "strike-related" violence at Lonmin as "dastardly criminal" and called for police to take "concomitant action." A judicial commission of inquiry into the tragedy cleared Ramaphosa of any responsibility.
Ramaphosa, who owns a game ranch, also drew controversy for bidding on an African buffalo at an auction for the princely sum of 19.5 million rand ($1.5 million); his bid felt short. He has a particular passion for Ankole cattle, a long-horned breed from Uganda, and in October released a book called "Cattle of the Ages," featuring photos and stories of his herd.
Ramaphosa returned to active politics at the party's leadership conference in 2012, where he was elected deputy leader of the party. He became deputy president of South Africa after the 2014 national polls, and has since built a reputation as a "Mr. Fix-it" in government, quietly capable and effective in a variety of challenging roles.
While campaigning for party leadership, Ramaphosa promised to boost the country's economic growth rate to 5% within five years, while restoring investor confidence. He described corruption as tantamount to "treason."
In contrast, Dlamini-Zuma during her campaign railed against white-owned businesses and called for the expropriation of land without compensation. Her supporters have criticized Ramaphosa for his links with big business.
"Cyril has been captured by whites. They made him rich," said an ANC delegate who said he voted for Dlamini-Zuma at the conference. He declined to give his name.
While Ramaphosa has received support from the business world, he will face serious challenges as leader of a country with 27.7% official unemployment, and where the economy is expected to expand by just 0.7% in 2017 after dipping into a recession this year.
"Investors' strong support for Ramaphosa was largely due to their opposition to his opponent, whom they feared would facilitate the mismanagement that has characterized the Zuma administration," Ashbourne said. "Ramaphosa's policy essentially boils down to following the same policy as now, but doing it more effectively. Given the depth of South Africa's economic problems, this may not be enough."
Max du Preez, an author and political columnist, says South Africa is now seeing a different Ramaphosa — a "steely, almost ruthless" side, far from the "quiet, respectful party loyalist" that he has been over the last five years.
"That strategy made sure he remained deputy president and he needed that to be able to make it to the presidency," Du Preez wrote in a column for News24 website. "Ramaphosa's election was indeed a critical turning point for South Africa."
Conway-Smith is a special correspondent.
Must-read stories from the L.A. Times
Get the day's top news with our Today's Headlines newsletter, sent every weekday morning.
You may occasionally receive promotional content from the Los Angeles Times.