Alibaba's first film: Wong Kar-Wai to produce; Tony Leung to star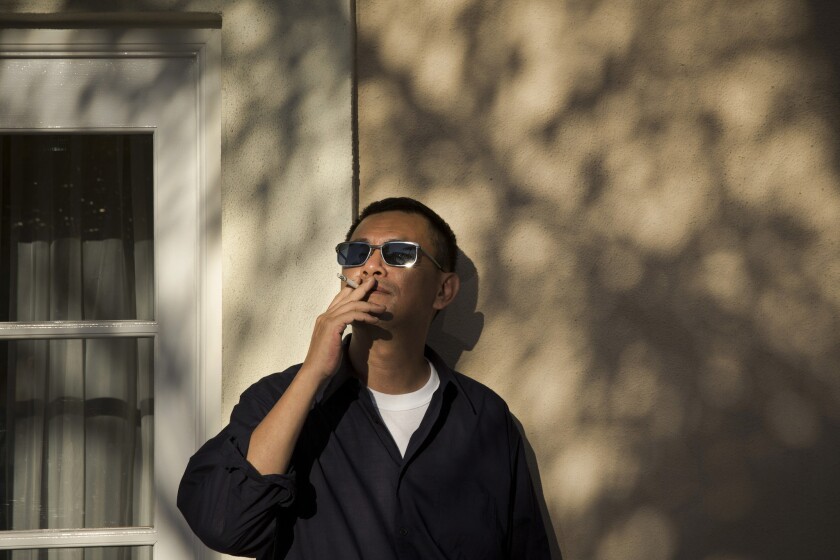 Reporting from Beijing —
Alibaba Pictures' inaugural film will be a comedy written and directed by 30-something author Zhang Jiajia, the company announced Sunday in Beijing. Hong Kong director Wong Kar-Wai will produce the movie, which will star Tony Leung and is slated for release this year.
Chinese e-commerce giant Alibaba plunged into the filmmaking business last year, buying a controlling stake in Hong Kong-based ChinaVision Media Group for more than $800 million and changing its name to Alibaba Pictures. Alibaba aims to leverage its dominant position in online sales and payments, along with reams of data on consumer behavior and preferences, to push into the entertainment arena.
In addition to Zhang's film, whose Chinese title, "Bai Du Ren," means "Ferryman," Alibaba Pictures said Sunday it had acquired the adaptation rights for "My Fair Princess," which has been previously made into several popular Chinese TV series. The company has also bought the overseas distribution rights for the film "Wolf Totem," a long-in-the-making Chinese film directed by Jean-Jacques Annaud and based on a popular book about a Beijing student sent to teach in Inner Mongolia in the late 1960s.
In addition to Wong, Alibaba Pictures has inked cooperation agreements with big-name directors such as Peter Chan and Steven Chow.
Reports that Wong and Zhang would cooperate on "Ferryman" surfaced last summer; at that time, several articles suggested that Wong would direct the film. But in unveiling the project Sunday, Wong, 56, said the film should be directed by someone who seeings things from the perspective of somone in their 30s, adding that Zhang was "very emotionally attached" to the story.
Zhang, 34, has never directed a film before but is a popular online writer and a collection of his short stories, "I Belonged to You," was a bestseller last year in China.
Though details of the plot of the movie were slim at Sunday's announcement, the film is apparently based on Zhang's short story, "Bai Du Ren," which centers on a young woman, Xiao Yu, who falls in love with a painter, whose wife on cheats him.
Leung, 52, has worked with Wong repeatedly, most recently starring in the director's Oscar-nominated 2013 martial arts film "The Grandmaster." The Hong Kong actor said Sunday he had not yet read the script for the new film, only a treatment, but had signed on based on Wong's involvement. Zhang said he had revised the script some 25 times.
Leung, who is known for his dramatic roles, said that to prepare for his part, he would need to brush up on his Mandarin Chinese skills because comedic dialogue is more demanding than dramas.
A number of young Chinese authors have made the leap from writing to directing in recent years, including Guo Jingming, whose "Tiny Times" films have been critically panned but commercial hits, and Han Han, whose road-trip movie "The Continent" was taken more seriously by critics and performed well at the Chinese box office last summer.
Alibaba Pictures CEO Zhang Qiang said he believed Zhang Jiajia could have similar success.
Sunday's press event was a light and joke-filled affair, with actor, director and producer playing a staged game of "truth or dare" and trading barbs laced with innuendo.
At one point, a reporter pressed Wong – who is known for taking years to make his films – whether he could keep Zhang on schedule to deliver his movie on time, but Wong brushed off the question. Alibaba Pictures did not set an exact release date for the film, nor did it say what the budget for the new movie would be.
Nicole Liu in The Times' Beijing bureau contributed to this report.
Follow @JulieMakLAT for news from China
---
Must-read stories from the L.A. Times
Get all the day's most vital news with our Today's Headlines newsletter, sent every weekday morning.
You may occasionally receive promotional content from the Los Angeles Times.