A GBU-43/B Massive Ordnance Air Blast bomb strikes an ISIS-K cave and tunnel systems in the Achin district of the Nangarhar Province in eastern Afghanistan at 7:32 p.m. local time April 13, 2017.
Reporting from Pandola, Afghanistan —
A day after the United States dropped the largest non-nuclear weapon it has ever used in combat, U.S. military helicopters pounded a mountainside village in eastern Afghanistan on Friday in an ongoing operation against fighters loyal to Islamic State.
Plumes of smoke were visible from several miles away as the airstrikes provided cover for Afghan commandos and U.S. advisers who have been locked in a two-week battle to clear a network of tunnels used by Islamic State militants — the target of the Thursday bombing.
The Massive Ordnance Air Blast — a 20,000-pound weapon dubbed the "mother of all bombs" — shot flames and smoke into the sky for more than four hours and marked a sharp escalation of U.S. operations against Islamic State's affiliate in South Asia.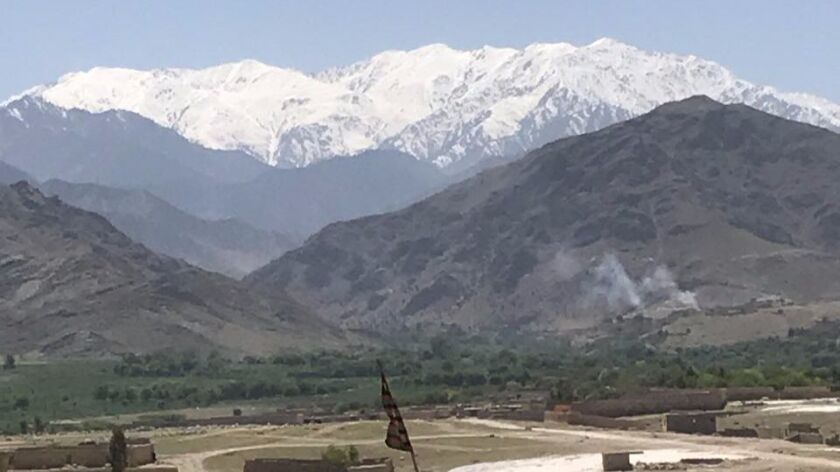 Afghan officials said that 36 Islamic State militants were killed in the bombing. There were no immediate reports of civilian casualties, but local authorities said the fighting had prevented them from visiting the bomb site near the village of Shodal, perched above a valley of green fields and mud-brick houses in Nangarhar province, near the Pakistani border.
Many civilians left the farming village in recent weeks on orders from Afghan commandos, but a few have remained, reluctant to give up their land to Islamic State fighters holed up in the tunnels below a soapstone mine.
Before the bombing, four civilians had been killed in the previous week, said authorities in Achin district, which includes Shodal. The size of the bomb, with a blast radius of about one mile, raised concerns over civilian deaths — particularly because Islamic State fighters often build tunnels below residential houses to provide cover from drone strikes.
"I thought everything around was destroyed," said Bashir Khan, a commando based at an Afghan military outpost in Pandola, across the valley from Shodal.
The blast was so huge that Maj. Khair Mohammad Safi, the police chief in Achin district, at first thought it was an explosion at his base – 2½ miles away.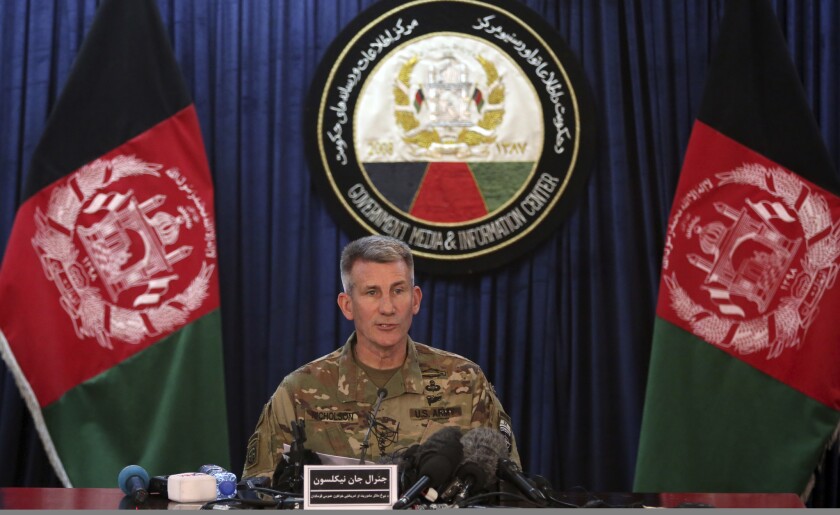 Gen. John W. Nicholson Jr., commander of U.S. forces in Afghanistan, told reporters in Kabul that American troops in the area had seen no sign of civilian casualties. He defended the use of the massive weapon, saying it was designed to destroy the types of caves and tunnels that Islamic State militants use to evade coalition forces.
"This was the right weapon against the right target," Nicholson said.
Afghanistan's chief executive, Abdullah Abdullah, said the bombing was conducted in coordination with Afghan forces and that the Afghan government "took great care to avoid civilian harm."
#MOAB was dropped in coordination with the government over an area #ISIS used as training camp, ammunition dump and base. 1/3

— Dr. Abdullah (@afgexecutive) April 14, 2017
But some Afghan officials denounced the action, signaling the weary frustration of a U.S.-led war that has dragged into its 16th year.
President Hamid Karzai called it an "inhuman and most brutal misuse of our country as testing ground for new and dangerous weapons."
I vehemently and in strongest words condemn the dropping of the latest weapon, the largest non-nuclear #bomb, on Afghanistan by US...1/2

— Hamid Karzai (@KarzaiH) April 13, 2017
Islamic State's regional affiliate is believed to have as many as 800 fighters in Afghanistan, many of them former members of the Pakistani Taliban. They obtain funding from the militant group's central organization in Iraq and Syria, analysts say but otherwise operate independently.
The group has clashed with the Afghan Taliban — a far bigger force and a more direct threat to the Afghan government — and seen its ranks and territory diminish under increasing pressure from U.S.-led coalition airstrikes and Afghan commando operations.
Citing the group's deadly attacks on shrines and peaceful demonstrators, and reports that it had beheaded civilians, Nicholson said U.S. forces were committed to eradicating the militants from Afghanistan in 2017.
Amruddin, 21, an Afghan special forces soldier who participated in the battle in Shodal, said Islamic State fighters were fierce and would "fight until they die." Like many Afghans, he has only one name.
"Eight days ago, I went with my unit to help our demining team and Daesh militants attacked us," Amruddin said, using a local name for the militant group. "I shot one in the stomach but he kept shooting until I shot him in the head."
Special correspondent Faizy reported from Pandola and Times staff writer Shashank Bengali from Mumbai, India.
Follow @SBengali on Twitter for more news from South Asia
ALSO
How Trump will deal with America's longest war is anyone's guess
North Korea: A potential train wreck in motion
U.S. military says misdirected airstrike in northern Syria killed 18 allied fighters
---
UPDATES:
7:15 a.m.: This article was updated with new details from Times correspondents.
An earlier version of this story from Associated Press was published at 4:50 a.m.
---