'Every attack is a massacre': Afghanistan's Shiite minority increasingly targeted in their places of worship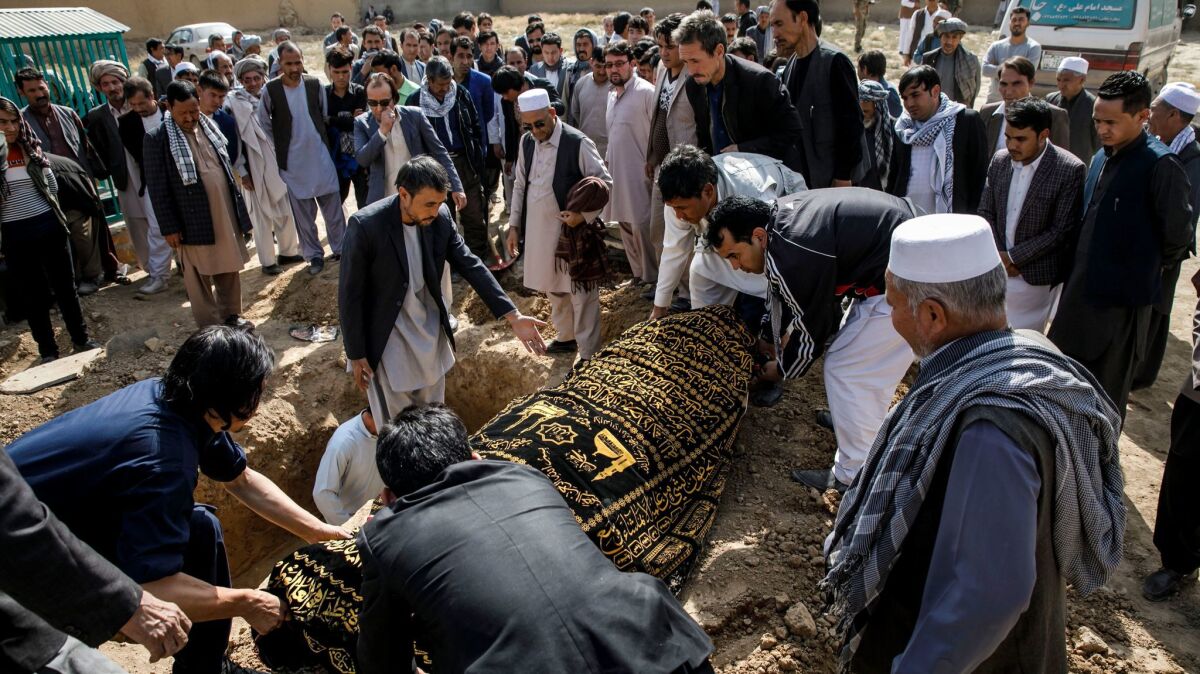 Reporting from Kabul, Afghanistan —
Dozens of men gathered in a dust-blown graveyard Saturday to pay their last respects to 83-year-old Karbalai Mohammad Anwar Noori, one of at least 50 people killed in a suicide bombing the night before at a nearby mosque in western Kabul.
As Noori's sons and nephews fought back tears, a tall, turbaned cleric stood above the mound of freshly turned dirt where the shroud-wrapped body was laid to rest. Speaking into a microphone, he invoked the words of Imam Jafar Sadiq, the sixth imam in Shiite Islam.
"Those who worship must be cautious and clever," said the cleric, Abdulaziz Amiri. "It is not only up to the security forces to protect us. We must be prepared at all times and ready for any possible attack."
Threats are increasing for Afghanistan's Shiite Muslim minority, the targets of a spate of recent attacks that have highlighted the government's inability to secure places of worship and added a troubling sectarian dimension to the country's long-running conflict.
In the first nine months of this year, 84 Afghan Shiites were killed and 194 wounded in attacks against mosques or religious gatherings, according to United Nations figures.
Those numbers rose sharply after Friday evening, when a suicide bomber hurled a grenade at worshipers before blowing himself up near the front of the crowded Imam Zaman mosque, which sits along a busy road in a predominantly Shiite neighborhood. Dozens were wounded, officials said.
As in many of the previous attacks — including two at Shiite mosques in Kabul over the summer — Islamic State's South Asia affiliate claimed responsibility for the bombing. The Sunni extremist group views Shiites as apostates and accuses Afghan Shiites, particularly members of the Hazara ethnic group, of fighting against the militants as part of pro-government militias in Syria.
The bombings have become so common that even the perpetrators have seemed to lose track of them. On Friday, Islamic State incorrectly said it had attacked the Imam Zaman mosque for the second time — confusing it with a Kabul mosque by the same name that it had attacked in August, killing about 40 people.
At funerals across Kabul, the Afghan capital, on Saturday, grieving Shiites said they understood the threats but would not cease observing their faith.
"Of course people are worried and scared — every attack is a massacre," said Noori's son, Ali Khan Noori, 44.
But as mourners filed away from the cemetery, Noori pushed back gently against the cleric's admonition.
"My father is martyred — I am not upset about that," he said. "But it is the government's responsibility to provide security, not the people's responsibility."
Shiites, who make up less than 20% of Afghanistan's population, were rarely singled out for attacks in the decade after the U.S.-led invasion that toppled the Taliban, a Sunni fundamentalist regime. But since 2011, the annual Shiite religious festival of Ashura has been attacked almost every year, according to the Afghanistan Analysts Network, a Kabul-based research organization.
The biggest attack against Shiites came in July 2016, when Islamic State claimed responsibility for a bombing at a Hazara-led protest in Kabul that killed more than 80 people, wounded hundreds and sparked a major grass-roots protest movement demanding that President Ashraf Ghani's government do more to secure religious sites.
Last month, weeks before Ashura, the government recruited civilian guards and distributed weapons at hundreds of Shiite houses of worship, a controversial move in a country that is awash in guns and has often struggled to control private militias.
The limits of that policy were clear at the Imam Zaman mosque, where five guards armed with aging automatic rifles did not detect the suicide bomber — carrying multiple grenades — as he entered through a gate along a busy road, walked across a small courtyard, up a flight of steps and made his way toward the front of the prayer hall.
Witnesses said the bomber waited until the moment that the evening prayer began, when worshipers were bowing to the floor, to launch one grenade across the room and detonate his suicide vest.
Blood was splattered across the walls and bits of hair and flesh were stuck to the ceiling. The walls were pocked with holes, probably from ball bearings that were packed into the bomber's vest. The blood-soaked carpets were torn off the floors and rolled up in the courtyard, attracting flies.
The blast threw Mohammad Daoud, a civilian guard posted behind a set of sandbags at the entrance to the prayer hall, off his chair and into a concrete wall, though he wasn't injured. Daoud acknowledged that the addition of weapons from the government had not kept them safe, and that many people still entered the mosque without being thoroughly frisked.
"It is not respectful to search people all the time when they come to pray," he said. "If a terrorist makes it all the way up the stairs, what can we do? It's difficult to stop them."
In a paper published last month, the Afghanistan Analysts Network warned that armed, lightly trained civilians would not be able to stop a major attack against a crowd of worshipers. But government officials have indicated the civilian guards would remain in place for the time being.
"All in all, the plan looks much more like a symbolic act of reassuring the Shia communities that the government is 'doing something,' rather than achieving a real improvement [in] security," the group wrote.
The mosque attack came at the end of a week that saw more than 200 Afghan civilians and security personnel killed. On Saturday evening, another suicide bomber struck outside a military training academy as army officers were on their way home, killing 15 people, according to Defense Ministry officials. The Taliban claimed responsibility for the attack.
Many Shiites responded with resignation when asked about the deteriorating security.
"We can't stop praying," Daoud said. "We can't close the gates of the mosque and stay home. If I were to be killed defending this place, it would be an honor."
Follow @SBengali on Twitter for more news from South Asia
Must-read stories from the L.A. Times
Get the day's top news with our Today's Headlines newsletter, sent every weekday morning.
You may occasionally receive promotional content from the Los Angeles Times.