What happened to Hong Kong's 'missing' booksellers? One defies China and speaks out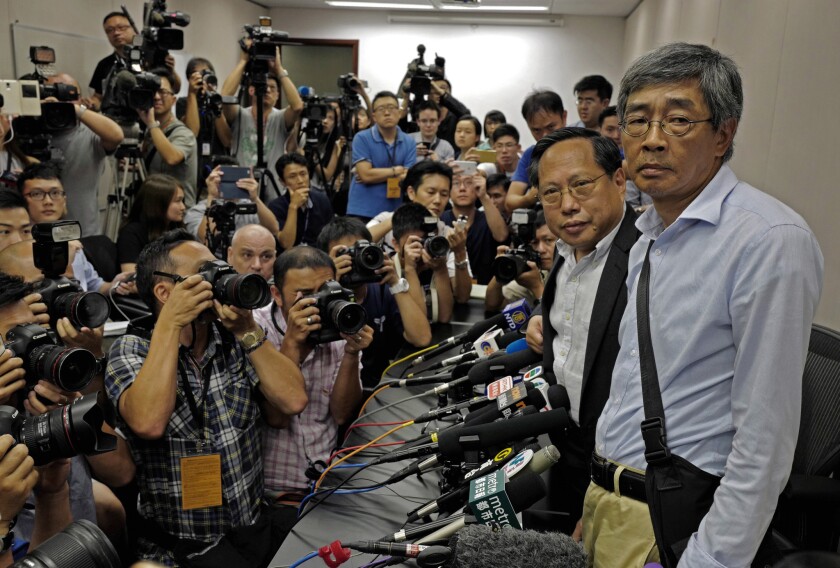 Reporting from Okinawa, Japan —
After nearly eight months in solitary confinement, one of five Hong Kong booksellers who vanished after their detention in mainland China has given a detailed account of his ordeal, defying not only a gag order but also authorities' demand that he remand himself to custody.
Lam Wing Kee, manager of Causeway Bay Books, which specializes in titles that irritate Chinese Communist Party leadership and are banned in mainland China, was among the last Hong Kongers to be released. Gui Minhai, the mainland-born, Swedish co-owner of the bookstore, remains in detention.
Lam said he was detained on Oct. 24 soon after he had crossed into the mainland. He was handcuffed, blindfolded and detained overnight in the holding pen at a police station in Shenzhen, a city that is a subway ride from Hong Kong. He said he was coerced into waiving his rights to notify his family or seek legal representation.
"I couldn't believe it had happened to me. It felt surreal, or like a dream," said Lam, 61, at an impromptu news conference Thursday at Hong Kong's legislative building. "As a Hong Konger, I'm used to being a free man. I've never broken any Hong Kong law in all my life."
A former British colony turned semiautonomous Chinese territory, Hong Kong has maintained an independent judiciary and law enforcement apparatus under a transitional framework known as "one country, two systems."
The Hong Kong government issued a statement Thursday chiding the mainland over the bookseller case. "Mainland and overseas law enforcement agencies do not have the authority to enforce laws in Hong Kong," the statement said. "The government … will resolutely safeguard the rights and freedoms of Hong Kong residents in accordance with law."
Mainland authorities have maintained that the booksellers were properly detained for violating the law.
Lam said officials told him it is a crime for him to have mailed books to mainland customers, but he maintained he had operated legally under Hong Kong law.
Lam looked relaxed in his white dress shirt, with his crown of salt-and-pepper hair largely trimmed. Besides him, co-owners Lee Po and Lui Por and another employee, Cheung Chi Ping, have also been released on bail. But Lam was the first one to have spoken out.
After they were detained, the booksellers' whereabouts were a mystery for months. All were last seen in January on China's state TV, giving confessions.
"I had a script, a director and the whole shebang. And I was given time to memorize my lines," Lam said.
All along, Lam said, he had been interrogated by plainclothes officers, including two from Beijing, but at one point, he said, one let it slip that they all were from "a central committee on special cases."
He has exposed what many have suspected all along: that this was a concerted operation by the Chinese authorities to go after the booksellers
— Mabel Au, director of Amnesty International Hong Kong
The committee was an extralegal entity created by Mao Tse-tung in the 1960s to investigate political enemies and was officially abolished in 1978, according to Ching Cheong, a longtime local commentator and reporter on China's politics.
"It's extremely rare for it to be deployed to target nonparty cadres and Hong Kongers," Ching said.
During the last three months of his detention, Lam said, he was placed in a room customized for suicide watch. Even his toothbrush and nail clipper were tethered to a minder for fear Lam would use them to harm himself, he said.
After a long negotiation with authorities seeking to see his family, Lam said, he was released Tuesday on the condition that he returned Thursday with an original copy of his store's customer list -- to be used in court as evidence. Lam said he will not do so. Most of the store's 600 customers live on the mainland, he said.
He added he also was interrogated about authors who had written books for the store's publishing arm.
"He has exposed what many have suspected all along: that this was a concerted operation by the Chinese authorities to go after the booksellers," Mabel Au, director of Amnesty International Hong Kong, said in a news release.
Last month, Angela Gui, daughter of the bookseller still in custody, testified at a congressional hearing in Washington. She said Thursday that she received a call from her father last week.
"He told me my campaigning is going to put more pressure on him," Gui said. "I know he was ordered to say that, and I told him I can't sit there to wait and do nothing."
Later this month, she is to appear at Britain's Parliament about the case. After Lam's appearance, hers is no longer the lone voice speaking out on the issue.
"He is very brave," she said.
Law is a special correspondent.
ALSO
Bangladesh crackdown: more than 14,000 arrests, yet machete attacks continue
British lawmaker Jo Cox killed in shooting, had campaigned against leaving EU
A German rape case with overtones of Stanford and a twist: Accuser is fined over her testimony
---
Must-read stories from the L.A. Times
Get the day's top news with our Today's Headlines newsletter, sent every weekday morning.
You may occasionally receive promotional content from the Los Angeles Times.