Beijing's new favorite gadget reads pollution levels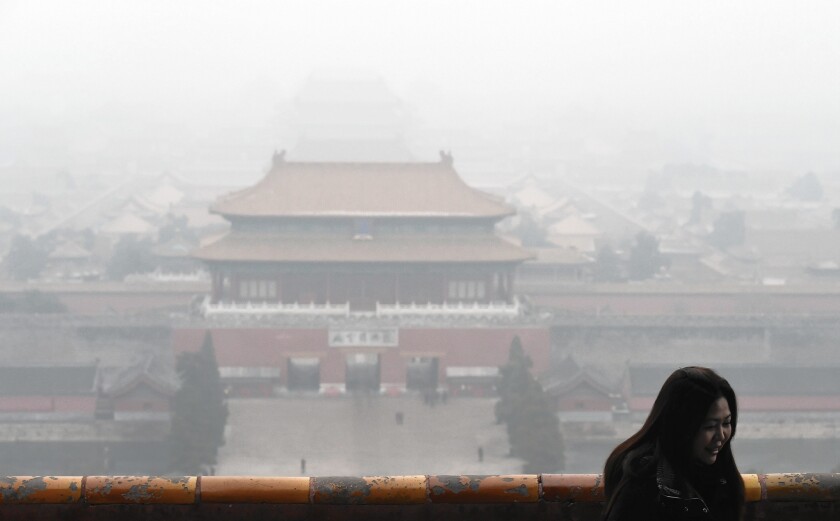 Reporting from BEIJING —
For Beijing residents obsessed with air pollution, the stocking stuffer of the season is a smog-detecting gadget called the Laser Egg.
The device is the size of a large orange and can be used at home, in the car or anywhere air pollution is a concern — which in Beijing these days is basically everywhere.
It joins a booming market for devices that measure indoor air quality, which can vary widely between rooms in the same building. But its stylish design and $79 price tag have made it more popular than wonky-looking, lab-style "particle counters."
Powered by a rechargeable battery, it sucks in air through a small vent, then through a laser beam that refracts when it hits pollution particles. A sensor measures the refractions. The result is a digital readout of 0 to 500 on the standard Air Quality Index, or AQI.
Users can install an app on their cellphones that can monitor multiple Eggs, track the data over time and send an alert if the air starts getting worse. The inventor, a 27-year-old Swiss expatriate named Liam Bates, envisions compiling data from thousands of Eggs online to tell people which restaurants and shops have the best air and which should be avoided.
Bates, who speaks Mandarin fluently and used to work in Chinese television, became interested in tracking pollution when his wife, Jessica Lam, relocated from Canada to Beijing and developed symptoms of asthma. The couple began researching air-purifying machines.
Unsatisfied with the available options, they started their own company, Origins Technology, in 2014. Their first products — the Laser Egg and a $700 air purifier called the OxyBox — went on sale this summer. Both are made in China but use components from around the world.
"Pollution is completely invisible, but if you have something telling you what the pollution levels are, then you really start to realize all these fascinating things that you didn't know before," Bates said.
For instance, he said, he found pollution in his home would rise every day around noon because his neighbors were cooking and the smoke was seeping into his kitchen through a shared vent.
Initial sales for the Egg, Bates said, were good enough, but demand started soaring in late November — just as Beijing's AQI went deep into hazardous territory.
After a few blustery days of relief brought by a blast of air sweeping south from Siberia, Beijing again found itself socked in by smog in the last week. That prompted city authorities to take the unprecedented step of issuing a "red alert," which shuttered schools for several days and imposed severe restrictions on traffic.
"In the past week of pollution, we've sold twice as many as we did the month before," Bates said. "There's been a substantial increase."
At company headquarters, a ramshackle old courtyard home in central Beijing, a hand-lettered cardboard sign on the red double doors reads, "Laser Egg Sold Out."
Bates said it would be early January before the company could start filling its back orders.
Marine Dronet is among those impatiently waiting. "I guess they didn't know it would be so popular," said the French expatriate, who has lived in China for seven years. "I hope before the end of the month I will get one."
Dronet has spent thousands of dollars on six air-purifying machines for her home. "I bought air purifiers like everyone else, but want to make sure they are performing well," she said.
Richard Saint Cyr, a Beijing-based physician who has long run an independent blog about air pollution in China, gave the Egg a thumbs up after testing it for accuracy.
Some people who have bought the Egg have been shocked by its readings, discovering that the air quality in their homes is in the "unhealthy" range or worse despite their purifying machines. Bates said administrators at a few schools have been vexed by the Egg, as parents have brought their devices to check their children's classrooms and found the air quality below their expectations.
Experts say doors and windows must be sealed to guard against seepage, and even opening a door for less than a minute can lead to a sharp increase in pollution levels.
Sarah Lim, a Singaporean who has lived in China for more than a decade, bought two Laser Eggs for herself and one for a friend who just had a baby. She wants another for her husband so that he can test the air at his office.
Lim said the Egg has given her some peace of mind that her extensive precautions against air pollution are doing something.
"On Tuesday, when the outside AQI was over 300, my office reading was 7," she said.
At home, she had six purifiers running "full blast" and found her living room hovering between 40 and 60 while her bedroom was less than 30. (A reading of 50 or below is considered "good.")
Bates said he's received inquiries from around China and around the world, including India, Germany and even California. The company doesn't yet ship outside the mainland.
"When we were making this, we were like, 'This is clearly a product that is only useful in China,'" Bates said. "But apparently, that is totally not the case."
Follow @JulieMakLAT for news from China.
---
Must-read stories from the L.A. Times
Get the day's top news with our Today's Headlines newsletter, sent every weekday morning.
You may occasionally receive promotional content from the Los Angeles Times.