On the Ground: In Beijing, Turtle Man heralds the arrival of spring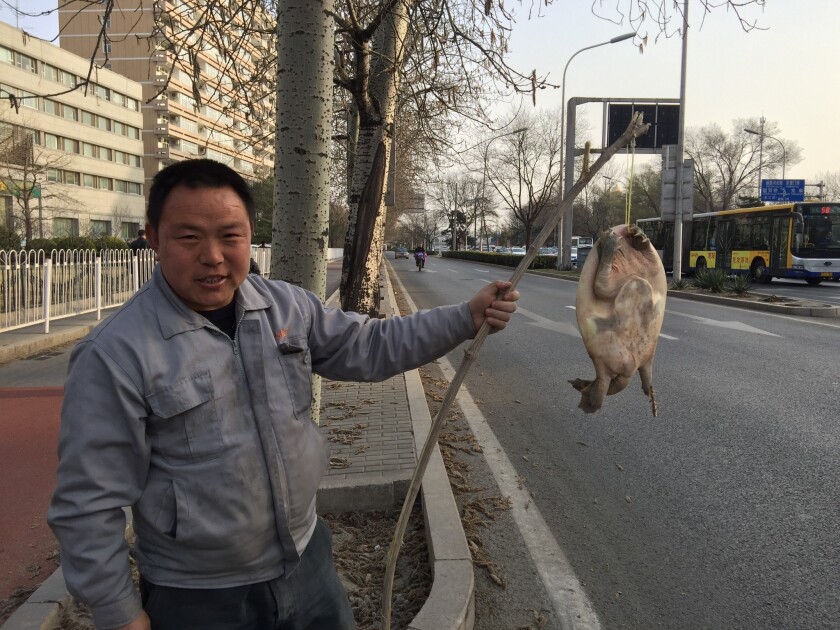 Reporting from Beijing —
How did I know spring had sprung in Beijing? Turtle Man arrived suddenly on my street corner.
Winters in the Chinese capital are not snowy, but they can be frigid and gray and fiercely smoggy because of the mountains of coal burned for heating. They grip the city firmly, and hang on tightly for months, until one day, without warning, they release 22 million of us into a balmy bliss.
Seemingly overnight, forsythia flood highway byways with bursts of yellow buds. Magnolia blossoms push forth on branches that have held nothing, save the occasional blue and black magpie, since November. Pink and magenta petals peek from trees along the Tonghui River and willows begin to weep chartreuse.
The pavement too comes alive, with peddlers who apparently have been in hibernation (as have some of their wares).
I noticed Turtle Man as I was exiting the Second Ring Road one late afternoon just a few miles east of the Forbidden City. A squat fellow in a grimy gray jacket, he was standing in front of my local post office holding a long, curving stick as tall as he was. Dangling from the end was a live soft-shelled turtle as big as a dinner platter.
This particular corner of Beijing is not known for its reptile hawkers. Turtle Man was just as out of place here as if he had been standing in Los Angeles at the corner of Wilshire and Westwood. Scooter riders slowed as they passed to get a good look at the wriggling creature. Taxi passengers craned their necks as they sped by. A man in a three-wheeled cart nearly ran off the road as he gawked at the sight.
Turtle soup is a delicacy for many Chinese, who will tell you, with a wink and a nod, that it's particularly good for men. The animals can be bought in wet markets across the country, along with frogs, snakes and lizards.
I personally have no appetite for turtle soup, let alone the first idea about how to make it. Why, I wondered, had spring brought Turtle Man to my corner?
I would have had more use for one of Beijing's pineapple dudes, who expertly whittle away the prickly peel, leaving an attractive swirly pattern in the juicy tropical flesh. Or the flower fellows, who pile potted tulips and daffodils onto carts and pedal up side streets, selling sprigs of the season.

I rounded the corner to my office, parked the car, grabbed a colleague and went back to talk to Turtle Man.
How much for the turtle? we asked.
Sizing up his prospective customers — two white-collar women, one of them a foreigner, no less — Turtle Man stuck his neck out. "One thousand, five hundred," he said, meaning yuan, or $230. "It's 8 or 9 pounds!"
Then, laying on the pitch thick, he added: "It's a hundred-something years old!"
Even so, he was asking $230. I figured for such a rich price and ancient specimen, we were entitled to a few questions about the creature's origins. "Why are you selling it here? Where'd it come from?"
Turtle Man explained he was a fortysomething migrant from the southern province of Sichuan. His job in Beijing involved digging tunnels. Today while working, he said, he had found not one but three turtles, and decided to try hawking one, the way people do in his hometown.
He had tried to sell the turtle near an outdoor market, until a neighborhood patrol chased him away. But he was determined to try another place — after all, if he found a taker at 1,500 yuan, that sum would probably be equivalent to a third, or even half, of his monthly income.
Turtle Man unhooked the creature from his stick and placed it on the pavement. The animal seemed unbothered by the lasso tethered to the hole punched in the rear of its carapace, and poked its pointy head to and fro.
A middle-aged woman in a brown jacket approached tentatively. "I want to ask, how much is the turtle?" she said. Turtle Man was not in the mood to lower his price, at least not while my colleague and I stood by. "Fifteen hundred!" he harrumphed. She looked at him as if he was crazy. After all, bargaining is an expected part of such transactions in China.
"Do you want to buy it or not?" Turtle Man said to me, impatiently.
I shook my head in a noncommittal way and looked to see what the lady in brown would do. I thought Turtle Man might come to his senses and start to bargain with her, but he simply grabbed the lasso, hoisted his captive back onto the display stick and fixed his gaze back on the evening rush hour traffic. The woman went on her way.
Taxis zipped by, along with dozens of scooters and a couple of bicycles. A few people stared and pointed, but no one else approached Turtle Man with an offer. The sun started to inch behind the skyline.
"What are you going to do if you don't sell it?" we asked, wondering whether there was any prospect the turtle might escape the soup pot and live to see another spring. Turtle Man, though, was entertaining no such notions.
"Cook it myself, of course!" he said. "Good for my health."
Follow @JulieMakLAT for news from China
Yingzhi Yang in the Times' Beijing bureau contributed to this report.
ALSO
In China, a traditional bow maker finds his calling in 'noble art'
Chinese authorities recover $48 million worth of smuggled python skin
Chinese activist in N.Y. says Beijing officials 'abducted' his parents and brother
---
Must-read stories from the L.A. Times
Get the day's top news with our Today's Headlines newsletter, sent every weekday morning.
You may occasionally receive promotional content from the Los Angeles Times.