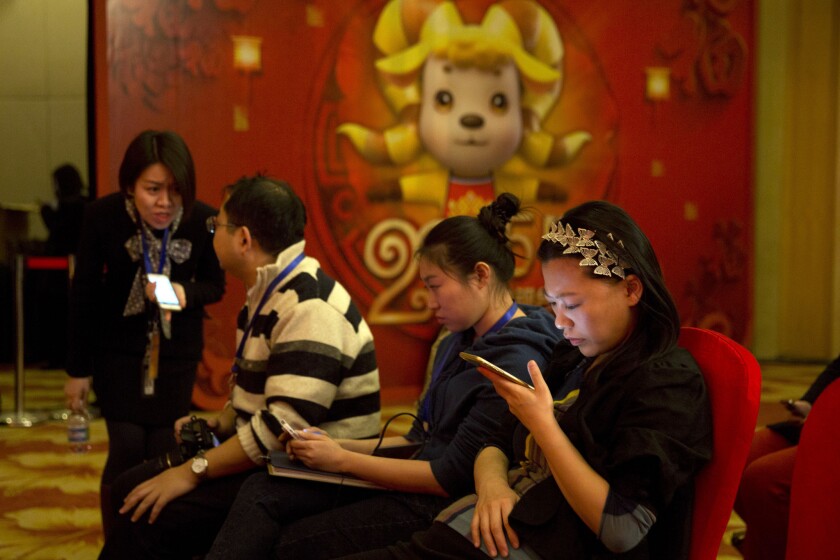 Reporting from Beijing —
China's Internet regulators on Wednesday announced wide-reaching rules requiring anybody posting comments online to register using their real name, the latest step in a continued tightening of control over freedom of expression online.
The regulations, which are set to take effect March 1, require people to register accounts with their real name when using blogs, online forums and other platforms that allow online expression -- including instant messaging services or news comment sections, the Cyberspace Administration of China said.
Users will be allowed to pick their own user names and avatar images, provided they aren't impersonating organizations or well-known users such as "Obama" or "Putin." Though that means aliases can still be used to make comments online, the new rules aim to ensure that authorities know authors' real identities.
Wednesday's announcement is the latest step in what many believe is a far-reaching campaign to further control online dialogue in China -- already one of the world's most tightly restricted online environments.
The announcement underscored that authorities will not tolerate "illegal content" -- defined as anything that violates the constitution or other laws, "subverts state power" or "undermines national security." Promoting pornography, terrorism, gambling, superstition or rumor-mongering is also forbidden.
By the end of last year, 649 million of China's more than 1.3 billion people were online, an increase of more than 31 million over the year before, according to data from the government-run China Internet Network Information Center.
Xu Feng, the head of the mobile Internet bureau of the Cyberspace Administration of China, told reporters Wednesday that the tightening of rules is intended to remove anything online that "seriously damages socialism's core values" or "violates the public interest."
Responsibility for enforcing the new rules will be left to Internet service providers. Xu did not mention specific punishments for violators.
In addition to Wednesday's announcement, Chinese regulators recently released new rules that require writers who publish online to use their real names; similar identification rules were earlier promulgated for app developers and online video uploaders.
Government authorities recently closed 133 social media accounts they said were being used to distort Chinese history and spread lies about the ruling Communist Party. The government also has launched an attack on Virtual Private Networks, or VPNs, that enable Chinese Internet users to access blocked sites including Google and Twitter.
This is not the first time Beijing has tried to mandate more accountability in online commentary. China announced real-name registration requirements for social media services such as Sina Weibo in 2012, but the difficulty of verifying information for millions of users and the high cost of implementing the plan for Internet providers proved to be stumbling blocks.
Silbert is a special correspondent.
---