One day after pro-Beijing chief executive is elected, Hong Kong arrests 9 protest leaders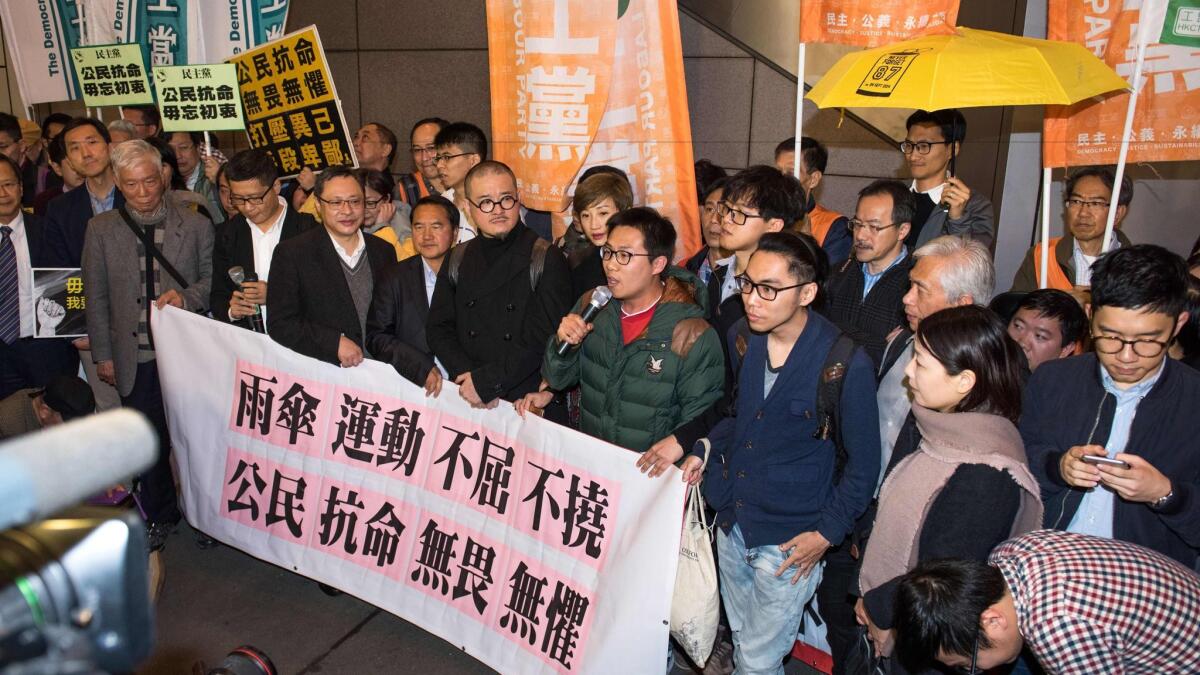 Reporting from BEIJING —
Nine leaders of Hong Kong's pro-democracy Umbrella Movement turned themselves in to police on Monday, one day after the territory selected a conservative, pro-Beijing politician as its next leader.
The arrests of the nine, who led months of protests in 2014, sent shock waves through the city, which has generally tolerated a level of dissent that would be unthinkable in mainland China.
Earlier Monday, police had called the activists — students, lawmakers, professors and a reverend — and notified them that thet would be charged with causing a "public nuisance," which carries a maximum seven-year sentence. In the evening, all nine surrendered to police.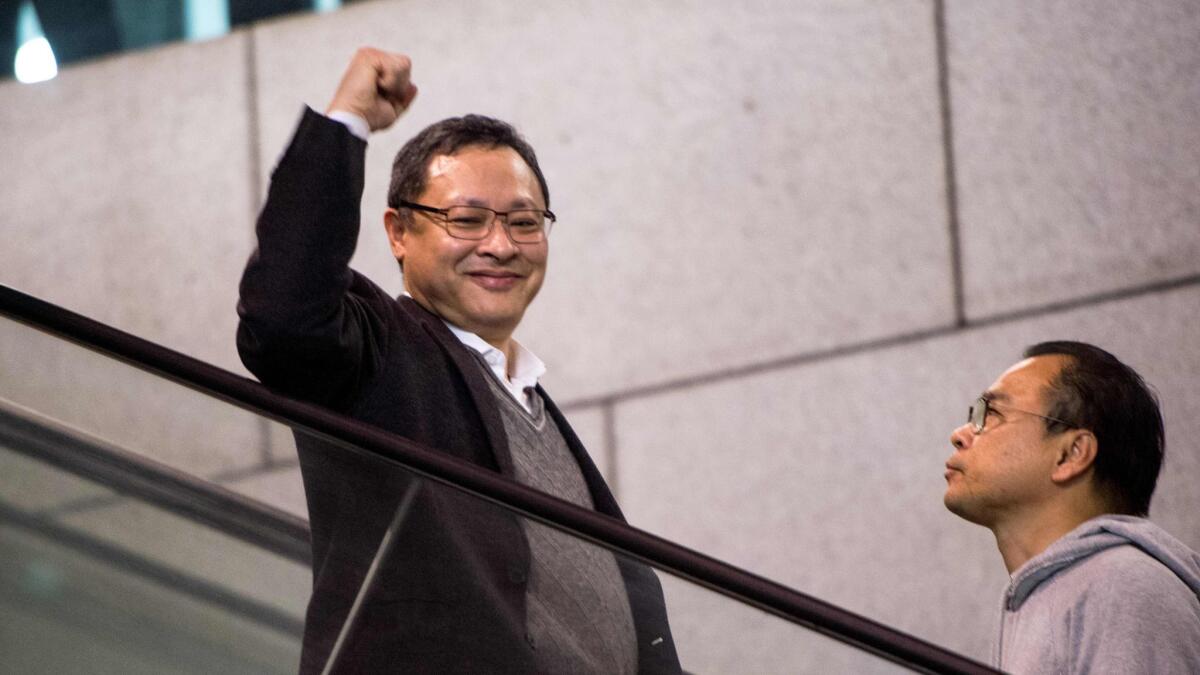 "Early this morning, nobody expected the government would do this," said Chan Kinman, a sociology professor at the Chinese University of Hong Kong who helped organize the 2014 protests and was among those charged. "It's sending a very strong message to society that the government is not going to resolve the conflicts in the community."
"I'm not worried about myself, even though I know these are serious charges," he added. "I'm worried about the future of Hong Kong."
Experts say that the charges were just the latest sign of how far the city remains from healing the deep ideological rifts that, for nearly three months in late 2014, spurred tens of thousands of Hong Kong's 7.3 million people to take to the streets.
Since 1997, Beijing has ruled the former British colony under a "one country, two systems" framework. Beijing takes care of the city's defense and foreign affairs, while the city enjoys civil liberties unavailable on the mainland, such as freedom of assembly and an unrestricted press.
Yet in 2014, many Hong Kong residents believed that the "two systems" part of the arrangement had begun to fray. Many openly worried that Hong Kong would become "just another Chinese city," replete with strict censorship regulations, mandated "patriotic" school curricula, and Communist Party-controlled courts. Protesters demanded that Beijing allow them to choose their own top leader in 2017, a hedge against creeping authoritarianism.
But Beijing made no significant concessions, condemning the protests. On Sunday, Carrie Lam — a pro-Beijing bureaucrat, and the city's second-in-command during the demonstrations — was elected to the chief executive post by an elite, 1,194-member electoral college stacked with Beijing loyalists.
Former Finance Secretary John Tsang, a clear favorite in pre-election polls, came in second.
At a news conference marking her victory, Lam, 59, promised to "unite our society to move forward." Yet even the election was marked by conflict. In the official seating area, some pro-democracy supporters yelled slogans and held up yellow umbrellas — a symbol of the 2014 protests.
The previous night, hundreds of young protesters walked a mile through the eastern part of the city. They held up signs that read, "Scam Election" and "Lies, Coercion, Whitewash."
Shun Tsi Wai, a 24-year-old accounting student, walked with them. "Now, the will of Hong Kong will be more controlled," he said. "Carrie Lam cares more about the Chinese communists and interests of China."
Lam told a news conference on Monday that she had no prior knowledge of the decision to make the arrests.
"This is the action of the current administration," she said, according to the local South China Morning Post newspaper. "Prosecution actions are undertaken independently by the Department of Justice under the Basic Law," she added, referring to the city's mini-constitution.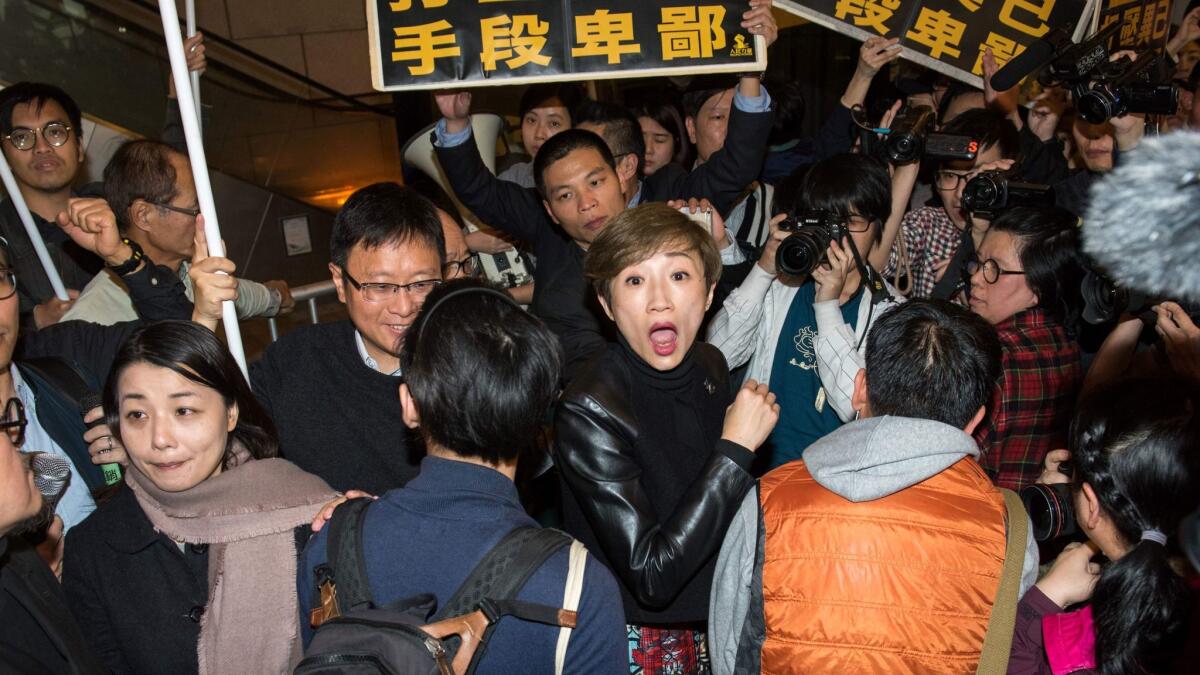 Activists remain convinced that the charges were politically motivated. Amnesty International called them the "latest blow to [the] right to peaceful protest" in the city.
Joshua Wong, 20, an Umbrella Movement organizer and leader of the political party Demosisto, called them "political prosecution." "We expect the suppression to continue, and the scale to increase," he said. Wong was not among those arrested.
Although experts said that the prosecutions would likely set a hard-line tone for Lam's early tenure, they were divided over who likely orchestrated the move. Some called them a parting shot by Leung Chun-Ying, the city's outgoing chief executive, who, as a staunch Beijing loyalist, was the target of intense public scorn during the 2014 protests. Others said that it may track back to top Communist Party leaders in Beijing.
The timing of the arrests "is troubling because it sends two messages," said Jason Y. Ng, Hong Kong-based author of "Umbrellas in Bloom," a book about the movement in 2014. "First, Lam operates and will continue to operate, at the behest of some higher power, even at the expense of the city's best interests. Second, that higher power has no qualms about further polarizing Hong Kong society and plunging it into more political crises."
"Our leaders are frankly powerless against who put them in power in the first place," he said. "Until and unless our leaders are democratically elected, this will always be the case."
The protests began in September 2014 with a student sit-in. Police attempted to disperse the crowds with tear gas and pepper spray, but the protests only grew until they were big enough to choke off three major thoroughfares. Protesters sang songs, waved banners and slept in tents; some protected themselves with umbrellas, giving the demonstrations their name: the Umbrella Movement.
Since then, many Hong Kong residents say that the city's underlying problems have only worsened. They blame Beijing's encroaching influence for rising self-censorship in media, the financial struggles of pro-democratic institutions, and the secret detention of five Hong Kong booksellers in late 2015. The city's economic growth is slowing, and income inequality is on the rise.
Since the protests, talk of full independence from mainland China, once an unspeakable taboo, has become borderline mainstream.
Activists say they have not been cowed. The Demosisto party has called for a "large civil disobedience protest" when Lam is sworn in on July 1, an event timed to coincide with the 20th anniversary of Hong Kong's return to China from British control.
On Monday evening, scores of democracy advocates gathered in front of Hong Kong's police headquarters to protest the charges.
"I'm still passionate," said Wong, the Demosisto head. "This is not an easy time for us. We still face suppression. ... But we'll still continue the fight."
Special correspondent Jessica Meyers contributed to this report from Hong Kong,
For more news from Asia, follow @JRKaiman on Twitter
ALSO
Taiwan demonstrates a newfound love of dogs with a law to stop killing them
South Korean prosecutors want to arrest ousted President Park Geun-hye for corruption
India is about to make it easier for political parties to hide where their money comes from
Sign up for Essential California for the L.A. Times biggest news, features and recommendations in your inbox six days a week.
You may occasionally receive promotional content from the Los Angeles Times.