Protests overshadow China's National Day ceremonies in Hong Kong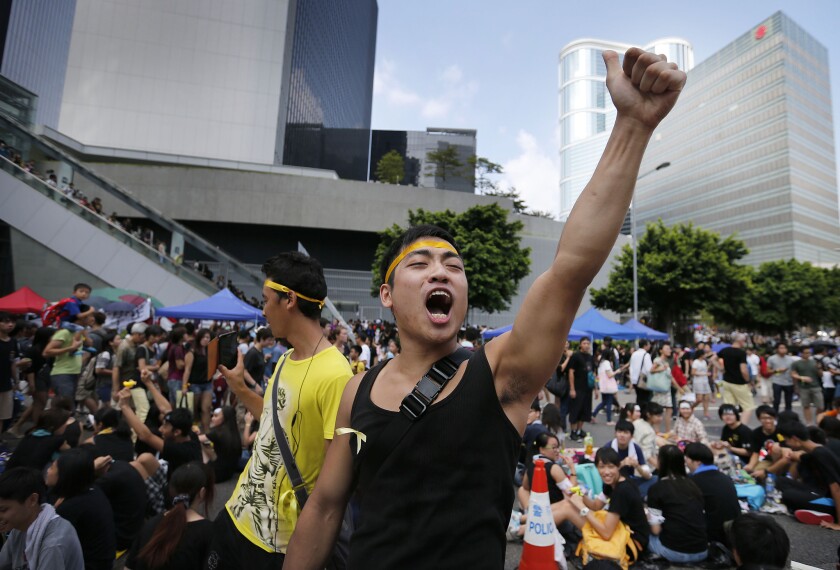 Reporting from Hong Kong —
Denouncing Beijing-backed dignitaries and continuing their street demonstrations, democracy protesters overshadowed ceremonies in Hong Kong on Wednesday marking the 65th anniversary of the founding of Communist China.
"Step down!" a group of youths shouted out as the territory's top official, Chief Executive Leung Chun-ying, appeared at an 8 a.m. flag-raising ceremony alongside Victoria Harbor. Others turned their backs and crossed their arms in defiance but otherwise did not disrupt the proceedings.
By midafternoon, tens of thousands of people -- perhaps more than 100,000 -- were again flowing into main roadways stretching from the city's financial district, Central, east toward Causeway Bay where the government was staging a sparsely attended official celebration of China's National Day in Victoria Park.
Inflatable slides, a marching band and games -- one offering players the chance to win a T-shirt for putting together a puzzle of Tiananmen Square in Beijing -- attracted several hundred elderly mainland tourists and families with young children. But the enormous plaza was largely empty, with no waiting at the face-painting or the ring-toss booths.
A grand fireworks celebration planned at Victoria Harbor after sunset had been called off earlier in the week by officials, who said the clogged streets would make it impossible to stage the pyrotechnics safely.
Lester Shum, deputy secretary-general of the Hong Kong Federation of Students, reiterated demands for Leung to step down and said protesters would escalate their actions if he did not respond -- including by possibly occupying government buildings.
"We call on everyone to hold their ground and fight on," Shum said at a midafternoon news conference, urging demonstrators to remain peaceful and be careful of any "instigators" that might infiltrate the crowds.
"There is no room left for dialogue" with Leung, Shum added, although he said protest leaders were open to talking with other officials in the administration.
Massive street protests have shut down major arteries in the semi-autonomous Chinese territory since Sunday, and show little sign of abating. The demonstrations were touched off by a move by mainland Chinese authorities to restrict who can be a candidate for Hong Kong's chief executive in 2017.
A decision by Hong Kong police to respond forcefully -- deploying in riot gear and firing 87 volleys of tear gas -- shocked and angered many citizens in this normally mild-mannered territory, bringing more people into the streets. With Hong Kong observing two days of public holiday starting Wednesday, many people were off from work and took the opportunity to join the demonstrations for the first time.
Along Connaught Road, a divided highway that normally is clogged with buses, taxis and trucks, mothers and fathers with young children in tow strolled for long stretches in the afternoon sun, reading protest signs taped to lampposts and stopping to chat with volunteers manning supply stations overflowing with donated goods.
Near the Admiralty subway station, high school students were handing out slices of cake and bottled water. A few feet away, two middle-aged women soaked towels in buckets of water, then wrung them out and stacked them neatly in a blue plastic sack for passersby to take and cool themselves.
Young men with spray bottles strolled through the crowds, misting passersby. In front of an HSBC bank branch, a group of alumni from a local medical school offered massages to anyone who was stiff after a night spent sleeping out on the streets.
Hundreds of umbrellas in every hue were hung from pedestrian guardrails, free for the asking. Useful for shielding oneself from tear gas, rain or sun -- all potential threats -- umbrellas have become a symbol of the movement.
But few police were in evidence Wednesday and there seemed to be little sense that officers were gearing up for any major effort to clear the roadways.
"The Hong Kong government is not responding -- it's quite strange," said Jason Chan, 20, who was handing out handbills urging schools, merchants and laborers to go on strike. The fliers denounced mainland authorities for decreeing that any candidate for Hong Kong chief executive in 2017 must "love China," and complained that Leung had refused to engage in dialogue with protesters.
"Before such grave injustice, we have no choice but to disobey," the photocopied sheets read.
In his National Day remarks, Leung acknowledged the discord briefly, saying it was "understandable that different people may have different ideas" about rules for the 2017 vote and encouraged citizens to be "peaceful, lawful, rational and pragmatic."
"Hong Kong and the mainland are closely linked in their development," he said. Borrowing Chinese President Xi Jinping's signature motto, he added: "We must work hand in hand to make the Chinese dream come true."
Hong Kong, a former British territory, returned to Chinese rule in 1997 under a framework known as "one country, two systems." The framework granted Hong Kong a high degree of autonomy, except on matters of foreign affairs and national defense, for 50 years.
Protesters say mainland Chinese authorities are reneging on promises, enshrined in the Basic Law that detailed terms of the handover, to grant universal suffrage in the territory.
Leung has argued that the 2017 election guidelines put forth by Beijing represent a step forward for democracy in the territory because they would allow Hong Kong's 5 million eligible voters to cast ballots for chief executive for the first time. Currently, the position is chosen by a committee of 1,200 largely seen as pro-Beijing.
But opponents say one man, one vote is meaningless if all the candidates must essentially be pre-screened by Beijing.
"It is definitely better to have the chief executive elected by 5 million eligible voters than by 1,200 people," Leung argued in his remarks. "And it is definitely better to cast your vote at the polling station than to stay home and watch on television as the 1,200 members of the Election Committee cast their votes."
Although the Hong Kong demonstrations have made headlines around the world, the news of the protests has been heavily censored on the mainland.
Amnesty International said Wednesday that at least 20 people have been detained by police in mainland China for posting photos online with messages of support for the protesters, shaving their heads in solidarity or for planning to travel to Hong Kong to participate in the protests. A additional 60 have been called in for questioning, the human rights group said.
"The rounding-up of activists in mainland China only underlines why so many people in Hong Kong fear the growing control Beijing has in their city's affairs," said William Nee, China researcher at Amnesty International.
Follow @JulieMakLAT for news from China
---
Must-read stories from the L.A. Times
Get all the day's most vital news with our Today's Headlines newsletter, sent every weekday morning.
You may occasionally receive promotional content from the Los Angeles Times.